The 2015-16 Penguins are built around a deep, offensively gifted lineup meant to roll four scoring lines. Jim Rutherford's goal this past summer was to somewhat model this group after teams like the Chicago Blackhawks and Tampa Bay Lightning after watching the two compete for the Stanley Cup just six months ago. However, despite multiple talented additions up front, the Penguins rank 26th in goals-for, struggling mightily to find the back of the net on a consistent basis.
Many have pointed at Sidney Crosby and his rotating door that has seen the likes of Pascal Dupuis, Chris Kunitz, Patric Hornqvist and most recently, Beau Bennett shuffling around alongside Crosby but failing to produce on a regular basis. And while Crosby and company have had their share of issues, the scoring void from Pittsburgh's bottom-six is just as worrisome. It's something rarely talked about, mainly due to the tenacity and success on the forecheck the fourth line has had but at some point, these guys need to contribute on the scoreboard.
Top Heavy Penguins
If you're familiar with my work or follow me on Twitter at @Michael29Angelo, you'll know that I'm a fan of using analytics in my player and team analysis. But, you'll also know that I believe in a balance, considering that strong underlying numbers only get you so far if you aren't producing points. The Penguins' bottom-six is an example of a group that is playing well but at the end of the day, they aren't scoring. And, the Penguins need them to.
Matt Cullen, Eric Fehr and Sergei Plotnikov have accrued 56:40 five-on-five minutes as a trio. During that period they've boasted a very impressive 56.12 corsi-for per 60 minutes of play and an overall 58.2% corsi-for (stats via Puckalytics.Com). They've dominated the possession game, hemming opponents in behind their own goal line and making life miserable for opposing defensemen. They're a heavy line that plays a straight-line, physical game, which is something you can't say for the rest of the Penguins. But, outside of winning the possession battle, they aren't contributing.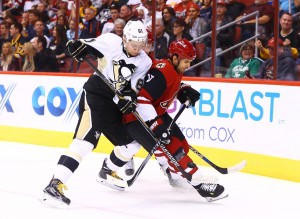 That trio has combined for a total of two five-on-five goals throughout their nearly 57-minutes of ice time. That's an average of 2.12 goals-for per 60 minutes of play. They combine for a shooting percentage of 6.90%, an obviously troubling number and a reflection of their inability to finish. So, while they're doing great things when it comes to puck possession and neutralizing the opponent's attack, they're leaving the scoring up to everyone else. This is exactly what the Penguins wanted to avoid with this roster.
The Penguins' third line has been a mishmash of revolving wingers recently as individuals are shuffled up and down the lineup. We've seen that line occupied by everyone from Kunitz, Dupuis, Hornqvist and Bennett to rookie Daniel Sprong, when he has been granted an opportunity to crack the lineup. The mainstay on that line, Nick Bonino, has only two points in his last 16 games. He also boasts a troubling individual corsi-for percentage of 47.1%. For a team that is widely viewed as one of the deepest offensive groups in the NHL, those are certainly disappointing numbers. The good news, though, is that there may be internal solutions to these issues.
Simple Solutions
If you haven't read Jesse Marshall's breakdown of Plotnikov for ThePensBlog.Com, you should do so as soon as you finish up here. What you'll learn is similar to what I mentioned above, Plotnikov truly is a driving force for puck possession. How do you neutralize the fourth line's inability to score? Mike Johnston should take a long, hard look at moving Plotnikov up to Crosby's wing and replacing him with someone like Dupuis. The biggest issue with the Penguins' top line has been their inability to gain the offensive zone with possession, which means less time for Crosby to do what he does best. Plotnikov can help, and Dupuis, while playing a more limited role, can bring some finishing ability to the fourth line.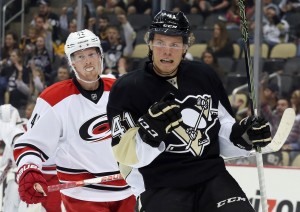 Also, it's time to infuse Sprong into the lineup on a more permanent basis. Yes, he has his flaws on the defensive side of things but when he's on the ice, he's creative with the puck and creates chances. He hasn't blown up like other rookies around the NHL but to be fair, he hasn't been given much of a chance either.
I imagine a lineup constructed similar to this…
Plotnikov – Crosby – Hornqvist
Perron – Malkin – Kessel
Sprong – Bonino – Bennett
Kunitz/Dupuis – Cullen – Fehr
It's time to recognize that veterans like Dupuis aren't getting the job done. Kunitz has produced in his last two games but how long will that last? The focus has been so locked in on the Penguins' defensive struggles that no one has taken into account that their depth is failing them once again. Will Johnston recognize these opportunities or continue to stand pat and rely on Evgeni Malkin's like to do the heavy lifting all season?
Rumors have swirled that Rutherford, while primarily shopping for a top-four defenseman, is keeping his eyes peeled for another winger as well. Of course, the Penguins have multiple handcuffing contracts that will make it tough to be extremely active and stay within the cap. At this point, I don't believe any drastic moves are needed to correct this issue from a personnel perspective. Putting players in a position to succeed based on their strengths will go a long way.
Pittsburgh Penguins writer for TheHockeyWriters.Com and PittsburghHockeyNow.Com. Youth hockey coach, and student of the game.