Once upon a time, the future of the Pittsburgh Penguins — more specifically their organizational depth — was in doubt. The Penguins built a reputation for trading away draft picks and prospects for rentals in order to 'win now'. Time and time again, they unloaded future assets to add veterans because, in the eyes of their previous management regime, that's what it would take to make a deep postseason run.
A flawed mentality that isn't exclusive to Pittsburgh.
Recently, though, under Jim Rutherford's watch, the Penguins have started a new chapter that involves stockpiling draft picks and prospects. The change in philosophy was first noticed when rumors began swirling about Phil Kessel potentially heading to the Steel City. While Rutherford was willing to move picks and prospects in the deal, he was adamant about protecting specific individuals. He also ensured that Pittsburgh received picks in return.
Asset Protection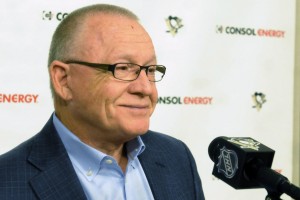 It's referenced quite a bit, but it's worth repeating: Rutherford saw how well the Chicago Blackhawks and Tampa Bay Lightning used their youth en route to a Stanley Cup Final in 2015, and he adjusted. It's impossible to express how impressive it is for a veteran GM to change his approach in such a drastic fashion.
When free agency opened in July 2015, Rutherford immediately went to work and acquired Kessel. Since then, he's received draft picks back in some form on five different occasions. His seven trades prior to that deal saw zero picks returned to Pittsburgh — while four picks were sent away — and only two players remain from those deals (Patric Hornqvist and Ian Cole).
That newfound willingness to build from within is good news for the Penguins.
Working to sign the likes of Conor Sheary, Bryan Rust and Tom Kuhnhackl after their impressive emergence last season is important to note as well. Pittsburgh had a lot of control due to restricted free agency but Rutherford wasted no time in locking up these youngsters, and they've rewarded him.
It's a breath of fresh air to see a team put so much emphasis on young, up and coming players as opposed to cagey veterans — in which case you're paying for what they've done — and not what they're going to do in the future.
Future Stars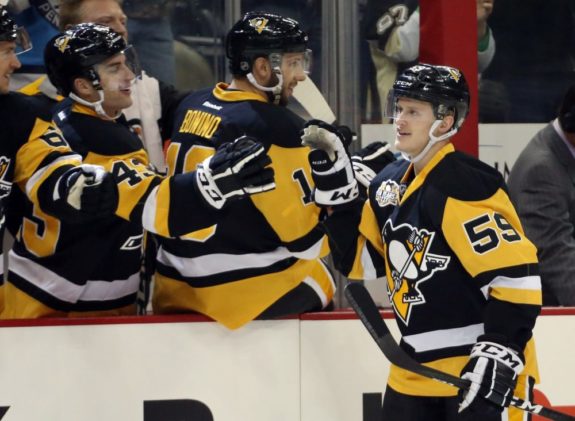 Jake Guentzel — a third round pick (77th overall) by the Penguins in 2013 — is putting up Sidney Crosby type of numbers in the AHL with 17 goals and 33 points through 25 games, an average of 1.32 points per game. He's currently tied with Wade Megan of the Chicago Wolves for the goal scoring lead, and Megan has played six additional games.
He also netted three goals and four points in five NHL games this season. So far, he's living up to the hype that surrounded him upon entering the professional ranks late last season. And he isn't the only contributor in Wilkes-Barre this season.
GIF: Sundqvist's 13th of the season makes it a 4-3 game pic.twitter.com/Zf8hemGRyi

— WBS Penguins (@WBSPenguins) December 27, 2016
Oskar Sundqvist turned up his offensive production in a big way in 2016. He's projected to be a reliable, defensively responsible bottom-six center at the NHL level and throughout his tenure, it seems perfectly accurate. But all of a sudden, he's displaying a scoring ability that very few knew he was capable of.
Sundqvist is just below Guentzel in the AHL scoring ranks, netting 14 goals and 30 points in 28 games.
Sundqvist's size, strength, and defensive awareness were evident during his short stay in the NHL last season but if he can increase his offensive output — dare I say — it may be reminiscent of the days Jordan Staal was centering the best third line in hockey in Pittsburgh.
Reasonable Expectations
There's a good chance we haven't seen the last of Guentzel at the NHL level this season, and Sundqvist could be recalled as well considering how injuries can impact teams in the final months of the season. Don't expect the same numbers they're boasting in the AHL if that does happen, of course.
AHL scoring rates rarely, if ever, translate to the NHL.
But with the aforementioned Guentzel and Sundqvist — as well as names like Daniel Sprong, Teddy Blueger, and Ethan Prow among others — it's easy to be impressed with the organizational depth Pittsburgh has built recently. They haven't missed a beat in the NHL, despite injuries, and it's due to the impressive stable of young players they can plug in and keep rolling.
Coach Sullivan on the importance of organizational depth: "I think it's critical to competing for championships."

— Pittsburgh Penguins (@penguins) December 29, 2016
Last season, it was Sheary, Rust and Kuhnhackl who stepped up and made a name for themselves. They were crucial cogs in Pittsburgh's Stanley Cup run. This season? Well, the Penguins will be leaning on a few of the aforementioned players at some point to help push through injury issues.
Until then, the Penguins' faithful can rest assured that the future is bright in Pittsburgh and when it's time to infuse this group of impressive prospects into the lineup alongside their already dangerous core, they'll likely answer the bell in splendid fashion.