Being named captain of a sports team is an honour for any player. It shows a level of talent, leadership and personal qualities that many people strive for.
On Wednesday morning, the Windsor Spitfires dealt captain Patrick Sanvido to the Sudbury Wolves in exchange for draft picks. The deal was necessary to sort out the team's overage situation.  Teams can only keep three 20-year-old players on their roster. Windsor already had forwards Cristiano DiGiacinto and Jeremiah Addison, along with defenseman Jalen Chatfield.
However, the trade now leaves a hole at captaincy. Sanvido had been in his third season of captaincy, taking over from former Spitfires' defenceman Slater Koekkoek following the 2013-14 season.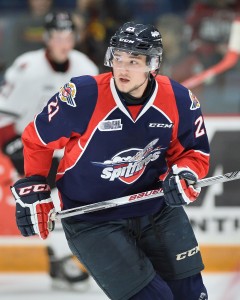 He had the help of three assistant captains this year including DiGiacinto, Montreal Canadiens' prospect Jeremiah Addison and Ottawa Senators' prospect Logan Brown (pictured, right).  Which player would be the best choice to lead the franchise into glory?
Three Star Selection
DiGiacinto is the type of player every team covets. He came to Windsor in 2013 and has quickly become one of the most popular players on the team.  In his first two seasons with the Spits, DiGiacinto had 87 points and has 19 points in 22 games this year.  He's also the first one to stand up for a teammate, or pull one out of a scrum to avoid a penalty.
In the community, DiGiacinto is one of the most popular Spitfires. He's at every public team event and genuinely seems to love interacting with fans. When the team goes to schools to talk to students about various topics, he's right there at the forefront.
Addison came to the team from Ottawa in the offseason. He quickly became a prime offensive threat on the roster with 14 goals and 23 points in 25 games. He's not overly vocal on the ice but is always moving and his work ethic is contagious. In the community, he's also happy to talk to the fans and get involved in events.
Brown came from Niagara in a trade before the 2014-15 season and has come as advertised. The 6'5″, 215lb forward is an Ottawa Senators' 2016 first-round pick and one of the elite offensive talents in the league. With 23 points in 17 games this season, he can take any game over with his size and skill.
Off-ice, Brown is another regular at community events and draws in all the kids with his mammoth frame. Senators fans especially take notice and he'll talk hockey as long as they want.
The Verdict Is In
A team captain needs to be that leader who's willing to lead by example no matter what the situation throws at him. All three players are deserving of the captaincy. However, one stands out when you think of Spitfires' hockey.
DiGiacinto has become the face of the franchise; a guy that can be truly relied on both on the ice and in the community. He has proven multiple times that he's making the most of the chance Windsor gave him. His development earned him a selection in the 2014 NHL Draft by Tampa Bay, as well as a tryout with the New York Islanders in 2016.  Here's a video of DiGiacinto talking to the media after being drafted by the Lightning:
As a 20-year-old, DiGiacinto is in his last season with Windsor and will be guiding this team into the Memorial Cup. After all of the hard work and dedication he has put into being a Spitfire, it's a logical next step to name him the next captain of the Windsor Spitfires.