It's rare for any professional sports team from any league to go a full season without making at least one player trade. Regardless of how good or bad the team may be, there is always room to improve. And from a fan or critic standpoint, trades are just a part of the business that is sports. People may not want to move on from certain names, but sometimes it's what's best for business.
With all that being said, the Pittsburgh Penguins are a team that on the surface do not need to make a trade. But, like mentioned before, there's always room for improvement. A player that might serve as an upgrade to the Penguins is Jake DeBrusk from the Boston Bruins.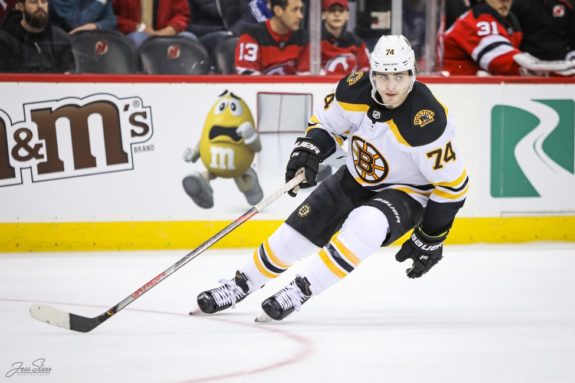 DeBrusk asked for a trade some time ago, but it wasn't until the last weekend of November that things escalated. The 25-year-old forward has been slow off the blocks in the 2021-22 NHL season, and it has been mentioned that a change of scenery will force a turnaround in his play.
Through 17 games of the 2021-22 season, DeBrusk has picked up six total points (3-3), while hitting a career low of 14 in 41 games last year. It's known what kind of game he brings to the ice. Normally averaging 35 to over 40 points a year, a trade out of Boston is what's best for his performance.
Pittsburgh would be a great new home for DeBrusk, and while Penguins general manager Ron Hextall and the Penguins aren't blowing up the Bruins' phone over him, they should still be involved in the conversation. But what kind of trade makes sense for both sides?
Kasperi Kapanen
It may not be easy to hear for Pens fans, but Kasperi Kapanen being traded for DeBrusk makes a ton of sense on paper. Kapanen and DeBrusk are almost identical players when you look into the details. They're both 25-years-old and in the last year of their contracts before becoming restricted free agents (RFA). DeBrusk currently makes $3.675 million, while Kapanen makes $3.2 million; Just over $400,000 in difference.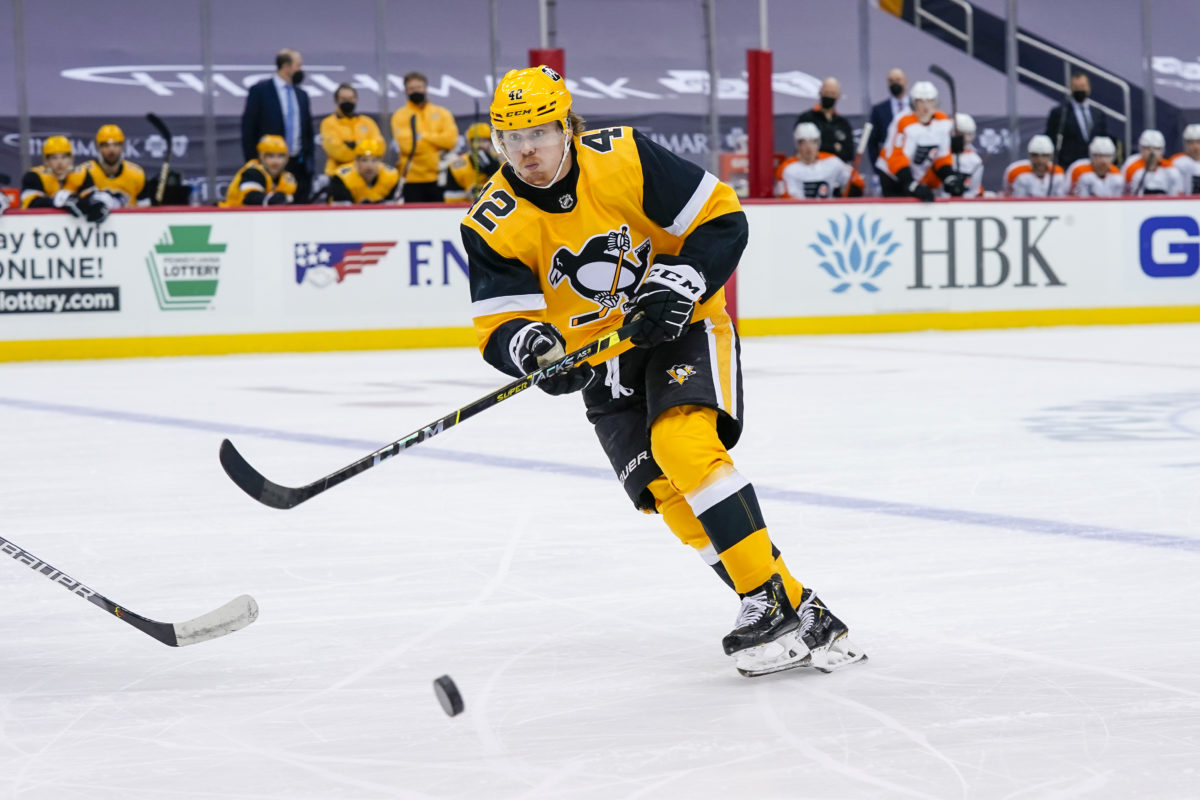 The similarities grow larger when you look at their career numbers. DeBrusk has played in 261 games collecting 140 points (70-70). Kapanen through 264 games has scored 134 points (57-77). There is a discrepancy when you look into their playoff performances. Kapanen has never made it past the first round of the NHL postseason and holds 10 points (5-5) in 31 games. DeBrusk, on the other hand, has never lost a postseason opening round.
Related: Kasperi Kapanen's Hat Trick is First Step in Breaking Out
Both players have gotten off to slow starts this season, between DeBrusk's six points and Kapanen going nine games without scoring a goal. Kapanen is starting to find his footing, but a trade could still benefit the Penguins. New surroundings is exactly what DeBrusk is asking for and why not give him a new home playing with a soon-to-be healthy Evgeni Malkin.
The similarities between Kapanen and DeBrusk are uncanny, and if DeBrusk can pull off a similar chemistry to what Kapanen and Malkin showed, that will be another lethal combo in the Penguins lineup.
Jason Zucker
A player that has been at the head of trade talks for the Penguins this season, Jason Zucker would be another difficult player to lose. Pittsburgh has to look at the bright sides of trading Zucker for DeBrusk.
Prior to the season, Zucker said he wants to shoot the puck more and contribute more goal scoring to help the Penguins win. So far with only four goals, he hasn't quite done enough. Add on only five assists through 22 games, he is leaving a lot to be desired. It's possible playing in Boston can present more opportunities to shoot the puck. Playing with guys like Patrice Bergeron or Taylor Hall, Zucker could find a whole new level of goal scoring ability.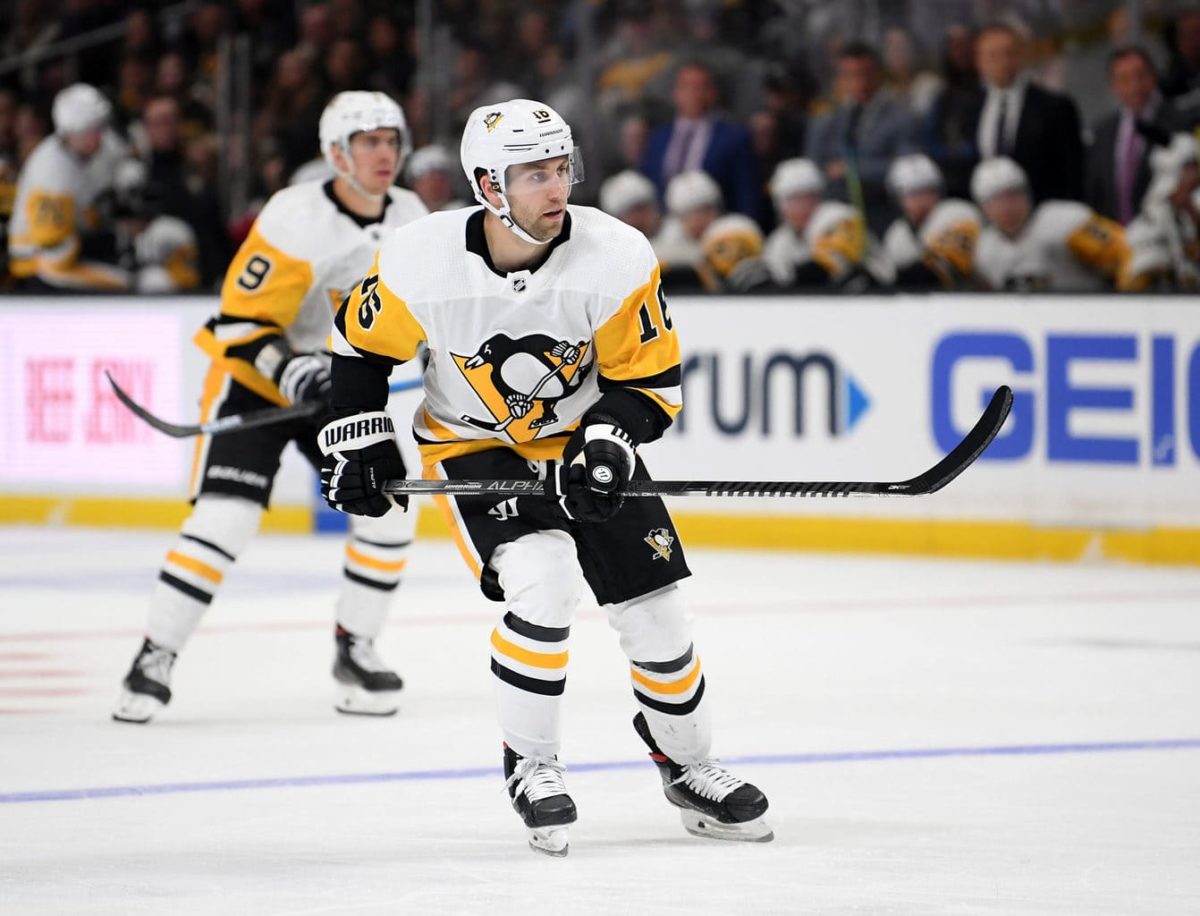 With the Minnesota Wild, Zucker was a threat to put up 20 to 30 goals a year. Playing with Sidney Crosby or Evgeni Malkin, that threat should still be there. For whatever reason, outside of a solid first 15 games with Pittsburgh, that threat hasn't been there for Zucker.
More than just a change of pace by implementing Debrusk over Zucker, losing Zucker's contract gives the Penguins much needed breathing room with the salary cap. Cap space is something Pittsburgh isn't used to having in the Crosby/ Malkin era. Moving Zucker for DeBrusk gives the Penguins an extra $1.325 million, but every penny counts, especially when the Penguins have 15 NHL contracts expiring at the end of the season.
Casey DeSmith
As always, goaltending is voodoo and can be extremely unpredictable. One thing that anyone can determine without a crystal ball is that Casey DeSmith has not been good for the Penguins this year. 
Sure, DeSmith is a backup, but you still expect something better than a record of 0-3-1 and .867 save percentage (SV%) and 4.33 goals-against average (GAA). The backup goalie position is one teams will adjust pretty often. DeSmith has been with the Penguins since 2017 and it's time for a change.
A DeSmith trade makes a lot of sense, even if it's not for DeBrusk. The Penguins can fill the backup role from within with Louis Domingue in the minors right now on a two-way deal. Domingue has been playing well in the American Hockey League (AHL) with a 3-3-2 record, a .922 SV%, and 2.54 GAA. Domingue has NHL experience, helping backstop the Tampa Bay Lightning during their record-breaking 2018-19 season. He finished that year with a 21-5 record.
Sending DeSmith for DeBrusk is a smart move for the Penguins. They can fill the role in-house and gain offensive help. Plus, a "De" name for another "De" name just sounds fun.
Bryan Rust
Don't get your pitchforks and torches just yet, there are good reasons behind this idea. For starters, both DeBrusk and Bryan Rust are in the final year of their respective contracts. Given the careers both gentlemen have had, Rust will have the ability to request more money.
Rust has won a pair of Stanley Cups, and holds a pedigree as one of Pittsburgh's top goal scorers, whereas DeBrusk hasn't performed at the same level in the past few years. A younger, lower dollar amount player like DeBrusk can benefit the Penguins in the long run.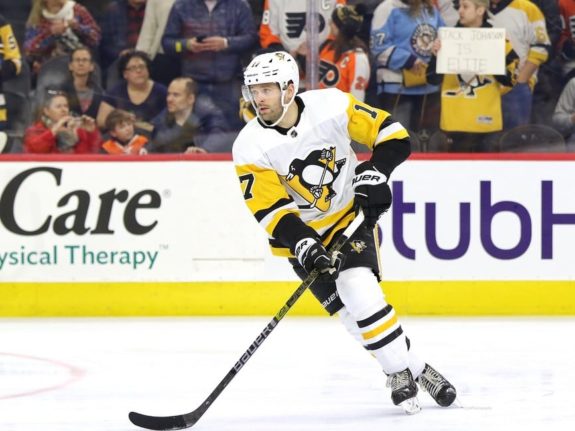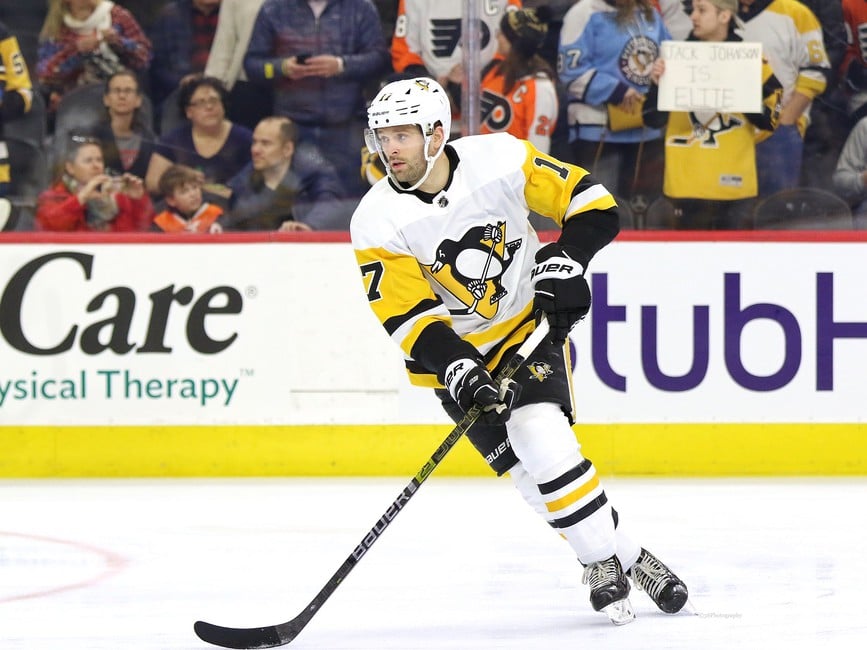 There are some faults to Rust's game, however, that could force the Penguins hand. Sure, he's a great goal scorer but he battles bouts of inconsistency and that has cost him. The nearly 30-year-old has never amounted to 30 goals in a season. He was on pace for well over that number in 2019-20, but a worldwide pandemic ended those chances. 
DeBrusk, as his younger age, has more career ahead of him and more room to grow into an impressive middle-six piece. Or top line winger if he and Crosby strike gold, like Crosby has been able to do with countless wingers before. Crosby turned Chris Kunitz in a Penguins' icon, Rust into a top line goal scorer and Evan Rodrigues into a real threat. Who's to say Captain Crosby couldn't turn DeBrusk into the next Pittsburgh folk hero?
Evan Rodrigues
Speaking of Rodrigues: A player who was thought to possibly not crack a spot in the lineup once fully healthy sure is exceeding his expectations. From a fill-in depth piece to challenging Jake Guentzel as the team's goal leader. In 22 games, playing all over the lineup, Rodrigues has eight goals and seven assists for 15 points.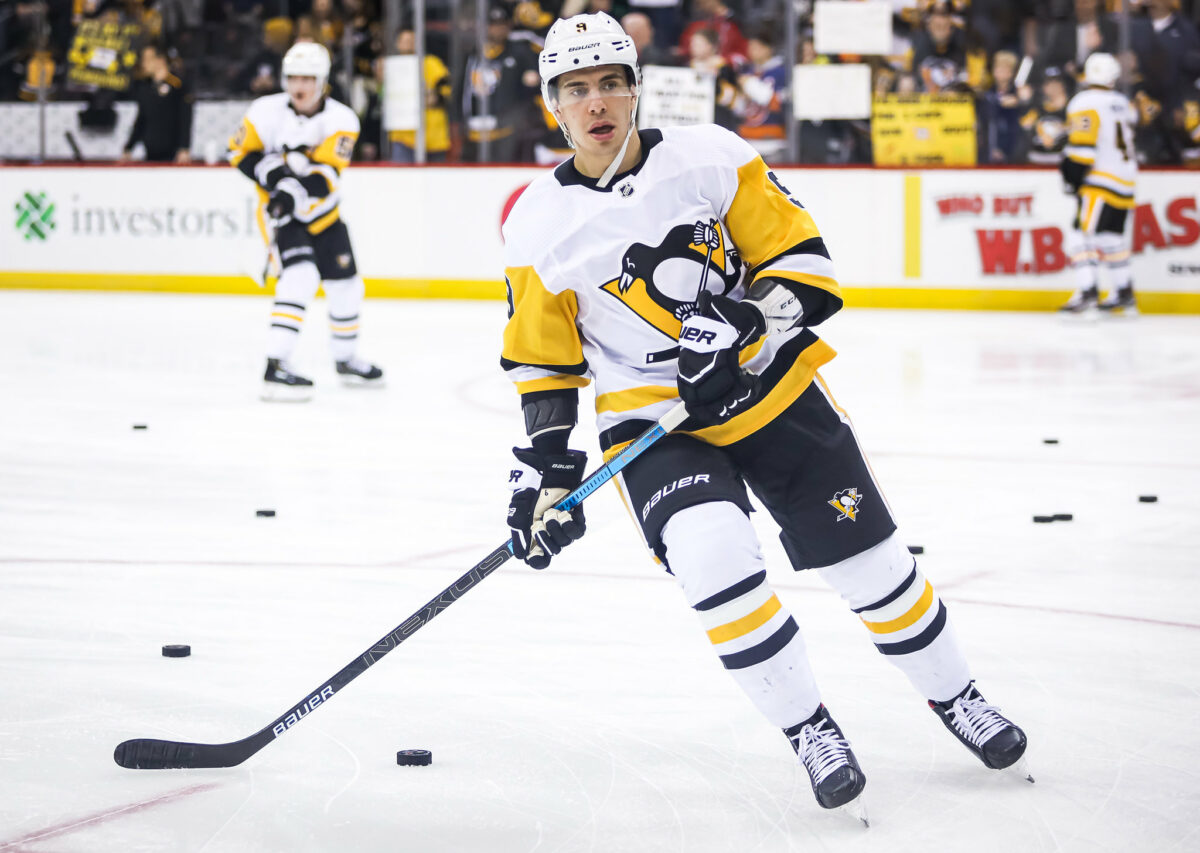 It's been a wild ride for Rodrigues this year. He is crushing expectations, and is proving to be worth keeping in the lineup. But, E-Rod is a player that can't keep this up forever, so why not sell high on a contract that expires at the end of the year? As unexpectedly great as he has been, every Pens fan knows he won't be around forever. DeBrusk for Rodrigues isn't the most even of deals, but some sweeteners like picks or a deep prospect would make a deal work.
Rodrigues to the Bruins would also play as a pseudo homecoming, as he played NCAA hockey at Boston University. Rodrigues and Jack Eichel led the Terriers to become the top hockey school in the Boston area with a Beanpot victory in 2015. 
The business side of sports is never easy. Sometimes fan favorites have to be traded or cut loose for the betterment of the team. For the Penguins, though, maybe Fenway Sports Group won't be the only Boston import heading to Pittsburgh.
---
---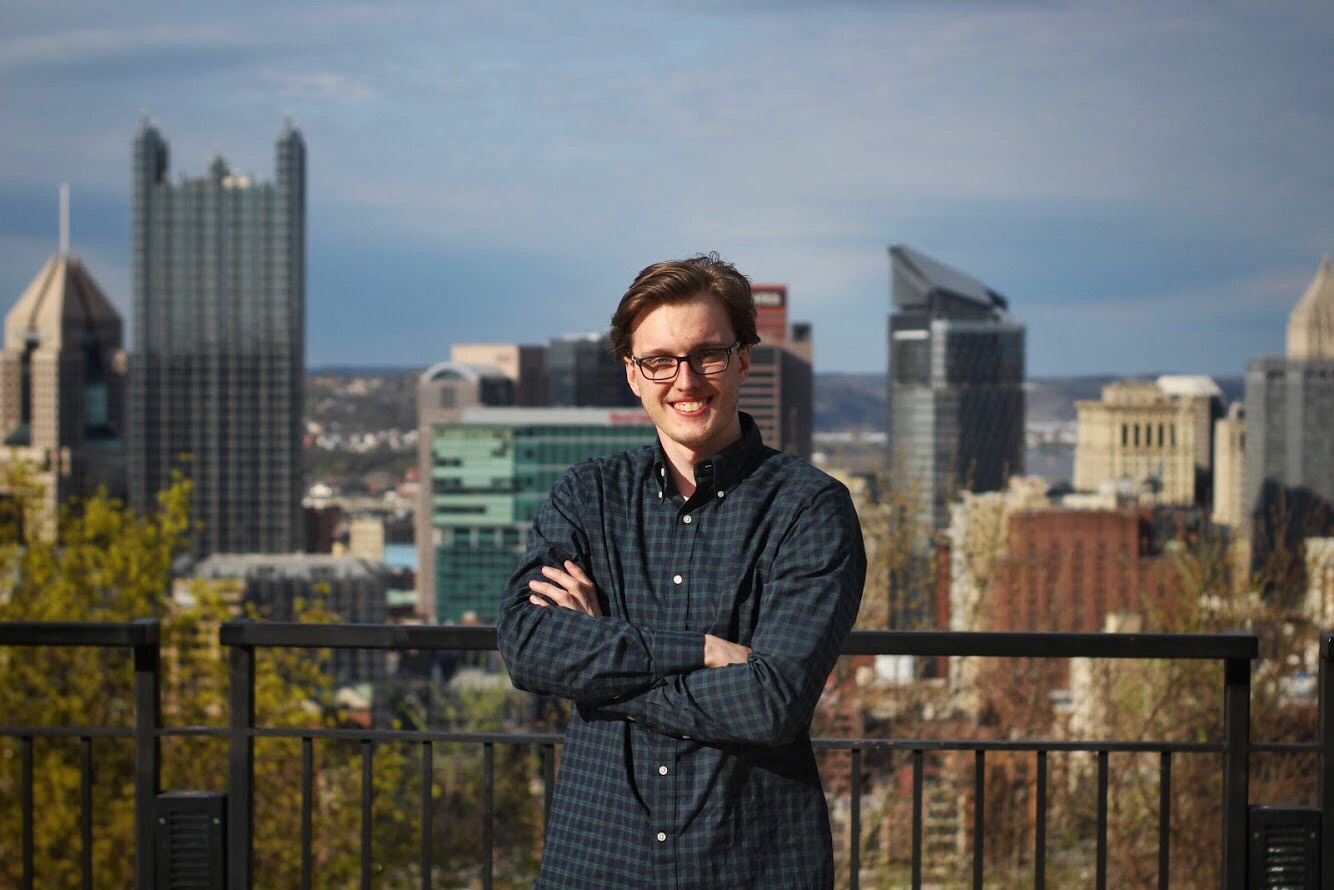 Nick Horwat is a graduate of Point Park University and was born and raised in Pittsburgh. A lifelong Penguins fan that has been watching and going to games for as long as he can remember.