John Marino turned heads during his rookie season with the Pittsburgh Penguins and fans should expect much of the same in the coming season. The 23-year-old burst onto the scene in Pittsburgh after three solid seasons at Harvard University and was given every opportunity to succeed. Marino exceeded all expectations and it appears the sky is the limit for the native of Brockton, Massachusetts. Not bad for a former sixth-round pick.
With more opportunity coming his way next season, if Marino is able to maintain his development, look for Penguins general manager Jim Rutherford to make some trade calls involving veteran Kris Letang.
This offseason has been an interesting one for Letang, who has been hearing his name come up multiple times in trade talks, but to this point, nothing has materialized. By all accounts, he will be starting the season as a member of the Penguins. With an expensive contract at $7.25 million for the next two seasons and a modified no-trade clause that sees the player submit a list of 18 teams he can be traded to, dealing Letang would be no easy task. He has averaged 50 points his last three seasons, and his production would be tough to replace; however, that's where Marino's development comes into play.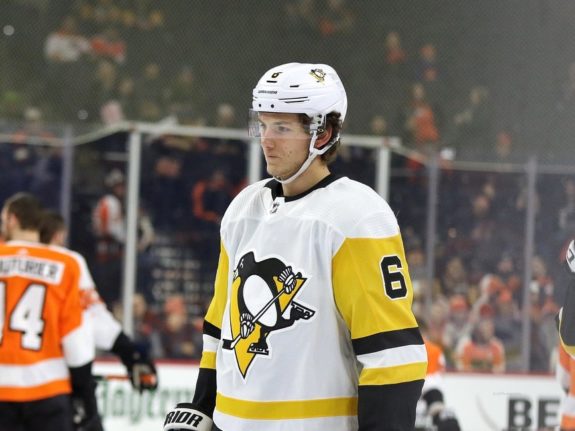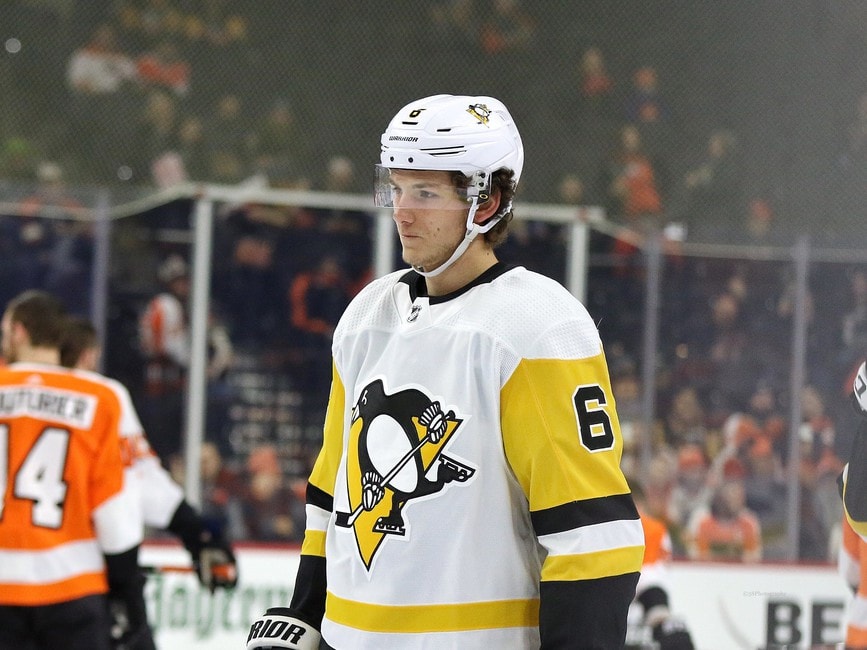 Marino finished his rookie season with 26 points in 56 games and his plus/minus rating really stood out with a plus-17. Not often do you see a rookie defenseman play north of 20 minutes a night, and it's even more rare to see them finish the year as a "plus" player. The 6-foot-1 defenseman was as reliable as anyone in the league in his own end and his numbers stacked up against the who's who in the league.
Next season the Penguins are preparing themselves to play a game built around speed and skill, so defensemen like Marino, who gamble at the right times to join the rush, will be very important for the team's success. While he didn't win the Calder Trophy in his rookie season, his production surprised many and his name was in the conversation for one of the best defensemen in the league.
Marino Needs to Avoid a Sophomore Slump
The NHL can easily catch up to players, so Marino and the Penguins coaching staff will need to do whatever they can to help him avoid taking a step back in year two. The team has overhauled a decent chunk of their roster, including letting right-handed defenseman Justin Schultz walk. Expect to see Marino get a boost to his minutes, as he averaged 20:15 of ice-time his rookie season, which could easily jump up to 23 or 24 minutes per night in 2021.
With Schultz leaving, it's also opened up a spot on the team's second power-play unit, which gives Marino a great chance to add on to the 26 points from last season. Of those 26 points, only four were on the power play.
Where Does Letang Fit into Marino's Development?
For Marino, having a proven winner like Letang to lean on during his rookie season was an excellent resource and one that shouldn't be taken for granted. The young defenseman can continue to soak in all the wisdom of the 33-year-old Stanley Cup winner and use pieces of Letang's game to learn from and to develop into his own long list of attributes.
With the NHL being a hard-capped business, the Penguins may be forced to reconsider their depth chart if Marino excels in his second season. If he develops into a top-two defenseman during his second year, the Penguins should consider moving Letang to not only free up cap space in 2022, but to also "retool" on the fly with a younger core.
Unfortunately for Penguins fans, the core of Sidney Crosby, Evgeni Malkin and Letang are aging and the management team is going to be tasked with balancing the current team's success with the future of the club. So, if Marino shows he's capable of being the primary defenseman on their right-side, paying Letang north of $7 million to take a back seat may not be smart business.
It will all be based on how the 2020-21 season goes, but if Marino develops the way it appears he will, the youngster may eventually push the veteran out the door.
---
---