In the last two weeks, The Hockey Writers' Meesh Shanmugam and I each presented an argument on the topic of whether or not Olli Maatta would (or should) remain in Pittsburgh for more than a nine-game audition or be returned to the London Knights of the OHL.  After all, while he has exceeded expectations on the Pens' blue line early in the year, Maatta is still a 19-year-old rookie.  Could he really handle the rigors of a full NHL campaign?
As it turns out, the Penguins reportedly believe Maatta is ready, at least for more than a nine game stint.  And while the youngster's impressive play has virtually forced G.M. Ray Shero et al into keeping Olli in Pittsburgh, doing so creates somewhat of a logjam on the Pens' blue line.
So, with that in mind, Meesh and I sat down to discuss how keeping Maatta in Western Pennsylvania may impact the Penguins' defensive core:
SG: Meesh, last week you indicated that, despite the fact Maatta was proving he may be ready for the NHL, Pittsburgh wasn't quite ready for him.  Now that it looks like he'll be around for a while, the Penguins have quite a logjam within their defensive core.  Indeed, once Letang returns from injury, it will leave Matt Niskanen, Robert Bortuzzo, Deryk Engelland and Maatta fighting for time on the third pairing.  And that doesn't even take into consideration the fact that  Simon Despres is waiting in the wings to return from his exile to the AHL.  Depth on the blue line is never a bad thing but, if you're playing armchair G.M., do you make a move to relieve some of that pressure?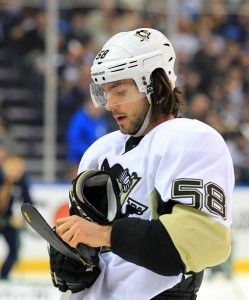 MS: Though I have never been a fan of carrying eight defensemen and limiting the ice time of younger players, the Penguins may have shed light on a path that would keep everyone on the roster over the last few games.  As we have seen lately, Deryk Engelland has been playing on the 4th line as a right winger and hasn't looked completely out of place doing it.  I originally believed this was a temporary move to add toughness against the likes of Philadelphia and Vancouver, but perhaps there is more to it than we realize.
Moving Engelland up to forward adds grit to the 4th line and allows the defensive group to remain as a unit of seven.  With those seven, the pairings would pan out as: Letang/Scuderi, Martin/Orpik, Niskanen/Maatta, and Bortuzzo rotating in through injuries or random nights off.  It is unfortunate that Bortuzzo would likely have his playing time limited due to depth, just like last season, but it gives the Penguins an incredibly strong set of defensemen to use.
Based on the cliche that "defense wins championships" (which is one that I fully believe in), I would not make a move to relieve the defensive logjam until/unless a salary cap issue would necessitate it.  The top two pairings are solid, Niskanen is playing some of the best hockey of his career right now, and Maatta and Bortuzzo both have the potential to help this blue line for years to come.  Keep them all!  Hoard all of the defensemen!
SG: In the short-term, I agree with you.  Any potential salary cap issues aside, the more depth on the blue line, the better.  What's more, the Pens haven't necessarily committed to keeping Maatta for the balance of the season so it's probably in Shero's best interest to let this play out, provide the club with a more significant sampling of Olli's play, and then make a decision as to whether or not the Penguins feel the youngster can handle the load that comes with a full NHL season and playoff run.
And, if we're looking exclusively at the blue line, you're certainly correct to point out that this represents one of the deepest units in the league. So it stands to reason that the defensive core could be strong enough to help carry Pittsburgh back to the promised land.
Something, however, tells me that this forward group is not deep enough to do the same.  That proved to be the case when the Pens' big guns went silent against the Bruins last year and it may very well happen again. Sure, things will improve when the likes of James Neal and Beau Bennett return from injury, but the fact that Coach Bylsma is using a defenseman on the fourth line as a bridge until that point is a perfect example of the club's lack of depth up front.
If the Penguins are going to make a serious run at the Cup, they'll need to address that issue at some point this year.  To do that, though, Shero may have to part with some of that coveted defensive depth.
MS: You bring up two points that I want to delve further into here.  Let's start with the man of the hour, Olli Maatta, and how the Penguins have suggested that he may still be sent down before the 40 game mark – the point that would affect his eventual RFA/UFA status.  Is there any sense to keeping Maatta up past 9 games but sending him down before 40?  Does planning for RFA/UFA situations six or seven years from now really deserve consideration?  I was rather disappointed to see the Penguins may hedge their bets with such a scenario.  I understand the option has to be available if Maatta takes a turn for the worse or struggles in a few weeks.  However, I would think that if they are going to keep him up and burn a year on his entry level contract, he should play through his struggles and learn from them in the NHL no matter what.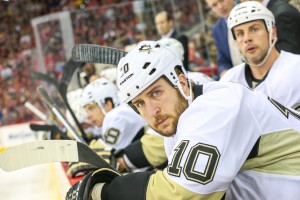 Using that premise as a stepping point, I do agree that the Penguins will need more depth at forward eventually.  Despite this, they are currently doing fine without Neal and Bennett, and those two will bring a big boost to the offense.  Therefore, it's safe to say a trade can wait until closer to the deadline.  Assuming Maatta stays for the entire year, the Penguins will have some defensive depth in the AHL that is likely NHL-ready and will have a hard time finding NHL time in the next year or two.  Brooks Orpik, Matt Niskanen, and Deryk Engelland are all free agents after this season, but I expect two at most to leave after this season.  That potentially leaves only one regular spot available for a group of Simon Despres, Philip Samuelsson, Brian Dumoulin, and Scott Harrington to compete for.
If I'm playing armchair GM here, I trade a defensive prospect closer to the trade deadline for some forward depth.  There is no way I would touch the current defensive group though.  As a potential Stanley Cup favorite, downgrading the current defense would be a mistake in pursuit of the Cup.  Let me change my stance from "Hoard all of the defensemen" to "Hoard all of the NHL-proven and ready defensemen."
SG:  Very true; now that the club has reportedly committed to keeping Olli past the nine game mark, I don't see any reason to send him back unless his game completely falls over a cliff.  I can't see that happening, though, so let's assume he's here for the long haul, at least for the purposes of our conversation.
To your next point, I agree that the club shouldn't be in any rush to make a move.  The Pens are off to a great start and they'll likely be fine in the regular season.  But the playoffs are a different animal, as last year proved.  If Pittsburgh is going to go conquer any of the NHL's elite squads in a seven game series, they need more depth up front.
And, while your argument supporting the movement of prospects rather than current NHL rearguards to obtain that depth is logical, it may not be feasible.  With the team already up against the cap, Shero would have to be awfully creative to find a way to bring anyone else in without giving up a roster player.
Yes, moving an NHL defenseman will hurt the depth of the blue line but, in my opinion, won't deplete the unit enough to prevent the Pens from achieving their ultimate goal.  Such a trade will simply serve as a necessary evil that could serve to push the club back over the top in its effort to recapture hockey's Holy Grail.
MS: Well, I think we have reached an impasse that will require Ray Shero as a deciding vote.  As you correctly point out, the salary cap will be a major factor in what happens in the end.  With Tomas Vokoun and James Neal currently on the long-term injured reserve list, the Penguins have some temporary cap relief to work with.  There's no telling when Vokoun will come back or who else will get hurt as the season wears on, so the cap issue shall remain a big question mark for the foreseeable future.  While I would prefer not to trade a defenseman, we will have to leave that up to Shero and the salary cap pressures that he will face later in the season.
It's been fun, Sean.  Until next time, here's to Maatta succeeding, Shero making the right moves, and more wins for Pittsburgh.
SG: Indeed, my friend.  I guess that's why they pay Shero the big bucks.  Until next time.
Sean Griffin is a lead writer for the Pittsburgh Penguins at The Hockey Writers. He can be contacted at psgrif27@gmail.com.