Sidney Crosby is in a scoring slump. Going into the November 14th game versus the Buffalo Sabres, he has failed to score in eleven consecutive games. He has 13 points in 19 games, a horrific plus/minus rating of minus-14, and has scored on just 8.3% of his shots. And he is the least of the suddenly punch-less Pittsburgh Penguins' problems.
During the 2016-17 season, the Penguins led the NHL in scoring. In fact, scoring goals has been in the fabric of the franchise since Mario Lemieux was drafted first overall in 1984. And, yet, the team is struggling to find its scoring touch. Through 19 games, the team is 17th in goals scored and, worse, their 2.63 goals per game average ranks near the bottom of the league at 25th. 
Yes, a healthy rebound from their captain would do wonders for their scoring numbers but the real root of their problem is their third and fourth lines.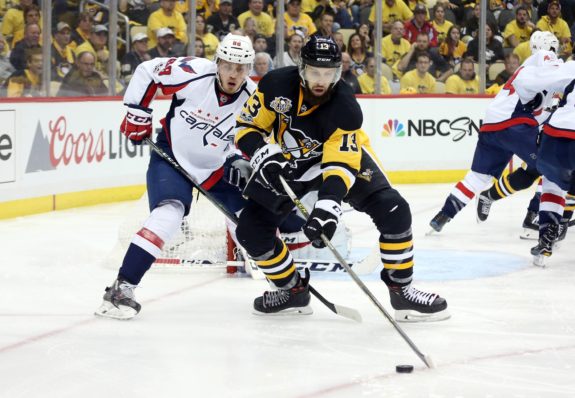 Look Who's Out
Consider for a moment the talent missing on the bottom-six from last season's two-time defending Cup champion roster. Nick Bonino anchored the third line as a center and scored 18 goals. He departed to the Nashville Predators on a big free agent contract. Forward Chris Kunitz, a reliable and clutch-scoring forward on three Cup championship teams for the Pens, also was not re-signed, He has now found a role with the league-leading Tampa Bay Lightning.
Kunitz only scored 9 goals during the 2016-2017 season as his role diminished. However, he was a reliable net-front presence and could move up and down the line-up depending on game situations and match-ups. His clutch overtime goal sent the team to the Finals last season.
Matt Cullen was usually penciled in as the fourth line center but his contributions far exceeded his numbers on the score sheet. Cullen was a key face-off man, was a force on the penalty kill, and could be counted on to score big goals in big games. Like Kunitz, he could also play up and down the line-up as needed.
Look Who's In
While Bonino, Kunitz, and Cullen were not All-Stars, they provided quality scoring depth for the third and fourth lines and their replacements – through nineteen games – have been sorely lacking.
Ryan Reaves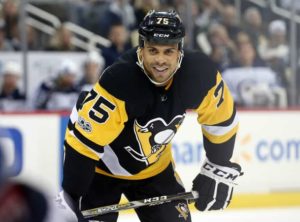 Acquired by the St. Louis Blues in the off-season, Reaves was brought in by GM Jim Rutherford for his muscle, not his scoring acumen. Reaves has been an effective enforcer and leads the team in penalty minutes, has fought when needed, and has provided a deterrent to those teams wanting to headhunt the Penguins' stars such as Crosby and Evgeni Malkin. While Reaves has served his role well, he is not a scorer, at all. Through 19 games, he has scored just one goal and two assists. That is a far cry from what a player such as Kunitz could deliver.
Greg McKegg
He does have a cool nickname, "Kegger", but with 2 goals and 2 assists, Greg McKegg is a definite downgrade from Cullen. To his credit, McKegg parlayed a strong preseason into a regular role as a penalty-killer and a fourth-line center. He has some speed and can take a regular shift on the fourth line, but is on pace for just 8 goals. No knock on "Kegger" but the Penguins would probably be better served with McKegg skating down in Wilkes-Barre.
Riley Sheahan
The party line when Riley Sheahan was acquired from the Detroit Red Wings was that the talented center would benefit from playing alongside his talent-rich teammates. Sheahan was promptly inserted into the third line, replacing Bonino, and, after ten games, he has posted exactly one assist, continuing his year-plus slump. In his past 90 games, Sheahan has scored two goals. Two . . . goals. He has to be wondering if he'll ever score a goal. The Penguins ought to be wondering too.
With the bottom six unable to score and the team, in general, struggling to score at even strength, the top lines have been stressed and, too often, the team has relied on its power play to cash in on goals. The Penguins still have lots of good players with proven track records. Carl Hagelin has scored just 1 goal, Bryan Rust, 2 goals, Tom Kunhackl, who has earned steady fourth line duty, no goals. These players must get untracked to take the pressure off the stars.
Back to Sidney Crosby. Stuck in a scoring slump, Crosby is due to break out soon. He still is one of the best players in the NHL and it's just a matter of time before his scoring touch returns. The same cannot be said for the players skating on the third and fourth lines and that is a concern for the Penguins as they reach the quarter pole in the new season.