There was a time when the Pittsburgh Penguins felt that their once-in-a-generation superstar Sidney Crosby needed a gang of toughs to keep him safe. He was an 18-year-old phenom during the 2005-06 NHL season and was entirely fresh-faced. With the Penguins as a basement dweller during his rookie campaign and the three seasons prior to his arrival, general manager Craig Patrick and Pens legendary player/owner Mario Lemieux needed to keep their most important asset in good hands.
Separately, let us fast-forward ahead by 12 seasons just for a moment. The toughest man in the NHL today, Ryan Reaves, was traded to the Las Vegas Golden Knights after playing 58 games this season as a Pittsburgh Penguin. At 6-foot-1 and close to 230 pounds, the behemoth winger was brought in mainly for the intent of protecting the Penguins stars like Phil Kessel, Kris Letang and Jake Guentzel. Far more importantly, Reaves was to bodyguard their superstars — Evgeni Malkin and of course, Crosby.
Both Crosby and Malkin are in their early 30s now, and with back to back seasons of winning the Stanley Cup, their bodies would naturally have taken a pounding. A player like Reaves, should he have been kept, would have staved off any additional wear Crosby and Malkin would have received, or at least minimized it. For whatever reason, the Penguins deemed Reaves role as expendable.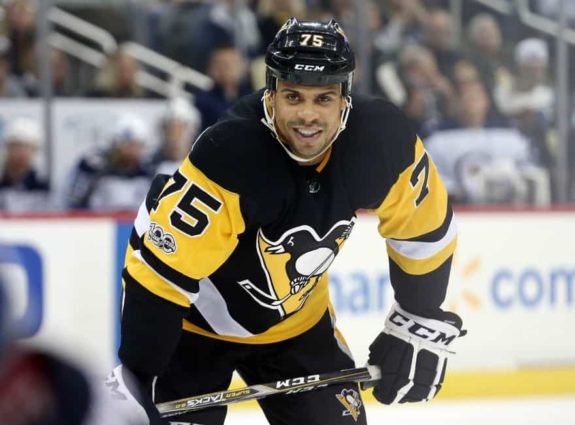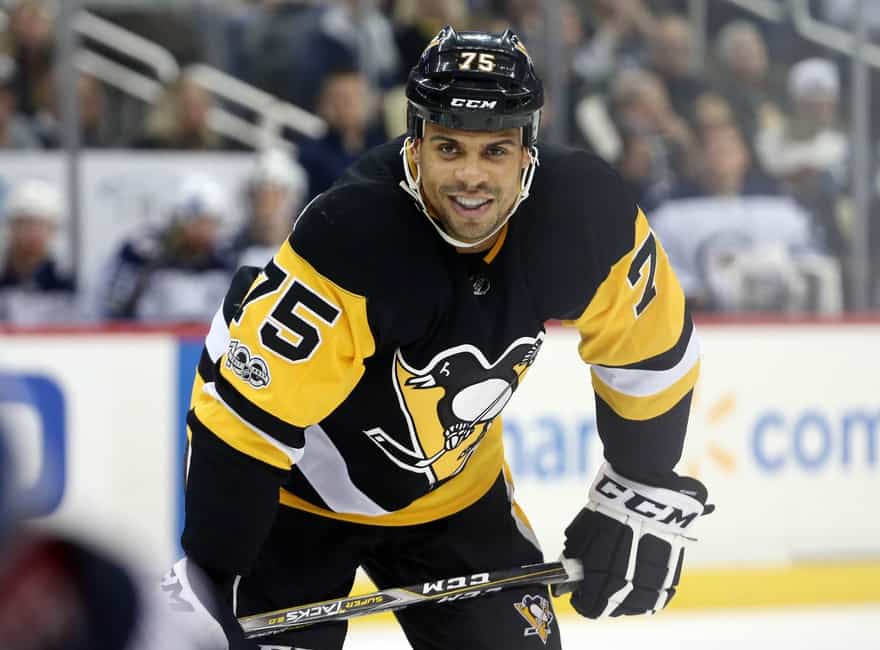 But, during 2005-06, Pittsburgh could not get enough Reaves-like players into their lineup. They had a smorgasbord of them. THW looks back on Crosby's original "goon squad" (though each was far more than any goon) in his rookie year, how each was acquired and what each brought to the lineup.
Ryan VandenBussche
The first to arrive was Ryan VandenBussche. Though not necessarily the biggest at 6-foot and just over 200 pounds, VandenBussche was one of the fiercest. His 702 penalty minutes in just 310 NHL games is proof enough of that. VandenBussche had actually signed as a free agent the season prior with Pittsburgh in July of 2004. But when that year's NHL season became a wash because of the lockout and no shortened version of an NHL season being put forth, VandenBussche signed with Pittsburgh's minor league affiliate, the AHL's Wilkes-Barre/Scranton Penguins, in Feb. 2005.
With "Sid the Kid" in town when the NHL resumed for the 2005-06 season, VandenBussche was immediately inserted into the lineup. He would remain as one of the early deterrents for any ill-treatment directed toward Crosby, at least through Christmas of 2005.
In his 20 games as a Penguin that year, VandenBussche picked up one goal on only five shots — but through that same stretch he also put up 42 penalty minutes. Those consisted of four fighting majors, as VandenBussche took on the likes of Jesse Boulerice, Andy Sutton, Colton Orr and Alex Henry.
This would be VandenBussche's final NHL season before finishing out his career while splitting 2006-07 between Jokerit Helsinki in Finland's SM-liiga and the old New Mexico Scorpions of the CHL. While he may not have been Crosby's primary enforcer during "Sid the Kid's" rookie campaign, VandenBussche added a lot of early energy to the team and intimidated quite a few opposing players into keeping their distance.
Andre Roy
The second to come was big Andre Roy. When we say "big", this highly intimidating winger played at 6-foot-4 and 221 pounds. While that is what Roy was listed at on paper, his weight was probably much closer to 230 or beyond in some seasons. The Penguins signed him as a free agent on Aug. 4, 2005 and he was intended to be Crosby's foremost protector.
With there being the NHL lockout to wipe out the entire 2004-05 season, Roy was fresh off of a Stanley Cup championship with the 2003-04 Tampa Bay Lightning. He did not play just a small role in that Cup victory either. Roy suited up for 21 of Tampa's 23 playoff games en route to Lord Stanley. He scored a goal and added two assists, while putting up 61 penalty minutes in the playoffs. Pittsburgh felt that in addition to Roy's size and toughness, his Stanley Cup experience was an added bonus that would help a beleaguered Penguins team.
During the 2005-06 season, Roy played a total of 42 games for Pittsburgh. He remained with the team all season long, as opposed to being sent down to the minors. The Pens inserted him into the lineup when they felt the need for additional toughness. Roy compiled 116 penalty minutes in just those 42 games, while also chipping in a pair of goals and an assist.
Roy had eight fighting majors that season too. Two of them led to his most amount of penalties in one game that year. Squaring off twice with former Columbus Blue Jackets enforcer Jody Shelley, Roy picked up 22 minutes on Jan. 11, 2006.
Lyle Odelein
The next tough guy to be signed after Roy was a veteran of 15 NHL seasons prior to coming to Pittsburgh. Defenseman Lyle Odelein had more than 2,200 penalty minutes before he signed with the Penguins as a free agent on Sept. 2, 2005. Like Roy, he was also already a Stanley Cup champion, having won the Cup with the 1992-93 Montreal Canadiens. The thought was that the 37-year-old Odelein could add both toughness and experience to Pittsburgh's blue line, in addition to steering aside anyone who wished to tangle with Crosby.
Keep in mind too that Crosby was not the only star on this team who needed to be protected. Lemieux played the final 26 games of his NHL career that season too, and no teammate would want an opposing player messing with "Super Mario". Mark Recchi, Sergei Gonchar and Ziggy Palffy also played on the team that year, and were more diminutive-sized players, particularly Palffy. If there is anything that can be said about Odelein, it is that for his entire career he took on all comers. No matter how big or how small his opponent may have been, Odelein was a consummate protector of his teammates and backed down from no one.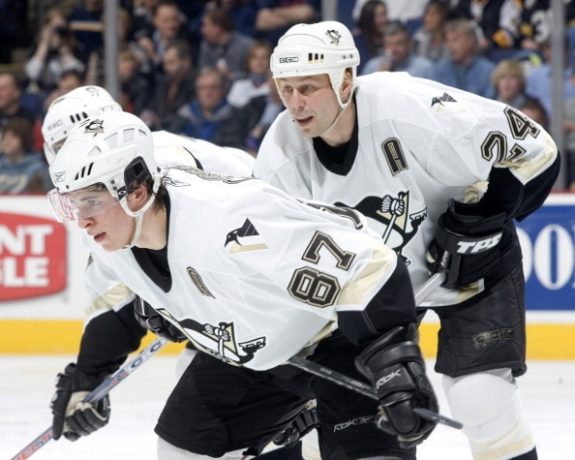 He played 27 games for Pittsburgh in 2005-06 and totaled 50 penalty minutes to go with an assist. Unfortunately, Odelein suffered a knee injury and did not play beyond mid-January with the team. While he was healthy though, he received the final two fighting majors of his career.
During the same Jan. 11 penalty-filled affair against Columbus, Odelein got the better of Ron Hainsey. He picked up an instigator penalty and a misconduct penalty as well. The dust-up took place after Columbus' Nikolai Zherdev threw an elbow at Crosby, causing multiple Penguins to jump in. Odelein decided to settle things and make a statement by put a licking Hainsey, who was more of an innocent bystander. A message to the effect of, "keep Zherdev in check or we're going to go after your guys."
Odelein's final fight came two days later on Jan. 13, when he squared off with longtime opponent — likely his "favorite" in many ways — Matthew Barnaby of the Chicago Blackhawks. Odelein and Barnaby fought seven times during their careers, which was the most against one opponent for either player.
Eric Cairns
After Odelein went down with his knee injury he would retire shortly thereafter. The Penguins needed to replace that toughness in their defense corps as soon as possible, and they did so with the giant-sized Eric Cairns. At 6-foot-6 and over 220 pounds, Cairns was not only the most sizable player on the team but he was also one of the largest in the entire league. The Penguins sent a sixth round draft choice in the 2006 Entry Draft to the Florida Panthers on Jan. 18, 2006 in order to get their new big man.
Cairns had played 23 games with the Panthers in 2005-06, and he would play another 27 with the Penguins after the trade. He would score one goal for the Penguins on Jan. 26 against a former team of his, the New York Islanders. More notably though, Cairns picked up 87 penalty minutes for Pittsburgh in just those 27 games. Almost half of those came on Mar. 21 against the Ottawa Senators. Cairns took on Zdeno Chara in a terribly heated scrap. At the end of it Chara got the better of Cairns, and the Penguins D-man was given spearing major, a misconduct and a double game misconduct for 40 PIMs total.
After 2005-06, Cairns played one final NHL game. With the Penguins still, he took on Brian McGrattan against Ottawa once more on Nov. 10, 2006 for his final NHL fight.
Looking at the Aftermath of It All
While VandenBussche, Roy, Odelein and Cairns were Crosby's original set of protectors, there were some other tough customers on that Penguins team too. Sleek scoring defender Sergei Gonchar put up 100 penalty minutes of his own accord. Brooks Orpik, who was only 24-years old at the time, compiled 124. Even Crosby himself had 110 minutes in the box. Saying that the Penguins could be physical that year was a major understatement. In addition to having the premier upcoming star of the game, they were a very scary hockey club. The concept was simple: the Pens told all comers, "Look, we are not going to be very good this season, but the last thing you are doing is touching our kid."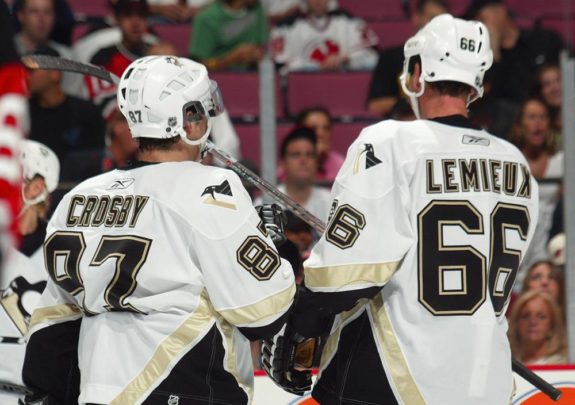 Enforcers have depleted exponentially in the NHL since Crosby's rookie year. In fact, there are seemingly no natural enforcers left in the game today — certainly no VandenBussches or Andre Roys. Ryan Reaves is the closest thing you will see to a bygone era, and yet even he possesses other skills outside of the pugilistic ones.
As the Penguins strive toward a third straight Stanley Cup, will any physical abuse on the ice that is sustained by Crosby, Malkin and Kessel keep them from their goal? Time will tell. The absence of Reaves will not be known just yet, but at some point it will be understood. Hopefully not in the midst of the playoffs. Many feel that parting with Reaves is a big mistake by the Penguins.
It could very well be something the team eventually regrets.
Certainly there was a time when the Penguins felt enforcement and fisticuffs mattered, and that they kept their stars safe. Sometimes it took no more than a glare from VandenBussche, Roy, Odelein or Cairns to persuade a Zherdev to tow the line. Having enforcers in the lineup worked. Just ask Sidney Crosby.
General Manager of the Buffalo Beauts (NWHL). Hockey history writer "The Hockey Writers". Credentialed media for the NHL Combine and 2018 IIHF World Junior Championships in Buffalo, NY, USA. Born and raised in Buffalo, NY. Lifelong hockey fan for over 40 years. Proponent of the women's game.