Sidney Crosby is the best hockey player in the world. End of debate. He might not be the fastest (catch you if we can, McDavid). Surely he isn't the strongest (how's the weather up there Chara?). But, he's damn well the smartest. And brains, not brawn, are what wins Stanley Cups.
Sid's Success Speaks for Itself, but Some Still Don't Listen
Sidney Crosby knows a thing or three about success. Yet, even the three Stanley Cups he's won with the Pittsburgh Penguins aren't enough to silence his constant critics. And, despite a list of awards, accolades, and accomplishments that is longer than Zdeno Chara's stick, or perhaps the season ticket refund line in Buffalo, it seems that outside of Pittsburgh, Sid the Kid is often public enemy number one. 'Why?', an inquisitive mind might ask. Two words – envy. And, also envy.
Yes, envy that stems from the simple fact that Sidney Crosby isn't playing for their team. And ultimately, envy that festers, boils, and eventually bursts from fans who are unwilling to accept the obvious. That more so than any other player in the NHL; No. 87 has the uncanny ability – a champion's ability – to perform under pressure.
The aforementioned envy can be easily evidenced through Crosby's cornucopia of championships, awards and achievements. Although, there are likely none more memorable than a classic Crosby magic moment from early February of 2010. The kind of moment forever lives in infamy. A moment that cut the author of this pro-Crosby piece to the core. Although, it's like they say – the first cut is indeed the deepest.
The Shot Heard Around the World
Eight years ago, Sidney Crosby broke America's heart. With one perfectly placed shot in overtime, Crosby decimated the dreams of an entire nation. Fans hoping to see Team USA return to a level of Olympic golden glory not seen since 1980's 'Miracle on Ice' were left crying into their Budweiser as yet another chapter, this time a golden one, was added to Sid the Kid's storybook career.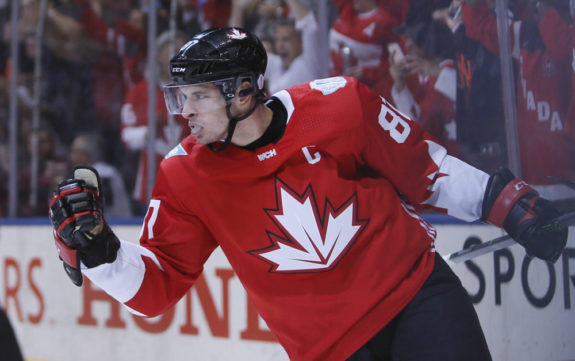 It almost seems like yesterday… The Olympic Gold Medal hangs around Crosby's neck. Choruses of "O Canada" rise to the rafters of Rogers Arena. It seems all of Canada can be found collectively rejoicing in their new hero's OT heroics. But, back in Pittsburgh, deafening silence ensues. Those who bleed the black and gold are still speechless. Stunned. Shocked. For the Steel City's Savior had forsaken them.
To Forgive and Forget
They say time heals all. That's mostly true. Although, America and the competitive cycling world might not ever fully forgive Lance Armstrong for his perjurious past and for his pivotal part in making the prestigious Tour de France look like the Tour de "Liar Liar Pants on Fire." There is no doubt the City of Pittsburgh has unequivocally forgiven Sidney Crosby. The destroyer of American Olympic dreams has been issued a full Pittsburgh pardon.
They better have! Especially, with Crosby leading the Penguins to back to back Stanley Cups in 2016 and 2017, all the while winning consecutive Conn Smythe Trophies as the postseason's best player.
A Home for a Hero
The Steel City loves Sidney Crosby. And, he has earned their affection, having spent his entire NHL career in a Pittsburgh sweater and acting as the driving force behind an offense that is both dynamic and dangerous. During the Crosby era, the Penguins have become perennial cup contenders, and one of the Eastern Conferences most feared foes. With the boys in black and gold ultimately hoisting Lord Stanley's coveted cup three times under Crosby's captainship.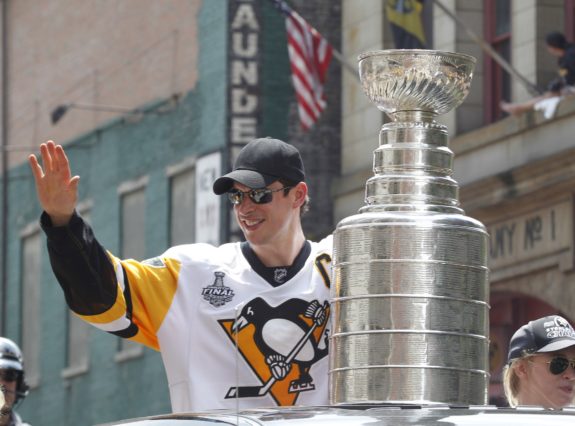 Although he's still called Sid the Kid, Crosby's hockey heroics have perpetually proven that his game, is anything but childish. So, if the city of Pittsburgh can finally forgive Sid for sending Team USA south of the Canadian border with a silver medal in tow way back in 2010, why can't a puzzling plethora of NHL fans?
More Questions, Same Answer
Why is the best player in the world still subject to a scathing slew of constant criticism? An infinite barrage of boisterous banter? Much maligned and mean-spirited meme immortalization? And even elation over the unfortunate reoccurring concussions that have plagued Crosby's career?
One more time. And still louder for the people in the back. It's ENVY! No, ands, ifs or butt-ends about it. Envy because Sidney Crosby isn't making picture perfect passing plays in their arena. Erroneous envy that occurs because their captain doesn't do whatever it takes to win. Even, if that includes a bit of embellishing from time to time. Perhaps, a dive here and there. Or, maybe even "casually" chatting up a ref about a missed whistle.
Call it what you want to call it. But, Sidney Crosby and the Penguins call it winning, and nearly every move Crosby makes is calculated, cunning, and in service to his team.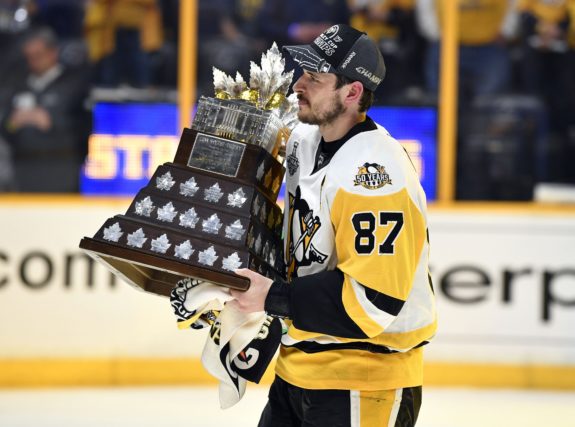 The Final Horn
Here's a little enlightenment to leave you with. A truth bomb as the cool kids call it.
Sidney Crosby doesn't care if you call him Cindy. He doesn't care about your stupid cardboard sign in the stands. Sid definitely doesn't care about the fans on an endless crusade to criticize every ounce of his existence. Nope. Sidney Crosby doesn't care about the haters. What Sidney Crosby cares about is winning.
And, if you don't care about winning, you're either A) a Buffalo Sabres fan, or B) hating just for the hell of it. Either way, in sports, as it often echoes in life, "winning isn't everything, it's the only thing."
So the hockey world can continue to hate on Sidney Crosby all they like. But, if teams can't find a way to contain his ever-evolving game. Chances are, come June, they'll be kissing the Golden Boy's rings once again, while King Crosby continues to carry the crown as the best hockey player in the world.