The Pittsburgh Penguins are a vastly different team heading into the 2015-16 season. It's been an offseason littered with roster change. Brandon Sutter was traded and Phil Kessel was acquired without losing many valuable assets.
However, the Penguins head into training camp with quite a few roster spots up for grabs. There are a couple open spots in the forward corps and the bottom-four defense could be entirely different than most think.
Given what we currently know, here's my shot at the Penguins' line combinations and where the open spots are.
Penguins Projected Lineup
Forwards:
David Perron – Sidney Crosby – Phil Kessel
Chris Kunitz – Evgeni Malkin – Patric Hornqvist
Sergei Plotnikov – Nick Bonino – Pascal Dupuis
X – Matt Cullen – Beau Bennett
Defense:
Olli Maatta – Kris Letang
X – X
X – X
Now, you might disagree with the placement of certain skaters within the lineup, but the point is that all of the mentioned players are virtually a lock to make the NHL roster. For those who don't know, Eric Fehr is injured and looking to return by December. So when discussing the opening night lineup, Fehr will not be included.
There are also a couple things that need to be stated before moving on. The first is that Pascal Dupuis, although loved in Pittsburgh, is no lock to be playing in the top-six. Dupuis has played in just 55 games over the last two seasons and he has to go through a rigorous therapy process to play every night. The other is that I do not believe that Beau Bennett's roster spot is safe. If someone comes into the preseason and training camp and simply works harder and plays better than Bennett, he could theoretically be sent to the Wilkes-Barre/Scranton Penguins for the season or be traded. Bennett was a restricted free agent this past offseason and the Penguins have made a habit of giving their RFAs two-year contracts, but he was only give a one-year deal.
What to Expect from Training Camp
Call me crazy, but I think that Sergei Gonchar actually might make the roster. If you assume that Gonchar does make the Penguins, what do they do with Rob Scuderi? Both are recycled veteran defenders from a time when the team won the Stanley Cup.
However, both are at the end of their careers and simply do not bring much to the ice anymore. Gonchar was a healthy scratch in over half of the Montreal Canadiens' games last season and did not play at all in their playoff run. While Scuderi played in all 82 games for the Penguins last season, he was not a very productive defender. Is there a chance that both make the active roster? General manager Jim Rutherford did not want to answer that question one way or the other.
Asked Pens GM Jim Rutherford if he envisioned a scenario where Scuderi and Gonchar are both in the top six. "Too early to tell."

— Jason Mackey (@JMackeyPG) September 15, 2015
Frankly, I don't see a place for either of them in the starting lineup. The Penguins have a lot of young and talented defenders and it's time for them to play and show what they're made of. Maatta, Derrick Pouliot, Ian Cole, Brian Dumoulin, Adam Clendening and even Tim Erixon all are viable options, at least, to play on the bottom pairing. Cole will be in the top-four because the Penguins do not have a better option, Dumoulin requires waivers this season and should get a chance on the bottom pairing and Pouliot is an interesting case.
There are some who have penciled the talented puck-moving defender into the other spot on the second pairing and some who actually believe he could be sent to Wilkes-Barre/Scranton. Erixon and Clendening are both long shots to make the roster, but they still have a chance. So where does that leave Scuderi and Gonchar?
This is where the situation becomes even more confusing. Does Scuderi ($3.375 million cap hit) make too much money to sit in the press box night after night? Where would Gonchar fit even if Scuderi was the seventh defender?
The Penguins should have learned from their lesson with Scuderi. Yes, Gonchar was a great player for the Penguins from 2005-2010, but that does not mean he can help them now.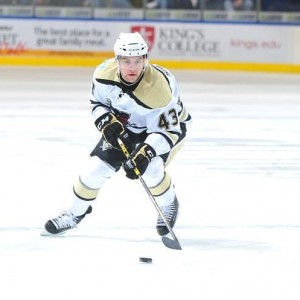 Penguins Have Forward Options
For the first time in quite a few seasons, the Penguins actually have many forwards who they could put in multiple positions. Pittsburgh has not seen this type of depth within the last five seasons.
Of the Penguins' prospects, Conor Sheary and Scott Wilson have the best chance to make the opening night roster. Wilson has played in one NHL game and was injured just 4 minutes and 21 seconds into his first game. However, he has decent size, standing at 5 feet 11 inches and 183 pounds, and has been regarded as a very well-rounded forward. He won't be making many flashy plays, but skating on the fourth line, he will not be asked to. His size gives him an advantage of Sheary, who stands at just 5 feet 8 inches and weighs in at 175 pounds.
But there's a very big difference between these two; it's work ethic. Sheary was never drafted. He's been having to work harder than everyone else to prove he is good enough to make it. I've discussed the many similarities between Sheary and the Tampa Bay Lightning's Tyler Johnson. That is not to say that Sheary will definitely become a player like that, but he certainly has the potential.
It should also be noted that Sheary has already been moved from the "In the system" page of the Penguins official website to the active roster. 
Frankly, the defensive situation is more crucial for the Penguins' 2015-16 success. The team should thrive with either Sheary or Wilson on the fourth line, but there will be significant questions about the defensive corps if Gonchar and Scuderi make the roster.
Thanks for reading! Feel free to leave your comments below or tweet me anytime @MPityk