Nikolaj Ehlers may have had a whirlwind of a year already, but if the supremely talented young Dane has any say in the matter, that year is about to get even crazier.
There is an open spot on the forward roster of the Winnipeg Jets coming into camp, and many feel it has Ehlers' name on it. With nothing left to prove at the junior level, the man Craig Button once called the Danish Drouin is due to leave Halifax behind and make his appearance in the NHL this season. Ehlers is young, and it is unhelpful to put undue pressure on the young man, but, having said that, his imminent arrival in Winnipeg should have Jets fans very excited. After all, the Jets have had some talented players over their four years in Winnipeg, but they've never had anyone quite like Ehlers.
An Offensive Arsenal
As evidenced by his outstanding QMJHL point totals, scoring comes easy to young Ehlers. A quick glance at the stats sheet is enough to tell you he's a special player, but it's watching him play live, watching the way he puts up those points, that truly reveals him to be outstanding.
While Ehlers' showing during the final game of the Penticton rookie tournament was excellent, it was only the latest piece of evidence of his skills in a case file now so thick you could use it bludgeon someone. Ehlers put up three assists, including a highlight reel slap pass to a wide open Andrew Copp (another player with a roster spot in his sights, incidentally) and drew  penalties with his blazing speed and tenacity. He handled the puck as though it was on a string, demonstrated a laser-like shot, and had the Edmonton defenders either trailing in his wake or taking undisciplined penalties with his speed and quickness. It was the perfect way to cap off his weekend.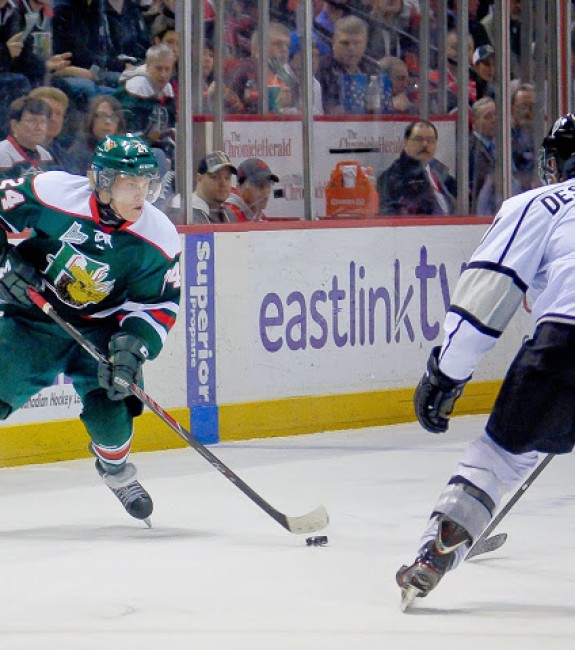 None of these individual assets makes Ehlers NHL worthy in and of themselves, but the combination of them makes Ehlers unique among Jets prospects. Although defensively Ehlers needs work, as young prospects often do, offensively he has one of the most complete skill sets among NHL prospects.
When he has the puck on his stick, there is nothing Ehlers can't do. He can carry it up the ice with blazing speed and astonishing acceleration, or he can find an open man with a pinpoint pass. Once in the zone, he can hold onto the puck until a lane opens up, or dish it off right away. Then too, Ehlers possesses a lethal shot, which he can use from anywhere. He unleashed it when he played the point on the power play for both the Jets prospects and the Danish national team at the World Junior Championships.
Ehlers is a crafty stickhandler, and has the rare ability to be shifty at high speeds. While his straightaway speed is often lauded, it's his lateral movement that creates some of the best scoring chances. With elite speed, quickness, stick handling, shooting and passing, Ehlers has the complete offensive toolkit.
Yet it's his creativity and willingness to use any and all of those abilities that really keeps defenders on their toes. A defenseman can't just play the shot with Ehlers, or assume he'll try to dangle. Even from a fans perspective, I can't always tell what Ehlers is going to do next. What it's like at ice level to try and defend a player with that many weapons at his disposal, I can only imagine.
So What About His Size?
When Ehlers absorbed a massive hit from big defenseman Ben Betker in the game against the Oilers prospects, his reaction to it was a relief. Ehlers bounced up off the ice like he'd landed on a trampoline and didn't even seem to notice he'd been hit. It was a short moment, but perfect for someone like myself, looking for assurances that Ehlers can survive at the NHL level. Betker, for the record, is 6'5 and 205 pounds, or roughly the size of Jets power forward Adam Lowry.
While this is but one moment, it's an encouraging one, and not the first. Ehlers' feistiness (which he is going to need playing in the NHL's merciless Central Division) never fails to impress me. It doesn't get talked about as much as his offense, and rightly so, but Ehlers displays a fire that seems to trump the few questions about his size his skill has yet to quash. Smaller players than Ehlers have survived in the NHL, and with less impressive skill packages.
Ehlers' quickness enables him to avoid most big hits, and if anyone tries to take liberties with him he will have the benefit of one of the biggest, toughest squads in the NHL looking over his shoulder. Aside from noted heavyweight Anthony Peluso and veteran scrapper Chris Thorburn, Ehlers will have Dustin Byfuglien, Andrew Ladd, Adam Lowry and Mark Stuart watching his back on the ice.
So Once He Gets There…
Many hockey pundits already have Ehlers pencilled in as a Calder Trophy candidate, and that alone should excite Jets fans. A wait-and-see attitude is understandable, but there's no shame in being optimistic either, and you'll have to forgive me for having more than my share of optimism where Ehlers is concerned. Quite simply, the Jets need a player like this. While there are plenty of talented players already wearing Jets colours, none of them have the unique blend of offensive talent Ehlers brings. The Jets, simply put, do not have a superstar, and Ehlers has the skill set to become one.
Not since the Ilya Kovalchuk trade has this franchise had a truly elite offensive player, the one player around which other teams must build their strategy when facing the Jets. While it's unfair to compare a 19-year-old to a former 50 goal scorer, it is fair to say the Jets 2.0 have never drafted a prospect as talented as Ehlers. He represents part of the perceived success of the Jets' draft and develop method, and his offensive skills are in demand on the team right now. Whether this year is one of learning and growing pains, or one worthy of Calder Trophy consideration as some have suggested, Ehlers should spend it with the big club.
There's an opening up front on the Jets roster, and the feeling is that the spot is his to lose. I for one would be ecstatic to see number 42 being worn by Ehlers on opening night, as he skates on one of the top lines. It's a long, tough slog, for the young Dane going forward, with the preseason still ahead to test him, but as I said earlier, there's no shame in being optimistic. For Jets fans, the electric Ehlers is reason enough to be excited for the coming year.
As if Jet fans needed any more reasons to be excited.
A long time hockey fan and player from Winnipeg, Manitoba. Play-by-play man with the SJHL's Estevan Bruins. Graduate of Red River College's Creative Communications program with a major in journalism. Former PxP man for the University of Manitoba Bisons. Lover of all things Jets and Avs related and always looking for a good hockey debate.