If you call yourself a die hard hockey fan, you probably have at least a moderate curiosity towards line combinations and defense pairs. The start of training camp is when coaches like to try new combinations and mix things up to see which players might mesh well together.
For veteran teams like the Sharks, the mixing and matching of players on different lines is easier when there is already plenty of established chemistry. Experimenting in training camp is more for future reference as typically teams will start the season with familiar lines that have worked in the past.
A number of other teams will be integrating many more new faces into the lineup. The chemistry for those teams won't quite be established early in the season. San Jose can take advantage of this discrepancy in familiarity by sticking to established lines and pairs. The Sharks often get off to good starts and chemistry is a big reason why. Particularly during the lockout shortened season, the limited training camps didn't allow for much practice time, so the Sharks got off to a hot start since their core had already been playing together for years.
With a regular full training camp this year, clubs do have more time to integrate their new players but it still isn't the same as playing in meaningful games. This should give the Sharks a bit of an advantage out of the gate. While first year Sharks head coach Peter DeBoer may already be considering some different forward combinations in his head, chances are he will start pretty similar to how the team ended last season.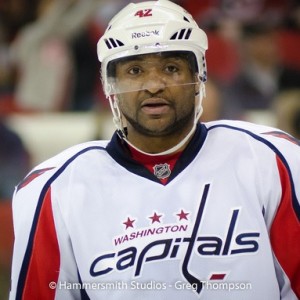 Ward-Thornton-Pavelski
The top line will without a doubt feature Joe Thornton and Joe Pavelski as it almost always does the past few seasons. My hunch says that DeBoer will replace Melker Karlsson on the opposite wing with the very key free-agent pickup in Joel Ward. The former Washington Capital and Nashville Predator is coming off a strong finish to the season in Washington. Ward played with the Capitals best two players down the stretch in Alex Ovechkin and Nicklas Backstrom (who just so happen to also wear 8 and 19). It would be the easiest transition for Ward to go from playing with a left-handed set up man in Backstrom and a right-handed volume shooter in Ovechkin to similar offensive players in Thornton and Pavelski. Thornton is also a left-handed set up man and Pavelski is a right-handed volume shooter.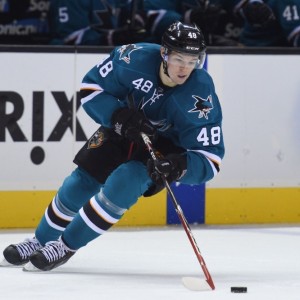 Marleau-Couture-Hertl
As for the second forward line, the Sharks ended last season with Patrick Marleau, Logan Couture and Tomas Hertl together. While it was the worst defensive season that Marleau and Couture have had together, perhaps a bounce back is in order. At least to start the season, the Sharks would be wise to stick with the chemistry between these two veterans. Marleau may indeed be better suited being bumped to the third line at some point this season, but the more one thinks about it, no need to rush his demotion. A bounce back year from Hertl in year three and this line has the potential to score a lot of goals. Each one has a chance at reaching 30. Given healthy years for all three of them, it would be surprising to see any of them finish with less than 22.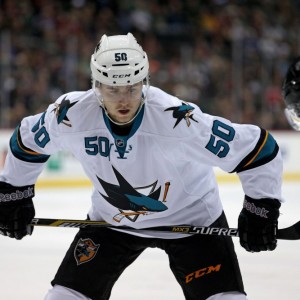 Nieto-Tierney-Wingels
Where this year's Sharks will really be different than in years past is that they will have a consistently dangerous third line. Over the last four-five years, when the Sharks were skating with Pavelski at third line center, that line could do serious damage. However when Pavelski would move up to the top-six, the third line then became below average at both ends. At the end of last season though the Sharks finally found an answer to their depth scoring woes. His name is Chris Tierney. The second-round draft choice from 2012 shined down the stretch of last season with 14 points in his final 18 games playing mostly with Matt Nieto and Tommy Wingels. These three together should give the Sharks an extremely effective third line that allows Pavelski to remain playing in the top-six.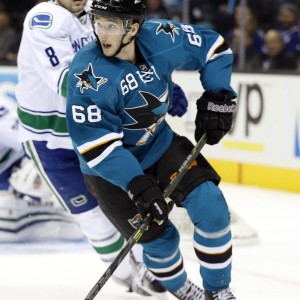 Goodrow-Smith-Karlsson
And finally, the Sharks will be able to roll out an effective fourth line of actual hockey players as long as they consistently keep Mike Brown out of the lineup. This team has far too many forwards in the system that can play an effective 10-12 minutes per night to waste a lineup spot on a guy who only averages around 7-8 minutes when he plays. For now, I'm just going to assume that Raffi Torres won't quite be ready for the season opener. That still leaves a quality fourth line of Barclay Goodrow, Ben Smith and Melker Karlsson. All three guys are reliable three-zone players that can skate 10 minutes per night together and all three are capable of chipping in on the penalty kill. Goodrow and Smith are better suited to kill penalties but Karlsson wouldn't be out of place on the PK either. Fourth line players aren't going to play much at even strength or power play so they need to be able to help out short-handed. Otherwise, teams ends up taxing too many tough minutes on their star players.
One of the main reasons yours truly is high on the Sharks this year is they will finally have a strong bottom-six. This has often been a weak point the last few years. Furthermore, the defense on paper is even better than it was two years ago when the Sharks finished with 111 points. Paul Martin and Marc-Edouard Vlasic give the team two shut-down studs in the top-four to balance out the offensive prowess of Brent Burns. Combine a deep set of forwards with what should be a much stronger blue line than last year and confidence that newcomer Martin Jones will prove to be solid between the pipes, there is a lot to like about the Sharks.
Andrew has been credentialed to cover the Sharks since 2010 and the 49ers since 2012. He graduated with his BA in Broadcast Electronic Communication Arts in 2013 from San Francisco State University.