The salary cap era in the NHL has brought tremendous parity to the league. Almost every team has some high-end skill. With the top-tier talent spread out, teams can't rely on just two forward lines and one great defensive pair to be successful. In recent years, the teams consistently making it deep in the playoffs have featured many big time contributors on the lower lines and pairs. The Chicago Blackhawks just won their third Stanley Cup in six years. Yes, the Hawks have big-name stars and yes, they managed to win the 2015 Stanley Cup while heavily riding their top-four defensemen. However, their fourth line of Andrew Desjardins, Andrew Shaw, and Marcus Kruger was a big, big reason for their success in these playoffs.
Failing Fourths For Years
As for the San Jose Sharks, a fourth line has never matched anywhere close to that of the Blackhawks'. The lack of a fourth line has been a much bigger problem than the perceived failures of their top players. Sure enough in certain playoffs, San Jose's top guys like Joe Thornton and Patrick Marleau could have been better. For the most part, the two stars have actually been good playoff performers if you look at the numbers and don't fall for the choking narrative. These two veteran stars get far more criticism than is warranted. They have never had the defense depth nor forward depth around them that teams like Chicago and LA have had on their Cup-winning rosters.
The past three seasons, the Sharks' main fourth lines at the end of the year were as follows:
2013: Bracken Kearns-Desjardins-Adam Burish
2014: Raffi Torres-Desjardins-Mike Brown
2015: John Scott/Mike Brown-Desjardins-Tyler Kennedy
The 2013 version was absolutely no threat to score whatsoever. Despite the fact Burish had just signed a four-year deal worth $1.85 million per year, he brought no offensive skill to the table. He has since been waived and is playing in the minors. Despite Burish bringing down the Sharks' fourth line, general manager Doug Wilson traded for fellow tough guy Mike Brown the following season. Brown turned out to be worse than Burish. When the Kings got their heads on straight, Brown proved useless in the second half of the 2014 series.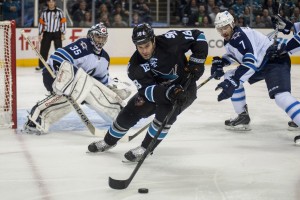 Despite Brown's poor performance, Wilson re-signed him to a two-year deal (over $1 million per year) even though no other team in their right mind would have offered him that kind of contract. Brown brings nothing of value except something that is well on its way out of the game: fighting.
On top of re-signing one of the worst players in the NHL to a multi-year deal only two years after signing Burish, Wilson also managed to sign the only NHL forward clearly worse than Brown. He signed John Scott, yeah that John Scott. A player with more years in the league (7) than points scored (6) going into 2014-15. The Sharks started this past season with three fourth-line only veterans on their roster; two of which were completely useless and the third, basically useless outside average penalty killing and faceoff ability. The Sharks are almost better off being short-handed then having Scott or Brown on the ice.
Finding a Real Fourth Line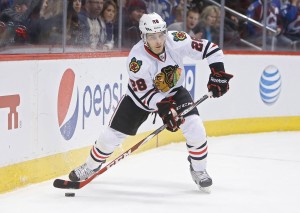 While Desjardins is a strong fourth liner that the Sharks gave up to Chicago, San Jose got back a solid fourth liner in Ben Smith. Smith has the ability to center a fourth line with a career 51.7 faceoff percentage. Last year was a bit of a down year for Smith, only 14 points between Chicago and San Jose after 26 points in his first full season in 2013-14. Due for a bounce back, Smith will likely go over 20 points from the fourth line next season. He will definitely have over 20 if he is given two competent wingers instead of one competent winger and a useless goon on the other.
Ideally speaking, the Sharks will flank Smith with Barclay Goodrow and Melker Karlsson. These two are above average skaters that are both defensively responsible and tenacious on the puck. Along with Smith, this trio would be one of the hardest working, most responsible fourth lines you will find in the league. All three of them offer the ability to contribute on special teams, particularly Smith and Goodrow on the penalty kill.
While Karlsson scored a few goals on the top line with Thornton, neither Karlsson nor Goodrow have the shooting ability to be a long term fit with Thornton. That said, they bring other intangibles important to a fourth line. Goodrow is a big-bodied winger with quality speed. He also brings underrated play-making skills to the ice. His 6-foot-2-inch, 215-pound frame allows him to be strong in the corners protecting the puck. Karlsson on the other hand is smaller, but he has terrific hockey sense and is not afraid to crash the net or race into the corners on the forecheck.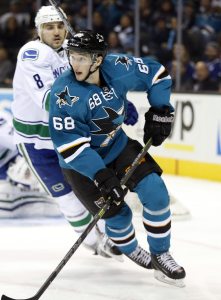 Goodrow and Karlsson also found some terrific success playing together this past season. Before Karlsson was bumped to the Thornton line, he and Goodrow sandwiched James Sheppard on the third line. The rookie wingers were just as, if not more, responsible for the success of that third line than their veteran pivot man. If Goodrow and Karlsson sandwich Smith on a fourth line next season, these three should each reach at least 15 points. A fourth line that features three quality NHL forwards, all of whom being capable of filling in on higher lines, is exactly what this team needs.
The Sharks have never had that kind of fourth line. If they are smart, they will waive Brown, let Scott walk, and actually ice three quality players on their final forward line in 2015-16.
Andrew has been credentialed to cover the Sharks since 2010 and the 49ers since 2012. He graduated with his BA in Broadcast Electronic Communication Arts in 2013 from San Francisco State University.