The Pittsburgh Penguins used to have one of the best, if not the best, defensive prospect pools in the entire NHL. It was a unit that featured names like Joe Morrow, Scott Harrington, Brian Dumoulin, Alex Goligoski, Kris Letang, Olli Maatta, Philip Samuelsson, Robert Bortuzzo, Simon Despres and Derrick Pouliot. But now the pool is running dry.
Where did all of the defensemen go? Well, most were traded away as part of the Penguins "win now" philosophy. Goligoski went to the Dallas Stars and returned Matt Niskanen and James Neal, Samuelsson went to the Arizona Coyotes, Harrington just was sent to Toronto and Despres is thriving in Anaheim.
How Was This Unit Developed?
Many said that Ray Shero "drafted too many defensemen" and in actuality he did not. The Pittsburgh Tribune Review crunched the numbers and examined the Penguins last three GM's draft records. Shero, unsurprisingly, did draft the most defensemen of the three at 40% of his total selections, but was that a bad thing? He spent 50% of his picks on forwards and 10% on goalies, but look at the success rate. Shero's Penguins drafted five goalies, two of them, Matt Murray and Tristen Jarry, look to have high ceilings. But just look at how bad Shero's history of drafting forwards was.
Here's a list of forwards who played more than 10 NHL games, Luca Caputi, Dustin Jeffrey, Ben Hanowski, Beau Bennett, Bryan Rust and Jordan Staal. Of that group, Beau Bennett is the most accomplished forward that Shero drafted. (We're not going to consider drafting Staal to be an achievement since he was a second overall pick and Shero decided to take him instead of Jonathan Toews)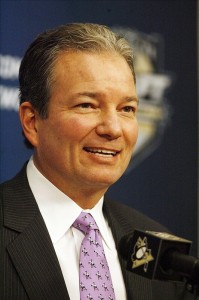 Sure, maybe Shero did draft too many defensemen, but he was incredibly good at doing so. The general manager before him, Craig Patrick, can take credit for finding Letang and Goligoski, but the rest of his draft record was less than impressive.
Say what you want about Shero and his desire to draft defensemen for the Penguins, but a lot of them turned into very valuable assets or trade bait. There's a misconception that he only wanted to draft defensemen in order to "money ball" the system, but Shero's a very smart man. He saw that he and his scouting staff excelled at selecting, at least perceived, valuable defensive prospects and they used that to their advantage.
I don't think there's a question that the Penguins need to start some defensemen at the 2016 NHL entry draft because look at the farm system, behind Maatta, Pouliot and Dumoulin there isn't a single promising player. Only two of the In The System players on the Penguins website even have jersey numbers.