Coaches and players often use terms like urgency, intensity and desperation.
Last Thursday, the Vancouver Canucks came into San Jose riding a nine game losing streak. The Sharks suffered a 4-2 home loss. Urgency, desperation and intensity were not part of the Sharks' game that evening. The absence of these qualities was addressed by Sharks head coach Peter DeBoer in his post game remarks. But perhaps not in the expected way.
"Its tough to manufacture, let's be honest. Everybody knows where we're at, so that's the reality of the situation, too. You can talk about it all you want, and of course, everyone wants to win 10 in a row going into the playoffs, but I'm confident our group will have its game in the right place when that starts … It's human nature when you're not playing for something. You can talk about it all you want, it's not the same. Again, I'm not concerned about it. We'll be in the right spot come the right time."
This was an important comment. He seemed to have given his players a pass for a less than top-level performance. He didn't.
http://gty.im/492206108
He sent a few messages to his team with these simple remarks. First off, he's told his players they are smart. Coaches can push buttons all they want, but players know which games carry more meaning and which games carry less. DeBoer is freely admitting that the players are too intelligent to be fooled into believing something is important when it isn't. That makes the coach credible, which helps to get the most out of his interactions with players.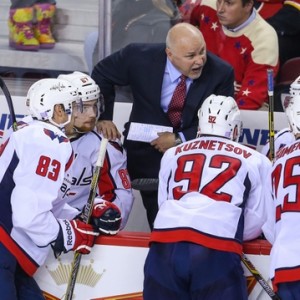 DeBoer is not alone in this line of thinking. Barry Trotz of the Presidents' Cup winning Washington Capitals recently said "When you have a little bit of space, I think it's really hard, because that's human nature. We're in a marathon. And right now, we're leading by three miles. So how urgent can you be?"
A second message is also implicit in DeBoer's comment. It is an agreement with the players. It is an agreement the players must accept. If DeBoer is willing to let human nature act as a reason for underperforming in a game with less meaning, the opposite will also hold. Importantly, DeBoer offered the contrast, showing confidence the team would be "in the right place" when the playoffs start. He set the bar low for things which are not critical, but he also raised it for when things are.
It is worth listening to a different assessment of those remarks. Veteran journalist Ross McKeon offers one (beginning at the 4 minute mark).
Peter DeBoer's honesty with the media may not have come across as a major message to his team, but it was. If everyone is on the same page about things that are not critical, they also need to be on the same page when things are critical.
Leadership That Works
Does this sort of leadership style work? Maybe. I'll offer up two very different pieces of analysis about teams in two different sports that come to a very similar conclusion.
Hall of Fame coach Joe Gibbs said of his 1991 Washington Redskins football team: "I've said this was one of my easiest years. Our older players took the leadership upon themselves and the coaches were kind of along for the ride." Gibbs' humble comment belies what his team did. They were a hot knife through butter all season long. The team was named the best in the NFL's past 50 years.
http://gty.im/51294547
DeBoer's situation is similar, albeit not identical, to the one Trotz faces. Trotz sought advice about how to handle the abundant success his Washington Capitals team has had during the regular season. He went to another highly successful coach, Mike Babcock. Babcock gleaned wisdom from years of success at the helm of the Detroit Red Wings. His advice to Trotz sounds a lot like Joe Gibbs. Babcock told Trotz:
"You've got to trust the group. If you trust the group and you keep the group involved, they'll move the dial for you."
Two outstanding coaches speaking nearly a quarter century apart, and they are saying the same thing. To be great, you need your players to lead.
To paraphrase from a line in the movie 'The Incredibles', if everything is urgent, nothing is urgent. Soon, the Sharks will need to up their urgency, and everyone knows this. Peter DeBoer shows he gets it; it is up to his players to make the move. It is not up to the coaches to push it. Human nature being what it is, the Sharks will soon need  to up their game. A week ago, Peter DeBoer's remarks set an expectation. A week from now, we'll begin to see if it worked.
ZEKE is a native of the DC area where he witnessed the birth of the Capitals franchise. After graduating from Cornell University, which had seen hockey glory before he arrived, he moved west to San Jose. There he witnessed the birth of the Sharks franchise. His wait to witness a Championship from any of these teams finally ended in 2018.