"I'm going to have a beer and I'm going to think about [who starts Saturday]."
Mike Babcock uttered that statement after the Detroit Red Wings clinched their 24th consecutive playoff appearance in 2015, his last year as head coach. It was in response to a question on who would start for Detroit the rest of the way going into the postseason with both Jimmy Howard and Petr Mrazek struggling down the stretch.
It's been a couple of years, but with both still on the team on account of general manager Ken Holland unable to make a deal, current bench boss Jeff Blashill may have had, or may need one of those beers going into this season.
Roots of the Controversy
The present goaltending controversy was put to bed for a time when Mrazek took over in 2015-16 and just dragged the team on his back for the first half of that season at an elite level. Let's repeat that, an elite level.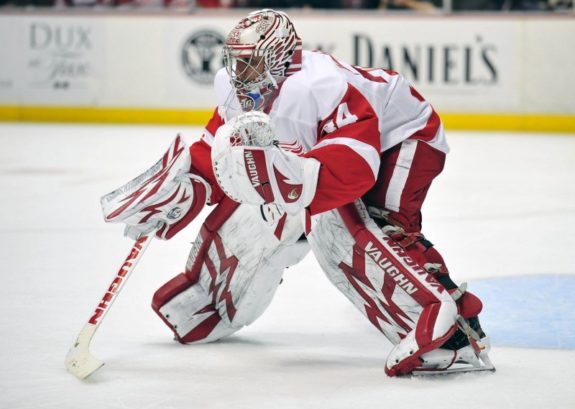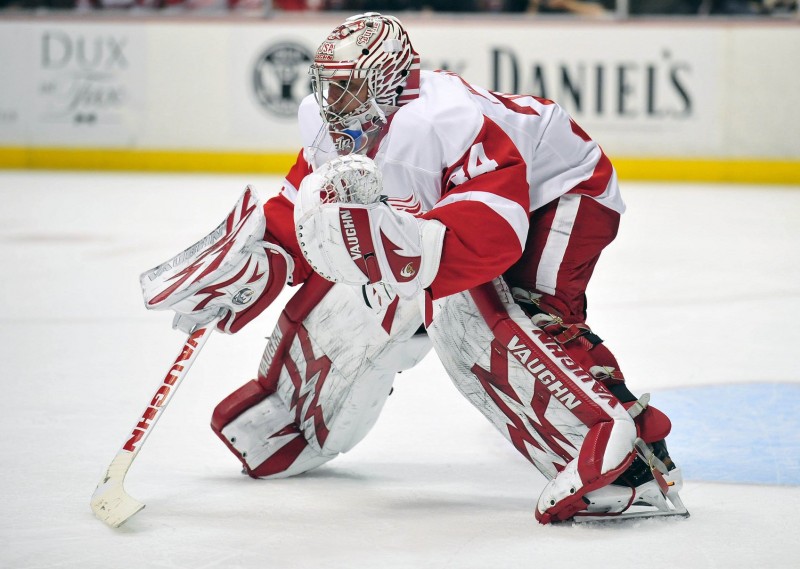 Through February 13th, 2016, among goaltenders who played at least 20 games to that point, he posted a .933 save percentage and 1.94 goals against average in 38 appearances, both best in the NHL. Meanwhile, Howard to that point was all but written off, and performed to the tune of a .904 save percentage and 2.89 goals against average in 20 starts. However, since that fateful 24th birthday on February 14th against the Bruins when he let in five wacky goals, Mrazek's elite status all but left. Howard, however, remarkably was quite impressive himself after a pair of inconsistent seasons.
In 58 starts from then to April 9th, 2017, the numbers were concerning to say the least for the now 25-year-old. An .898 save percentage (.911 at even strength), along with a 3.13 goals against average brought an already mediocre team from the status of a bubble playoff squad in 2016 down to a group that flirted with the draft lottery last year. Howard all of a sudden with Mrazek's fall found new life under new goaltender coach Jeff Salajko, who once coached Mrazek in Grand Rapids, ironically enough. In the same timeframe as his battery mate spanning 37 starts, he posted a .920 save percentage. In 2016-17, he posted his best goals saved above average since the lockout-shortened 2013 at plus-9.42 despite starting just 24 contests due to injury.
Mrazek's Fall from Grace
Deepening the drama, Mrazek's contract that currently pays him $4 million per season was tightly contested until the eleventh hour on his arbitration day, just before the hearing on July 27th last summer. This season, he was benched for the Centennial Classic against the Toronto Maple Leafs on New Year's Day for Jared Coreau, who was a rookie in his fourth NHL game at the time. The icing on the cake was the former Ottawa 67s goalie being left off the Wings' protection list for June 21st expansion draft where he was available to the Vegas Golden Knights. He went unclaimed, but the fact that he was not on the list speaks volumes.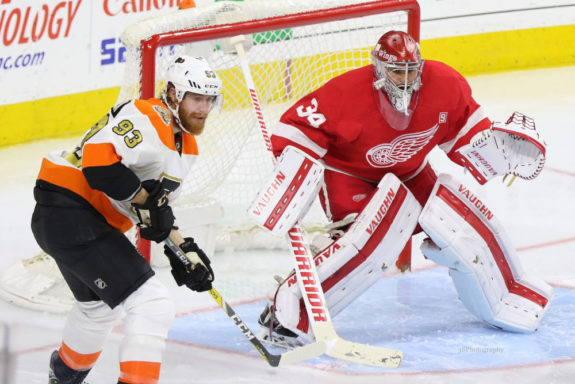 In the present time with the Wings needing to cut finances being almost $4 million over the salary cap, the popular belief is that the team will wait and see on their duo, fully expecting to go into the 2017-18 season with both competing for the top spot yet again.
This is not necessarily a terrible outcome.
On the surface, it obviously looks like another failure in a long line of passive miscues that Holland has bungled since the salary cap was introduced. Next to the contracts he's signed, trades have been fairly one-sided in the wrong direction since the acquisition of Brad Stuart in 2007-08. Additionally, his inability to make trades and the cautious approach he's taken has tested the patience of many, with NHL Network's Kevin Weekes describing the Red Wings as a team "that's just…'there.'"
Underwhelming Goalie Market
However, on the outside and sealed off from his work on the phones, the market for Mrazek may not be as ripe as all of the skeptics on the outside think. Fans may still be caught up in what the Ostrava native did for half the season in 2015-16, still seeing him as an elite netminder for the future blocking out what transpired last season as a blip in the radar. There's no guarantee he'll get back to what he was.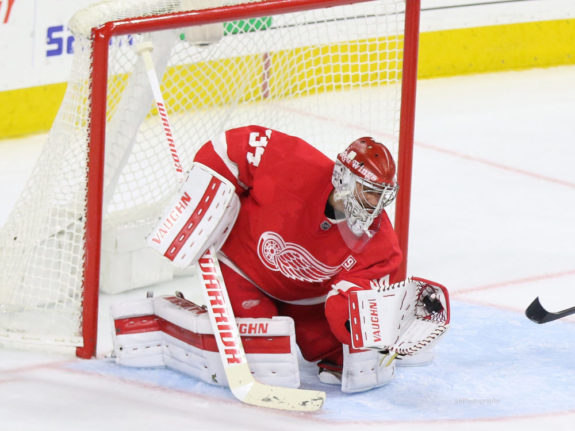 Still, Mrazek may very well be the goaltender of the future and indeed get back to that elite level. But in a league of "what have you done for me lately," his decline was concerning for any general manager that may have had interest when Mrazek was at his best. The reports from Detroit media about character issues coincidentally coming out right after Holland's decision to leave him exposed a couple of days before the draft did not help either, whether they held true or not.
This is where Mrazek has to realize that he holds the key in not only regaining the starter's job or getting out of this seemingly toxic situation in Detroit, but staying in the NHL. Another team had a chance to draft him as one of the more intriguing expansion exposures on the board and didn't. His own team felt a 33-year-old who was thought to be on the decline was more important to keep over someone that many thought was the next one to hold the fort in Detroit for years on end.
Playing His Way Out
All the motivation in the world should be on Mrazek's shoulders coming into training camp this year. The lone year left on his contract, the Vegas saga, a disappointing continuity of errors in his game leading to a poor performance last campaign, and a new and improved Howard to beat for the number one spot are all factors of adversity he can use to his advantage. If he wants to win a job somewhere else, win back the organization, or just stay in the league, this is his audition to build a market for his services.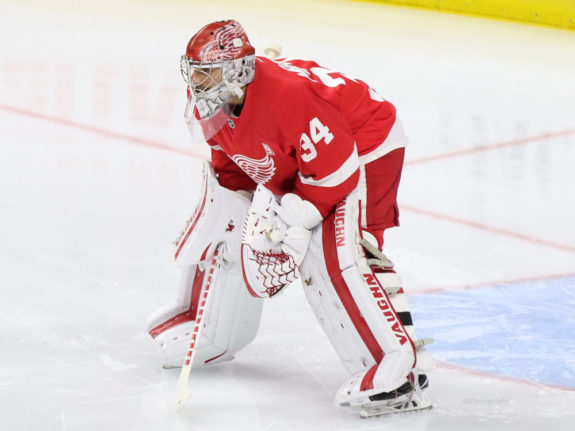 Ultimately, it will be Mrazek's play this coming season that dictates which direction the Wings move forward in with dealing either netminder. The organization likely wants to find out if 2016-17 was in fact an aberration and whether he can handle the starter's crease going forward. The same could be said for the resurgent but aging Howard, who still carries a $5.3-million cap hit that turns off interest, despite the two years remaining. Out of the two, however, Mrazek is the one to watch with all he has to gain or lose.
The future of the franchise already looks bleak, and a crossroads in the net will be reached at some point in the next year. That decision may alter the course of the impending rebuild (it will have to happen at some point). It may be at the trade deadline à la Ben Bishop last campaign, it may be the summer of 2018.
The scene can be set now, though, thanks to imagination. Sometime next season, in Little Caesars Arena, Holland will be in the comfortable, state-of-the-art hockey operations box, mulling his options on his netminders – possibly with a drink of choice in one hand and his cell phone in the other.
It's time to see what Mrazek is made of in influencing that decision starting this fall.
Griffin is a Junior at Northwood University in Midland, Michigan pursuing a Sports and Entertainment degree. His passion of writing began when Detroit Red Wings captain Henrik Zetterberg was out for the season in 2014 and he wanted to give his thoughts. Griffin comes from LastWordOnSports.com where he had the role of "associate editor" and wrote nearly 300 articles over three years for their hockey department.