Phil Kessel has not missed a game since returning from shoulder surgery in 2009. He spent six years wasting away as a part of the continually disappointing Toronto Maple Leafs and he finally escaped over the offseason. Kessel has a poor reputation because of his physical size, sometimes lackadaisical backchecking and aversion to speaking with the media.
The Pittsburgh Penguins are a franchise who routinely look to make a splash via trades. They did so once again over the offseason as Kessel came to Pittsburgh and Scott Harrington, Nick Spaling, Kasperi Kapanen and their first-round draft pick went to the Toronto Maple Leafs.
It seemed to be a match made in heaven, Sidney Crosby would finally have a talented scoring wing to play with. However, this union would not last long as the duo could not develop chemistry and Kessel was quickly moved to Evgeni Malkin's line.
Through 23 games as a Penguin, Kessel has seven goals and eight assists for a total of 15 points. Projecting those totals for the entire season, Kessel would finish with 25 goals, 28 assists and 53 points. That production is hardly what the Penguins envisioned from a player who has seven 20 goal seasons, four 30 goal seasons and a career high of 82 points.
If you just look at the numbers, Kessel's tenure in Pittsburgh has been a disappointment. Kessel played seven games alongside Crosby and only netted three points. While alongside Malkin, Kessel has played 16 games and has 12 points, which projects to 62 points in a full season. This still isn't the production that the Penguins were looking for.
A common question was how many goals will he score? Will it be 40, 50 or even 60?
It seems that Kessel's first season in Pittsburgh might end up being a disappointment, unless their offense comes to life. The Penguins were supposed to be one of the most exciting teams to watch with Crosby, Malkin, Kessel, Kris Letang and Patric Hornqvist on the roster, but they're scoring 2.22 goals per game or 25th in the league.
How is Kessel a hidden gem given his disappointing numbers?
Take a look at this graphic from war-on-ice.com which shows Kessel's corsi-for percentage.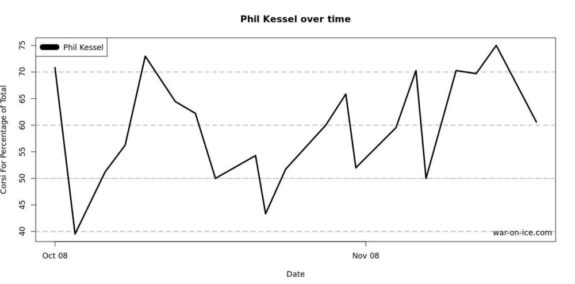 Phil Kessel has had two, count them, two games with a corsi-for percentage below 50%. One of these games came alongside Crosby, who he had very little chemistry with and the other was against the Buffalo Sabres when the Penguins were out shot, but found a way to win.
The Penguins have struggled with offensive production and offense starts with possession of the puck. Kessel has had countless breakaways and has a been driving possession for the Penguins. The reason why he isn't scoring is because of his low shooting percentage and a ton of blocked shots. He's shooting over two percent below his career average at even strength and he's not seeing a lot of ice time.
If Kessel starts getting a little "puck luck" and some more ice time, his production should increase, especially as he continues to hone his game alongside Malkin.
Thanks for reading! Feel free to leave your comments below or tweet me anytime @MPityk_PIT
Michael Pityk is an analyst who has written for numerous sites since beginning his professional career. He's acted as a credentialed member of the media for the Philadelphia Phillies, Philadelphia Flyers, Pittsburgh Pirates and the Pittsburgh Penguins. His work has been featured in Sports Illustrated, The Sports Journal, MSN, PensLabyrinth, Montreal Hockey Talk, ESPN Pittsburgh, The Hockey Writers, Todays SlapShot and The Bleacher Report. He formerly was the editor of Pens Labyrinth and an analyst for The Sports Journal. Michael presently acts as an NHL Analyst for The Hockey Writers