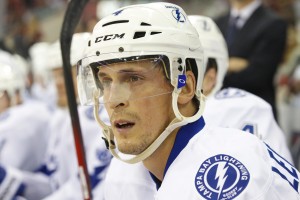 If Philadelphia Flyers fans have learned anything this season, it's that their ownership believes they are a few pieces away from making a serious playoff run. The acquisitions of Vinny Lecavalier, Mark Streit and Ray Emery are moves made by teams that feel they are just one good patchwork away from the Stanley Cup. Now is Paul Holmgren and the rest of the front office is correct in their assumptions? Only time will tell. But it's been a busy offseason in the City of Brotherly Love, say let's jump into our first ever "Philadelphia Flyers Mailbag" and see where the fans' heads are at.
Which line will Vinny Lecavalier play on? — @FlyersxX92
From the look of things (and my gut feeling), it seems he'll be centering the second line with Brayden Schenn moving to wing and Wayne Simmonds manning the other side. It would be every fan's dream to see a line with both Claude Giroux and Lecavalier on it (and at some point, that will probably happen), but at the beginning of the season I expect Vinny to be on the second line.
Additionally, I feel Schenn will be on pace for a breakout season. We all know how good of a playmaker Lecavalier is. With Simmonds occupying the middle, Vinny and Schenn will have plenty of good angles to attack from. Look for a lot of crisp, tape-to-tape passes from Lecavalier to Schenn that wind up in the back of the net. Philadelphia's second line should be a major point producer.
Why didn't the Flyers get Bobby Ryan? — @JohnTerwillinger
Oh boy. Bobby Ryan's name was synonymous with the Philadelphia Flyers this offseason. Unfortunately, both sides went their separate ways with Philly signing Lecavalier and Ryan heading across the border to Ottawa.
Would it have been nice to see the local kid donning the orange and black? Absolutely.
But ultimately, it just wasn't meant to be… for now. Philadelphia would love to have a player like Ryan in their lineup, but not at the expense of losing one of their promising, young talents like Sean Couturier or Brayden Schenn and I can't blame them. By now, every Flyers fan understands that our offense isn't the issue. Adding Lecavalier was a shock in itself considering that notion, but it's certainly a welcomed move now.
If the Flyers were to trade one of their youngsters, it would have to be for a worthy top line defensemen, not for Ryan. However, in two more years, the South Jersey native's contract will be up (unless he signs an extension before then) and you can count on the Flyers putting together an enticing offer for the forward.
Who's your favorite Flyers goalie of all-time? — @BryzlyBear
Of course, this question comes straight from an Ilya Bryzgalov account but don't worry, that will be the last time "He Who Shall Not Be Named" is mentioned in this article.
As for favorite goalie of all-time, I'd have to go Ron Hextall only because I was around to see him play live. (Sorry Bernie Parent, you're still the best.) If he could have won a Stanley Cup in this city, he very well may be labeled the greatest t in franchise history. His style of play was exciting to watch as he would make aggressive saves and was never afraid to get in someone's face (just ask Chris Chelios). He holds numerous goalie records for the Flyers, including games (489), wins (240) and playoff wins (45).
Oh, and who doesn't love a goalie who can score!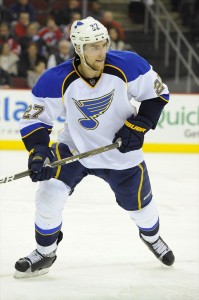 In your opinion, what would Flyers HAVE to give up to get an elite d-man (ie Pietrangelo) and would they? — @MC_Philly
If you asked me this question last week, I would have given you a different answer (and probably the answer you would have liked to have heard.) After the St. Louis Blues traded David Perron to Edmonton, it became obvious they were looking to shed cap space to sign their restricted free agent, Alex Pietrangelo.
With that said, though, nothing is out of the question. Remember last year when the Flyers extended an offer sheet to then-restricted free agent Shea Weber? No one saw that coming. If the Blues do decide to trade their 23-year old defenseman, their asking price would be Sean Couturier, a draft pick and even a player like Matt Read. Simply put, it would be a package many Flyers fans might not like to see.
And that goes for any elite defenseman on the market. Trading a young asset like Coots and potentially another valuable piece in the lineup would be what it takes to acquire that highly-coveted top line blueliner. We've seen in the past the Flyers' reluctance at shipping one of their young players away in a deal, so it would have to take an extremely enticing offer with a can't-miss defenseman for them to trade Couturier or Schenn.
Will the Flyers' 1st round pick, Samuel Morin, go straight to the big stage or start out with the Phantoms? — @TheAmateurFan
Having just turned 18, there's no need to rush him. Philadelphia's defense has some holes, but there's no way they'll turn to Samuel Morin this season. He'll develop in the minors and work on his offensive game down there. The Flyers should take their time with him because he has all the makings of being a reliable NHL defenseman. With that said, Robert Hagg, a second round pick, might see his time come sooner in the pros than Morin as he appears more developed and already has a strong offensive game after playing in Sweden.
How is Zac Rinaldo recovering from his end of season injury? Will he be back on the ice in full force for preseason? — @TheAmateurFan
Please, it's the Rino! He'll be ready to go for the season. As of now, it looks like he'll be on the fourth line with Adam Hall at center and either Tye McGinn or Jay Rosehill on the other wing. My guess would be McGinn. I love his style of play and it appears he has a knack for being around the puck.
This season will be very telling for Rinaldo. He received an extension this offseason after showing a world of progression last year. If he can do what he did in 2013 over an 82-game schedule, the Flyers will have absolutely struck gold. He's evolved from being an intimidator to being one of the best pests in the league (and I say that in the most endearing manner.) He'll never be an offensive threat, but if he can continue to get in the heads of the other teams and force them to take boneheaded penalties, he'll serve a valuable role on this team.
A journalism student at Rowan University, Kyle is a Big Ten Reporter for Scout.com (owned by Fox Sports) and spent the 2013 season interning with the Philadelphia Flyers.