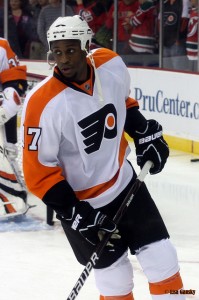 For many teams around the NHL, their respective top line is their best unit, the ones expected to lead and produce on a consistent basis. While that's true in Philadelphia with Claude Giroux, Jake Voracek and Scott Hartnell leading the way at the top, the Flyers have the benefit of potentially touting one of the game's most dangerous second lines in 2013.
In fact, their second line of Vinny Lecavalier, Wayne Simmonds and Brayden Schenn may prove to be more impactful than their first pairing.
Between the three players, there is an interesting mixture of playmaking ability, toughness and scoring. The trio also isn't afraid to use every inch of their body to gain possession of the puck or get to the net. At 6'4", 223-pounds, Lecavalier is able to work his way around the defensive zone, along the boards and at times, down in front of the crease. He won't have to do much of the latter, though, as Simmonds has proved to be one of the best in the league when it comes to playing down low. So while Lecavalier looks to make a play skating around the zone and Simmonds muscles his way in front of the goalie, there will be Schenn floating around looking to get the open shot.
The NHL regular season schedule was released on Friday. Check out our partners at TiqIQ for the best deals on Philadelphia Flyers tickets for all 2013-14 games.
With this pairing, Schenn could very well be the breakout player of the year. Remember how Jaromir Jagr, an accomplished veteran, got the best out of Giroux in his one year in Philadelphia? His ability to win 1-on-1 battles along the boards and to make the perfect pass allowed Giroux to have a surplus of scoring chances and gave the young forward newfound confidence. That's the kind of effect Lecavalier could have on Schenn next season. It may not have as major of a result as the Giroux-Jagr pairing had – 147 points combined – but it could come close.
Let's face it, despite his occasional flashes, Schenn has yet to evolve into the player every scout expected him to be as a former can't-miss prospect who even drew comparison to Jarome Iginla. The lockout certainly stunted his growth a little, but at just 21-years old, Schenn still has plenty of time to become that top-line forward many hockey folks foresee him being. That maturation process will see a tremendous upward rise, though, as soon as he's paired with Lecavalier. With all eyes on the new Flyer forward, Schenn can comfortably slide to the wing and do what he does best: hustle and score. He'll be the beneficiary of many perfect passes from Lecavalier this season plus he'll have the big body of Simmonds screening the goalie.
Additionally, having a decorated veteran like Lecavalier, someone who has won the Stanley Cup, will provide an immeasurable benefit to a young skater like Schenn, who can learn from the longtime Tampa Bay Lightning captain's experiences. He can even incorporate some of Lecavalier's tricks into his developing skillset.
While Schenn will certainly prosper alongside Lecavalier, Simmonds will continue to be a grinder down low and see his fair share of goals. Last season, Simmonds proved to be a legitimate point producer. He set career-highs in 2011-12 with 28 goals and 21 assists, but if not for a shortened-season in 2013, he would have smashed his career-high of 49 points. In 45 games last season, the former second round pick of Los Angeles tallied 32 points (15 goals, 17 assists). On that pace, he could have been well on his way to 30 goals and 30 assists and a potential 60-point season.
If the Flyers can get that kind of production from Simmonds to team up with a healthy Lecavalier, who could very well record 60 points if not more in a full 82-game schedule, and a potential breakthrough season from Schenn, which could turn out to be 50-60 points, the Flyers' second line will be one of the NHL's highest scoring second units.
Of course, that's all projections. If Schenn really does have a breakout season where he sees 60 points, it will mean a player like Lecavalier will probably be at the root of it and have a tremendous amount of assists, which in turns mean he'll be around 60-70 points.
Before doubting Lecavalier because of his age and past injury history (last season, in particular), remember that Jagr notched 54 points in 2011-12. If Jagr, on the brink of 40-years of age and coming to Philly after playing in Russia, can do that, there's no reason Lecavalier can't flirt with 70 points (the total he had in his last season of 82 games in '09-10).
But until October 2, this is nothing more than a hunch.