The Philadelphia Flyers have been hindered by injuries this season, losing forward Scott Hartnell and defenseman Andrej Meszaros for a significant amount of time, as both players are still probably about two weeks away from playing again. With these injuries, Flyers' management has had to rely on their younger core, including players such as second year forward Matt Read and the newly extended winger Jakub Voracek.
They also called up a 22 year old power forward Tye McGinn who has paid immediate dividends in his first NHL stint, and he has quickly got the attention of the fans, and most importantly has earned a whole lot of respect from his teammates and the Flyers' coaches.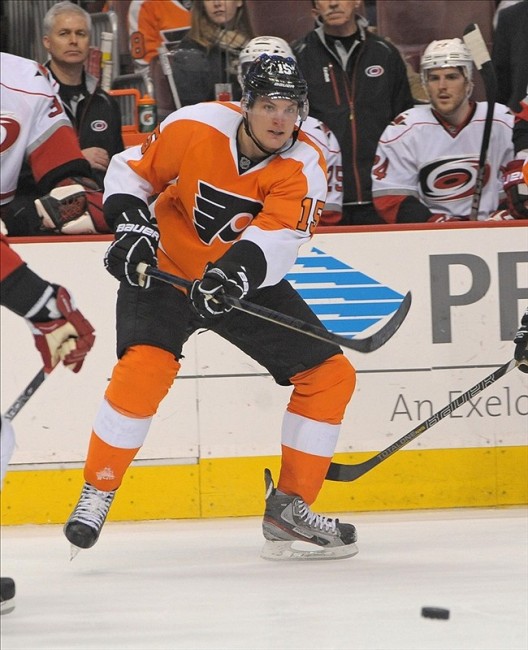 McGinn is seventh on the Flyers roster with seven points on the season, recording three goals and two assists through his first eleven NHL games. He also recorded the game winning goal in Philadelphia's 3-2 road victory against the Winnipeg Jets on Thursday night, the Flyers first win on their toughest road trip of the year.
"I'm just trying to do my best out there," McGinn said after the Flyers win on Tuesday night. "Take every game like it's my last and work hard out there. It's the NHL, you can't get too comfortable at any time so you just got to keep working hard and take each shift like it's your last."
He's also shown a willingness to step up for his teammates, including fights against the Winnipeg Jets' Mark Stuart and the New York Rangers' Kris Newbury, both of which he's won decidedly.
"It gives the guys a lot of energy," said McGinn. "A lot of guys on this team can stick up for everybody so it's pretty special and all the guys know that. Once a guy goes into a fight like that everybody appreciates it and you get a lot of energy out of it."
Earlier in the season following the injury to Scott Hartnell and concussion to Wayne Simmonds, McGinn earned time on the Flyers' top forward line alongside Captain Claude Giroux and lethal scorer Danny Briere. He earned time on the Flyers' power play as well, using his large frame to screen the goalie and help Philadelphia's man advantage unit get back on track.
"It's something cool," said McGinn of being on the top line earlier this season. "They're great players and I couldn't be happier to play with them. It's been a great journey for me; the organization has been unbelievable to me, [and] lots of positive things they said to me. I'm just trying to do my best to contribute back to the Flyers' organization."
"You just got to play your game, everybody has a different style of play and that's what makes a team. You got to fill in the pieces everywhere, I got to my style whether I'm on the first line or the fourth line, it doesn't matter."
McGinn played in his first professional hockey season last year for the Adirondack Phantoms of the AHL, the Philadelphia Flyers minor league affiliate. He posted 18 points in 63 regular season games, including two power play goals, 45 penalty minutes and an exceptional 15.2% shooting percentage The 22 year old forward was selected by Philadelphia in the fourth round of the 2010 NHL entry draft and played for the Gatineau Olympiques of the QMJHL for three seasons. He increased his point total during each season in junior, and finished with a 64 point season in his last year with the team, during the 2010-2011 season.
"They're all great players," said McGinn of the difference between the AHL and NHL. "Pucks are always on your stick, guys are in the right position and the game might be a little faster, but everybody's just so good that you're kind of just flowing into it.
Along with his teammates being impressed, McGinn has also made his mark with the Flyers' coaching staff, as his versatility has played a key role early in the shortened season.
"He's been such a nice addition to our lineup," Flyers head coach Peter Laviolette said. "He's big, he's strong, he finishes his checks, fights once in a while, scores goals [and] sticks up for his teammates. All things I think you look for when a player's coming up, just positive contributions to our lineup."
"It's not just the goals, it's the fact that he gets pucks out on the walls, he does a lot of nice little things out there that I think made him fit in. Certainly we're comfortable with him and I think his teammates are as well."
McGinn has earned a spot on this team for this season and is an intriguing prospect for Flyers' fans to look forward to.
You can follow Matthew on twitter @m_speck and email him at mspeck21@yahoo.com with any questions or comments.