Jim Neveau, Managing Editor
Glendale, Arizona – Coming into the NHL playoffs, there were a couple of series that really captured the attention of the hockey world. You had the defending Stanley Cup champion Boston Bruins battling the Washington Capitals, two of the Central Division's best facing off in the Nashville Predators and Detroit Red Wings, and, of course, you had the Keystone State Showdown between the Pittsburgh Penguins and Philadelphia Flyers.
For sheer drama and insane finishes, however, one series that has stood out above the rest has been the battle between the Chicago Blackhawks and Phoenix Coyotes. Both games so far in the series have seen the Coyotes blow late leads (one with 14 seconds left, the other with only five), and in Game 1, the Coyotes won in overtime, while the Hawks did the same in Game 2 last night.
For now, the series will shift to Chicago on Tuesday night, where the United Center will undoubtedly be abuzz with Hawks fans itching for a return to playoff glory and a Phoenix team in search of some positive news after letting a possible 2-0 series lead slip away by the closest of margins.
While the setting is changing, it still would behoove us to take a look at the key components of this series that were established in the two games in Glendale, and how those storylines could contribute to the series the rest of the way.
Corey Crawford: Better Than Advertised
Coming into this series, one of the biggest questions facing the Chicago Blackhawks was whether or not their starting goaltender Crawford not only would be able to replicate his tremendous efforts in last year's playoffs against the Vancouver Canucks, but rather about whether he'd be able to match his counterpart Mike Smith in the goaltending department.
After two games, you can consider those questions largely answered.
There is always the possibility that Crawford could crash and burn as the series wears on, but there are indications that he likely won't. Even with a defense that is still struggling with bouts of silliness, as evidenced by Duncan Keith's occasional lapses and Sean O'Donnell's laughable attempts at defending anything, Crawford has looked unfazed whenever the Coyotes have started rolling on offense.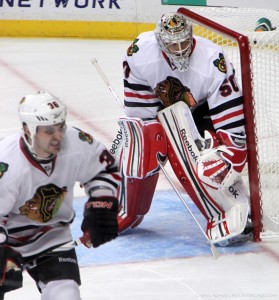 His reputation for allowing soft tallies this season has been largely extinguished, as it has taken an incredible amount of net presence, or in the case of Antoine Vermette in Game 1, an absolute howitzer of a shot to get it past him. He has looked calm and collected in the crease during the opening two games in Phoenix, and he has made a lot of big saves to keep Chicago in both games.
Tuesday's game will be perhaps the final bellwether to see whether he is fully in command of his skills or not, so expect Phoenix to press him early and often, especially in a hostile building that they will be looking to silence.
Despite Injuries, the Coyotes Are Still Effective
The Coyotes have largely relied upon their top line to pick up a lot of the scoring punch this season, and it was met with good results. Radim Vrbata had a fantastic season in netting 35 goals, Ray Whitney showed once again that age was just a number by dishing out 53 assists and reaching the 1000 point plateau, and Martin Hanzal, despite missing 18 games, was the glue that held the wingers together.
As the playoffs started, however, the Coyotes experienced what it was like to be without two-thirds of that prime time group. Vrbata was injured early in Game 1 and missed the rest of the contest, and Hanzal was actually taken to a local hospital for evaluations after being injured in Game 2. Vrbata did come back for that second game, but Hanzal's status for Game 3 remains uncertain.
Despite those injuries, the Coyotes were still an effective club on offense, moving the puck well and continuing the physical play that has opened up opportunities for them to head back on odd man rushes.
This ability to continue to fly despite adversity has been a hallmark of Dave Tippett teams in the past, and it seems that perhaps more so than in either of their previous two playoff appearances that the Coyotes have fully bought into all of his concepts, and they may be putting things together at just about the right time.
The Hawks' Power Play, While Improving, Needs Work
Chicago has a slew of offensive weapons on their team, with names like Patrick Kane and Marian Hossa lighting up the marquee. Even with all of that talent, and despite the fact that they have been playing together for several years now, they have been struggling in an area that is most closely connected with team chemistry and offensive firepower: their power play.
They had the league's fourth best power play in the 2010-11 season, and despite adding a couple of pieces to their club, including an electrifying jolt from Brandon Saad early in the season, they were unable to continue that trend, and ended up finishing 26th in the league this year, near such stalwart clubs as Minnesota and Columbus.
In the playoffs, however, they have started to look like they may be starting to turn the corner. Their puck movement on the man advantage seems to be improving, and they are actually getting more traffic to the net, thanks in large part to Jonathan Toews' return from a concussion that sidelined him for 22 games.
Putting screens in front of Smith, as well as wearing down the Coyotes' disciplined approach to not chasing the puck around the zone, are the keys, and the Hawks have shown signs that they are working to do just that. Game 3 should be a better indicator of whether or not they will be successful.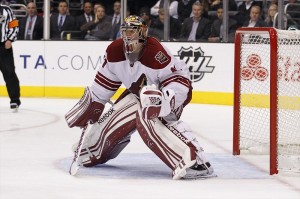 Why Was Mike Smith Allowed to Stay in Game 2?
As you have probably seen at least 647 times since Game 2 ended, Coyotes goalie Mike Smith was behind the net playing a puck when he was blind-sided by Chicago forward Andrew Shaw. The play resulted in a five minute charging major and a game misconduct for the Hawks rookie, and he has earned a disciplinary hearing with Brendan Shanahan today.
The argument is likely still raging over the intent of the play and whether Shaw should be subject to a lengthy suspension, but the real question that some in the hockey world have is whether or not Smith should have been allowed to stay in the game.
After all, he was on the ice for almost five minutes, and it appeared as though his head was what took the brunt of the impact when Shaw hit him. With those two factors in mind, and the wobbliness with which he got up, shouldn't team doctors have brought him into the "quiet room" and examined him for a concussion before allowing him to play again?
Between that and Henrik Sedin being in the locker room for about six seconds after getting crushed by a clean check from Dustin Brown in Sunday night's Canucks-Kings tilt, and it has become apparent that the NHL needs to tweak their rules on head shots.
One potential change could be that if a player requires medical attention on the ice, they are required to sit out until the next stoppage, or even for a pre-determined amount of time like five minutes or something. That way, teams would be legislated into at least making sure that their players didn't suffer some type of head injury, and that they aren't relying on the player to inevitably just say 'oh yeah, I'm fine'.
Whether the league wants to go that route or to expand the role of independent third party doctors in determining the severity and ability to come back from head injuries, the NHL needs to do something, because the spectacle in Phoenix on Saturday night is not one that any hockey fan should want to see repeated.
One Big Takeaway From Both Teams:
Phoenix:
The Coyotes' discipline level has been off the charts. Yes, they've been committing some silly penalties, but they very rarely make mistakes, and they always seem to be in prime defensive position. Add to that their physicality, and there is no reason to suspect that it would be a shock if they surprised some teams in a longer playoff run than few are giving them a chance of making.
Chicago:
The Blackhawks, despite trailing late in both games, have displayed a never quit attitude that has to be heartening to their fanbase. They keep playing hard to the last whistle, and even more important, they are staying close enough to Phoenix to allow those comebacks to happen. Those qualities show a certain amount of mental toughness, and it's a key ingredient to a successful playoff club.
James started out for The Hockey Writers covering the Atlanta Thrashers in 2009, and has also covered the Chicago Blackhawks, served as NHL Correspondent, and is now a Managing Editor and the site's NHL Central Blogger. He also writes for The Golf Writers.