If you had any doubt that the first round match up between the Philadelphia Flyers and Pittsburgh Penguins was going to be a "bloodbath" as Scott Hartnell put it, I think that doubt has been put to rest.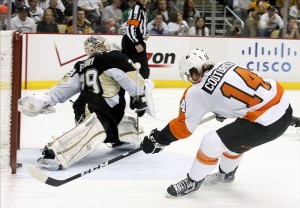 The matinée provided some of the best aspects the game of hockey has to offer: Some highlight-reel goals, some fisticuffs, and some bone-crushing hits. I found myself out of my seat screaming at the TV at every scrum and every hit dished out. Never in my 21 years of watching hockey have I ever been so engaged in a game. But that excitement turned to disgust as I watched Penguins forward Arron Asham cross-check Brayen Schenn in the throat, and proceed to sucker punch him in the head as he laid on the ice.
Now, let me preface my little rant by saying that I have been a die-hard Flyers fan my entire life. I grew up going to games at the Spectrum and the First Union Center, and orange and black have been running through my veins ever since. As I've grown up, my journalistic sense has always outweighed my Philadelphia biases. My entire life I have been forced to detest the Pittsburgh Penguins. It is just how I was brought up. That said, I have always had respect for the organization and the rivalry that the teams share. As much as I despise Sidney Crosby and his antics, I understand his amazing skill set, and am not ashamed to say he is arguably the best player in the world, alongside his teammate, Evgeni Malkin. I had no problem when Crosby stirred the pot yesterday by pushing Jakub Voracek's glove away. The Flyers were unhappy about it, and rightfully so, but I liked to see the tempers in this rivalry get kicked up a notch.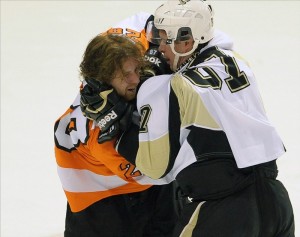 I also had no problem with Crosby showing his scrappy side with Flyers forward Claude Giroux. Seeing two leaders and superstars on their respective teams get in each others faces was some good hockey. Then, two of the most talented defensemen in the league in Kris Letang and Kimmo Timonen got into a scrap, and both received game-misconduct penalties.  After almost every goal in the first period there were extracurricular activities and the teams showed their displeasure for one another. The term "Old Time Hockey" was thrown around, and I had no problem with it given the emotion and the tenacity.
Enter Arron Asham.
After Brayden Schenn delivered a monstrous hit on Pens' defenseman Paul Martin-a hit that warranted a charging minor-Asham engaged Schenn with a stick to the throat, and a punch to the head.
I was fine with Asham engaging Schenn and standing up for his teammate, but not in the manner than he went about it. It is never permissible to take a stick to the head of a player. Ever. Fight him, check him, rough him up, but don't attack a player like that and Asham deserved to be ejected from the game.
Now enter James Neal.
Neal had himself a great game with 3 points, including a  dazzling goal at the end of the first period. But Neal's game was overshadowed by 2 separate instances when he made unnecessary contact with Sean Couturier and Claude Giroux.
At the end of the game, the Penguins were down 7-4 and the game appeared to be all but over. The puck was chipped into the zone when Neal threw a hit on Couturier, who did not have any play on the puck. Couturier had no idea Neal was coming nor did he have time to brace himself for impact. And then in his post game interview, Neal had this to say about the hit:
"I didn't even mean to hit him. I don't even know if the puck was at his feet or not or where it was. I think we just chipped it. I let up as much as I could and it is what it is."
You "let up as much as you could" by leaving your feet and turning directly into Couturier? That is a pretty bad justification in my opinion. There was an opportunity for Neal to avoid Couturier, but instead he left his feet which is a dangerous play. Especially on a defenseless player.
As if that hit wasn't enough, on the next shift Neal charged at Giroux and targeted his head on the play. Both of these plays were out of character for a guy with a pretty clean reputation. If a Flyer took that sort of run at Crosby the reaction would have been a full on brawl on the perpetrator. It shows how much the Flyers are in the Penguins' heads and forcing them to play out of their element.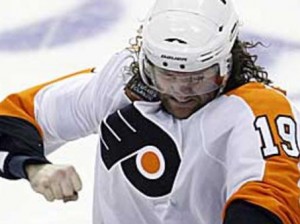 And whats more, during the ensuing scrum, who is the first person to come off the ice on a line change? James Neal. If you are going to take runs at the opposing teams' best players, at least have the dignity to stay on the ice and fight your own battles. It was a dirty play and a spine-less reaction by Neal.
As Neal began to skate toward the penalty box to serve a charging minor, Wayne Simmonds gave him his two cents about the play. Hartnell also went after Neal when Crosby stepped in and pulled Hartnell away by the jersey collar.
Enter Craig Adams.
Adams rushed to Crosby's aid and began throwing hay makers at the back of Hartnell's head. The fight was inevitable after that, and it ended when Adams pulled Hartnell's hair.
Craig Adams was suspended for 1 game for instigating a fight in the last 5 minutes of the game. Arron Asham and James Neal both have hearings with NHL Disciplinarian Brendan Shanahan today, and their fate will be announced later in the day.
I think both players need to be suspended for multiple games. Asham deserves a 4 game suspension for his hit on Schenn. That decision should be an easy one for Shanahan to make.
Now in Neal's case, I think it could be difficult given how important he is to the Penguins. I think he should also be suspended for 4 games, but that seems a little bit much during the playoffs. I would be happy with 2 games, but I would also understand him getting only one.
The Flyers have had the upper hand in the series and have remained composed both physically, and on the scoreboard. Every time the Pens' score, Philadelphia has an answer. Every time Pittsburgh starts a scrap, the Flyers don't back down. It is embarrassing that this is the direction that the Penguins have decided to take this series, and it is a game that they are simply not equipped for. The Flyers have beaten them on the scoreboard and have shown much more discipline in all facets of the game.
If the Penguins want to get back into this series, they need to focus one game at a time on playing their style of hockey. There is no way to avoid the physical play now, but the Penguins cannot get suckered into these types of games with the Flyers because they will not be successful. Pittsburgh really needs to tighten up on the defensive end of the ice and break up the Flyers fast transition game. If they can disrupt the entry into the zone, they will see some better results. The superstars for Pittsburgh also need to be more disciplined and use their skill rather than the physical game, especially in a city that thrives off of that type of atmosphere.
It will also be interesting to see how Penguins goaltender Marc-Andre Fleury bounces back after being pulled Game 3. He has allowed 18 goals in three games which is absolutely abysmal. Bryzgalov hasn't looked tremendous by any means, but has kept the score low enough for Philadelphia's offense to carry the load. If a team must score 9 goals to win, the goaltender has to regain his focus and give his chance a better chance to win. But as I said, the blame in the defensive zone is not all on Fleury. This will be a test of the Pens' character and will power if they plan on coming back in this series.
Despite the Flyers holding a 3-0 advantage, this series is far from over. We shall see what Game 4 has in store in what has been by far the most entertaining series in this years' Stanley Cup Playoffs.
Happy Hockey.
Pat White is a junior at Penn State University studying print journalism. His career goals are to be a hockey beat writer for a newspaper or NHL team. He is a Flyers and Maple Leafs fans, and patiently awaiting a Cup for both. Lover of music, hockey, and culture. A blend of the three makes for entertaining journalism.