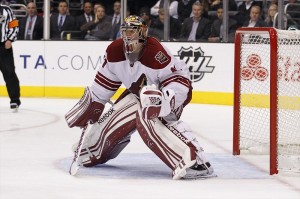 Much has been made of Mike Smith and his inconsistent play this past season. However I have no concerns that he is a solid goaltender for the Coyotes and one that they can win with. He may not be in the same class as a Tuukka Rask or Jonathan Quick, but when you review his numbers objectively he does fall into that tier of above average starter's right below the elite starters.
As Coyotes writer Sarah McLellan illustrates in this article, Smith had a slow start to the season in October and November. By December he was posting solid numbers of 2.46 goals against average and 0.917 save percentage. However the pending Olympics perhaps affected his play and saw him post 2.99 goals against average and 0.898 save percentage in January 2014.
By the time he returned from winning a gold medal with Team Canada he was lights out for the remainder of the season averaging 1.79 goals against and 0.940 save percentage through February and March.
If Mike Smith had not been injured late in the season and kept up this pace, it is possible that the Coyotes would have made the Stanley Cup playoffs. However that cannot be known one way or another if he would have made the difference at this point.
Let's take a closer look at some of the more "non-traditional" goaltending statistics to shed some light on Smith's season.
When reviewing his statistics, from Hockey Abstract's Rob Vollman, it was his power play save percentage that contributed to dropping his save percentage down to 0.915 on the season. At even strength he was 0.925, shorthanded he was 0.973 and on the power play he was 0.865.
When you consider that Mike Smith faced the most shots while an opponent was on the power play (342) you could understand how this would affect his percentages. The next highest number was Ryan Miller, who spent most of the year with the lowly Buffalo Sabres prior to moving to the St. Louis Blues, at 311 shots against and a 0.894 save percentage.
Amongst goaltenders that faced at least 900 even strength shots (roughly 50 or more starts) during the NHL 2013-14 regular season, Smith's 0.925 save percentage ranks 13th in the league. This places him in a group amongst Kari Lethonen (Dallas), Corey Crawford (Chicago) and Roberto Luongo (Florida). This also places Mike Smith ahead of Ryan Miller (St. Louis), Antti Niemi (San Jose) and Jimmy Howard (Detroit).
Ask any of those General Managers if they feel they need to upgrade their goaltending position. The overriding answer would likely be no, unless you could get one of the current elite NHL netminders which are few and far between.
Smith also ranks 10th overall with 11.6 point shares, which is a measure of how many points a goaltender contributed to their team in the standings.
Rob Vollman also tracks a statistic for goaltenders called RBS (Really Bad Starts), which measures the amount of starts where a goalie stopped less than 85% of the shots they faced. Smith finished the year with five RBS, which places him 33rd in the NHL for this past season. At the top of the RBS list are Ondrej Pavelec (12), Jonas Hiller (11) and Mar-Andre Fleury (11).
Based on all this unbiased numerical evidence I can safely say that Mike Smith is the least of the Phoenix Coyotes troubles this offseason. Provided he returns healthy for the 2014-15 NHL season, the Coyotes will be lucky to have one of the better goaltenders in the league to backstop their playoff hopes.
Covering the Florida Panthers for The Hockey Writers. Women's Hockey news and statistics for Outlook Hockey.