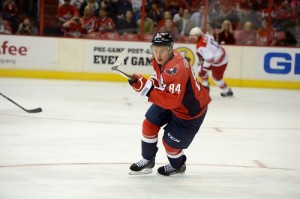 The so-called "free agency frenzy" did not disappoint as it actually turned into quite a frenzy yesterday afternoon. It became impossible to keep up with the numerous signings and trades that took place throughout the day. I'm still referencing the Free Agent Tracker from NHL.com on a regular basis as I try to associate player names with their new team.
In spite of the frenzy (I promise I won't use that word again) general manager David Poile of the Nashville Predators was unable to secure any player that he might have had his eye on.
Specifically, Poile is likely looking to secure a top-line center to play alongside the team's shiny new goal scorer James Neal. This is made evident by the reports that Nashville was attempting to acquire Jason Spezza from the Ottawa Senators and is now trying to secure Vincent Lecavalier from the Philadelphia Flyers. Lecavalier might only cost the Predators a late-round draft pick, but there is still a much better option available on the open market.
His name is Mikhail Grabovski.
Mikhail Grabovski vs Vincent Lecavalier
Compared to Vinny, Grabovski is four years younger, faster and just plain better at hockey at this point. Lecavalier has had a great career in the NHL and he's likely to end up in the hall of fame, but he's no longer a viable option as a top-line center, or maybe even as a second or third.
In an ideal situation Grabovski would be a solid second or third line center but given the right supporting cast he could have a career year as a number one center. He's highly capable of scoring 50 or more points in a season and consistently outperforms his teammates in puck possession. Last season the Washington Capitals finished with a Corsi For percentage of 47.7% in 5-on-5 situations with the score close. Grabovski managed to finish with a 51% Corsi For percentage, nearly 3.5 percentage points higher than the rest of the team.
Lecavalier's CF% was 45.3%, more than 5 percentage points worse relative to his team.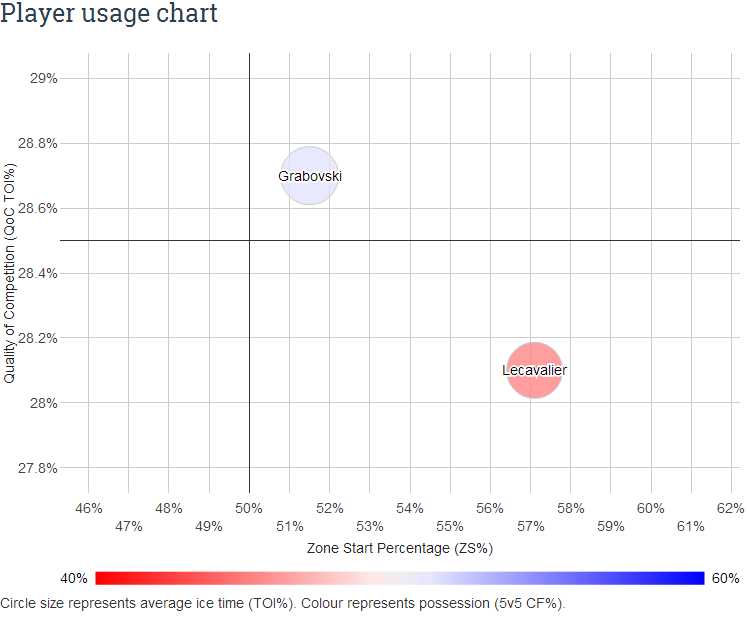 The player usage chart from Extra Skater is even more telling as it shows that Lecavalier was facing easier competition and starting more shifts in the offensive zone than Grabovski, but still performed very poorly in comparison.
Grabovski has proven that he can consistently maintain a high Corsi relative to his teammates. An exception can be made to the lockout-shortened 2012-2013 season where Grabovski was on par with the rest of the Toronto Maple Leafs, but it should be noted that Randy Carlyle was not using Grabovksi correctly, at least according to Grabovski. This led the Leafs management to pursue a compliance buyout on Grabovski, which pays him $1.8 million per season through 2020-2021.
The buyout probably makes Grabovski appear undervalued, but using the aforementioned statistics it's easy to see that he has become a "moneypuck" player, which is to say his price is cheap for what you get in return. Good news for an organization that appears to have an internal salary cap.
Lecavalier is due to get $6 million next season. Whatever contract Grabovski might be looking for, it's probably less than $4 million per season as he's coming off of a $3 million contract.
| 2013-14 Regular Season | Games Played | Goals | Points | Corsi-For % | Corsi Relative | Goals For % |
| --- | --- | --- | --- | --- | --- | --- |
| Vincent Lecavalier | 69 | 20 | 37 | 45.3 | -5.3 | 42.4 |
| Mikhail Grabovski | 58 | 13 | 35 | 51 | 4 | 57.4 |
Slotting Grabovski into the lineup
Whatever contract Grabovski might be looking for, it's probably less than $4 million per season as he's coming off of a $3 million contract. The only catch is that Grabovski and Nikolai Kulemin are looking to find a team that they can both play for next season, a la Zach Parise and Ryan Suter. The advanced stats haven't been friendly to Kulemin recently but you could say that about any player in Toronto. However if you watch Kulemin, or ask someone who does watch him play, the first thing you're likely to hear or see is that he's a very good, passionate player in the wrong system.
In fact, Kulemin's tenacity on the forecheck was one of the few things Leafs fans could depend upon last season. He'd probably fit in very well with the rest of the roster in "Smashville".
Meanwhile, Grabovski's ability to drive possession next to James Neal will produce scoring chances. Add another possession monster to that line, Gabriel Bourque or even Calle Jarnkrok, and Nashville could easily create a very effective, relatively cheap top line.
With the rest of the Central Division stacking their rosters yesterday, it's time for the Predators to make a move if they want to be competitive. Otherwise the team will have to begin preparing for the 2015 NHL Entry Draft sooner rather than later.
Nick is also the co-founder and a writer at BS Hockey. If you have any questions or comments you can find him on twitter @nickjbiss, or you can send him an email rubberduckhockey@gmail.com