Calgary Flames general manager Brad Treliving began putting his touches on his team's roster by breaking out the chequebook on Day 1 of unrestricted free agency season. Treliving added a trio of players – a forward, defenseman and goaltender – at a combined annual value of roughly $10.6 million.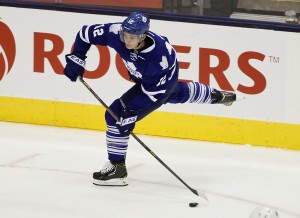 The forward, Mason Raymond, is coming home after a long time away. Originally from the Calgary suburb of Cochrane – roughly a half-hour's drive in decent traffic from the Saddledome – but drafted by the hated Vancouver Canucks, the 28-year-old hasn't played in the Calgary area since 2003. He spent six seasons with the Canucks and last season with the Toronto Maple Leafs after a successful try-out. Rumour has it that he was in talks with the Flames last year, but both sides were unable to reach terms and he went to Toronto and put up 45 points in 82 games. That point total would've tied him in team scoring with Mike Cammalleri, who left to join the New Jersey Devils as a free agent.
(Guess who he's supposed to effectively replace?)
Raymond's deal is three years at roughly $3.17 million per year – roughly the same cap hit that veteran center Matt Stajan agreed to in the spring.
On the blueline, the Flames added physical defender Deryk Engelland. Originally drafted by the New Jersey Devils in 2000, Engelland bounced around the minors a bit, coincidentally ending up in the Flames organization for a couple years with the ECHL's Las Vegas Wranglers. He eventually found himself a job with the Pittsburgh Penguins, where he played for four season (and change) as a third-pairing defender-slash-deterrent. Given that Calgary's blueline isn't particularly big, mean or physical outside of captain Mark Giordano, Engelland fills a need.
The sticking point with some observers may be the money – he's making $2.9 million for each of the next three seasons. Yes, that's more than first-pairing defender T.J. Brodie. Yes, that's more than second-pairing defender Kris Russell. But the market bid up the cost of Engelland's services, and the Flames likely had to amp up the dollar amount to keep the term length reasonably low.
But yes, it is a lot of money.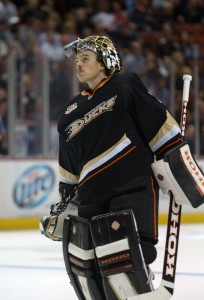 In net, Karri Ramo's season in Calgary competing with a Swiss goaltender (Reto Berra) for playing time will serve him well. Because it's happening again this season, as Ramo will be joined by former Anaheim Ducks starter Jonas Hiller. Hiller's 32 and a two-time Olympian, and spent six seasons with the Ducks. His addition gives the Flames someone to push Karri Ramo – he's likely a big upgrade over either Joey MacDonald or Berra – and allow the club to worry about other things. He has a two-year deal worth $4.5 million per year, which considering the importance of the position and Calgary's cap situation, is perfect for what Hiller brings. Worst-case, Hiller's a stop-gap measure as the Flames wait for AHLer Joni Ortio or college star Jon Gillies to emerge as the team's next starting goalie.
Assuming that restricted free agents Lance Bouma and Joe Colborne and unrestricted free agent Paul Byron are all retained, the Flames have 20 players penciled in to their line-up with a cap hit a shade over the cap floor (depending on what Bouma, Colbone and Byron sign for). That leaves three roster spots for rookies and prospects, presuming (again) that Calgary doesn't make any additional moves.
Which is unlikely, as Treliving noted he's not yet done trying to improve the roster of the NHL's 27th-best team in 2013-14.