Having signed Brad Richards for one year at a bargain price of just $2 million, the Chicago Blackhawks will have a capable second-line center for the first time since 2009-10. Busy negotiating extensions with Jonathan Toews and Patrick Kane, Stan Bowman still found a way to patch up the only roster hole Chicago had heading into free agency. Early reviews of the deal are quite positive.
I have a feeling we may look back at the Brad Richards signing as today's best.

— Craig Custance (@CraigCustance) July 1, 2014
What Makes the Brad Richards Signing Such a Good One?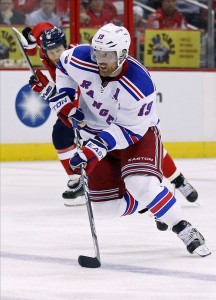 Richards isn't the dominant, 90+ point player that he was in Dallas, but he hasn't lost his vision or playmaking skill; he put up 20 goals and 51 points last season on a New York Rangers team whose offense scared nobody. His game fits the strengths of potential linemates Patrick Sharp and Marian Hossa almost perfectly.
It also can't be ignored that the Blackhawks got a legitimate top-six center for a paltry $2 million on the same day that Dave Bolland — a third-line center with awful injury problems — signed a contract with the Florida Panthers that will pay him an eye-popping $5.5M per year. As always, overpayment ruled the day on July 1st.
The deal's length is brilliant as well. Richards is the ideal stopgap; Teuvo Teravainen, who will likely make Chicago's roster in 2014-15, now has time to learn his way around the NHL without being immediately thrown into the fire in a scoring role. The one-year term is perfect and was presumably all the Blackhawks were willing to offer.
Brad Richards on taking a one-year deal: "If I was going to go to Chicago, it had to be this way." #Blackhawks

— Mark Lazerus (@MarkLazerus) July 1, 2014
Who Has to Go to Make Room for Brad Richards' Contract?
The most probable candidate is Michal Rozsival, who had a terrible 2013-14 and carries a cap hit of $2.2 million next season. It wouldn't be surprising to see Kris Versteeg traded either; Jeremy Morin may already be better than he is, and Morin comes $1.4M cheaper. If the Blackhawks commit to a 21-man roster for 2014-15, they would only have to move one of Rozsival or Versteeg to get under the cap for 2014-15.
Rozsival and Versteeg are clearly the "favorites" to be moved in light of their relatively expensive costs and disappointing seasons, but the Blackhawks run a notoriously tight ship and are fairly difficult to predict. This fact was emphasized by the recent Brandon Bollig trade, which Chicago was happy to execute despite signing the rugged winger to a three-year extension less than four months earlier.
Parting Words
This was a quietly brilliant signing on a noisy day of silly contracts and high-profile trades across the NHL. Richards fills Chicago's longstanding roster hole at center on the second line that was exposed by the Los Angeles Kings in the Western Conference Finals. That Bowman managed to get this done without selling out for a Kesler or Thornton type only makes this signing all the more impressive.
When the dust settles, Craig Custance may end up correct: This may very well have been the best deal of this year's July 1st frenzy.