The mood in Montreal has been disagreeable to say the least.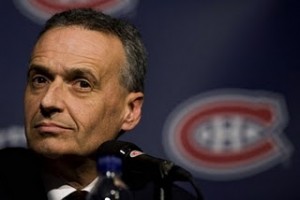 The Canadiens and their difficult start to the 2011/2012 campaign have raised a number of concerns amongst fans and media alike. Among those concerns, and most prominent among them, has been the tactics employed by head coach Jacques Martin.
I know, Habs fans have criticized just about every coach they've had over the last 15 years. As soon as things start to go wrong, local talk radio shows are flooded with calls demanding that the coach be given his walking papers.
Although these criticisms are usually and mostly overblown, the ones that are currently being hurled in Jacques Martin's direction seem to be warranted.
Chief among the complaints are those regarding his questionable personnel decisions.
Firstly, questions were raised as to why Thomas Plekanec has been playing the point on the powerplay. The natural centerman, who has proven to have natural playmaking ability, has never played the point before. He doesn't have a particularly dangerous shot and has been completely taken out of his comfort zone.
Scott Gomez, who hasn't scored a goal since February of last season, was playing 15 minutes a night up until his recent injury.
Erik Cole, who was brought in to be the power forward this team has lacked for more than a decade, is inexplicably being treated like a rookie who needs to prove himself before getting any significant ice time.
Finally, all the ice time and powerplay opportunities that Erik Cole isn't getting is being given Travis Moen and Mathieu Darche, who despite being hard workers and decent role players, have neither the hands nor the offensive capabilities to produce on a consistent basis.
The players look disinterested and unwilling to play for this coach. The absence of Kirk Muller is noticeable and it seems clear that Martin has worn out his welcome in La Belle Province.
The buck shouldn't stop with the coach however.
The problems that plague this team come from the top. The Gainey/Gauthier administration is now in its eighth year in office and has only a conference finals birth to show for it. It took them eight years to sign a power forward and have yet to sign or draft a big dominant center.
Simply put, in eight years at the helm, this administration hasn't really accomplished anything.
Of course, their supporters will point to the young players on this team and say that they've built a quality foundation. They'll bring up names like Price, Subban, Pacioretty, Eller and Beaulieu. Sadly, every right decision they've made has been canceled out by one wrong one.
The Gainey/Gauthier administration has had a horrendous track record in managing its assets. They let Sheldon Souray walk away for nothing in a year where he could have netted the team a first round pick. Mark Streit was allowed to become a free agent and flourish into an all-star calibre defenseman. Michael Ryder, a two time 30 goal scorer with the Habs was also allowed to walk.
More recently, the Habs have gotten into the habit of trading for or signing players, see those players meet or exceed expectations, and then letting them walk for nothing. Dominic Moore, for example, was brought in during the 2009/2010 season to serve as the defensive third line center the team was lacking at the time. He won 55% of his draws and scored 11 points in 21 games. So what did the Habs do to reward him? They let him sign for 1.1 million a season with Tampa, where he went on to be a dominant faceoff man and score 18 goals.
The following season, the Habs signed Jeff Halpern to replace Moore. Halpern won 57% of his draws and netted 26 points for the Habs. They then let him walk and allowed him to sign with the Capitals for only 800 000, preferring to go with Andreas Engqvist as the team's defensive center.
In that same year, James Wisniewski was brought in for a second round pick to replace an injured Andrei Markov. In his time with the Habs, he scored thirty points, led the team in powerplay scoring, was a +/- 4, and basically exceeded any expectation that was put upon him. The Habs then decided it was best to not even offer the man a contract.
This administration has also proven itself incapable of evaluating coaching talent. Firstly, Bob Gainey fired Claude Julien in order to bring in long time friend Guy Carbonneau. Carbo was then sacked to bring in Jacques Martin. In the meantime, the Habs lost out on Guy Boucher, who at the time was the hottest coaching commodity in the world, and Kirk Muller, who was revered by the entire team.
This season, Pierre Gauthier brought in Erik Cole to be the power forward that this team desperately needed. He committed four years and $18 million to the man only to see him nailed to the bench. What does it say about Pierre Gauthier if he doesn't have the gumption, power or willingness to get in Martin's ear about it?
If Martin is to get the boot for the Habs poor start to the season, should this administration be given the opportunity to hire a new coach? Should this administration really be given a few more years to try something "new" with a different man behind the bench?
This team needs a fresh start and that shouldn't be limited to the coaching staff.