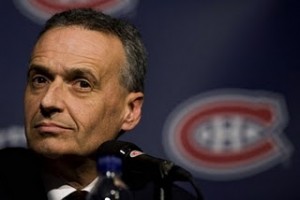 Remember when the unjustified firing of Perry Pearn just ninety minutes prior to a game versus the Philadelphia Flyers was the most tumultuous moment of the Montreal Canadiens' season?
Ahhh, the good old days…
Unfortunately for Habs fans, the two and half months that have passed since Pearn's firing have made the event seem like little more than an amuse-bouche for the smorgasbord of ineptitude which has come to follow.
Head coach Jacques Martin was released in December, but not on the 4th or the 11th, both dates which would have allowed interim replacement Randy Cunneyworth several days worth of home-ice practices before taking to the ice for the first time.
Instead, Gauthier chose to drop the axe on the morning of December 17th, giving Cunneyworth approximately nine hours to prepare for his first game as a head coach in the National Hockey League, before embarking on a six-game road trip which encompassed the entire holiday season.
Then, of course, there was that little blip on the radar concerning the new coach's linguistic abilities and the on-again, off-again support he's received from Canadiens' head office during the firestorm that has followed.
And now, the Michael Cammalleri situation…
Less than twenty-four hours after making disparaging comments concerning the team's "loser" mentality, the twenty-nine year old left winger was pulled from last night's game versus the Boston Bruins during the second intermission and informed he had been traded to the Calgary Flames.
The exchange will see the Canadiens acquire 6'2, 213lb left winger René Bourque, in addition to unsigned prospect Patrick Holland and a second round pick in 2013. Accompanying Cammalleri to Calgary will be the rights to European goaltending prospect Karri Ramo and the Habs' fifth round pick in this year's draft.
Despite the overtly suspicious circumstances, Pierre Gauthier insisted the deal has been in the works for several weeks, telling reporters;
"(This is) not about trading Mr. Cammalleri. This is about improving the club and obtaining a player we feel is a different profile…"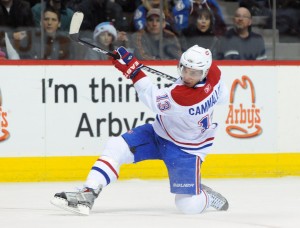 According to Gauthier and Flames GM Jay Feaster, it was Bourque's recent five-game suspension which delayed the deal, reportedly on the table since early December.
Of course, no one in the world of hockey of is buying the idea that the timing of this trade is pure circumstance. The framework for a deal may have been discussed in the weeks leading up to Cammalleri's outburst, but to suggest that his comments played no role in the timing of the trade is near comical.
Fans simply aren't that stupid.
But lost amongst all of this morning's whooping and hollering about the circumstances of the deal is…
Well, the deal itself.
Regardless of how it came about, the fact of the matter is that this trade, at its core, is the simple exchange of one player, one prospect and a draft pick for one player, one prospect, and a draft pick.
Predicting the future is for investment bankers and fortune tellers, so in order to find the true, immediate impact of the trade, one must examine the concrete commodities in play; that is to say, the bona fide NHL players who will be suiting up for their new clubs in the next few days.
And despite Gauthier's bumbling approach, he may have actually pulled a rabbit out of his hat on this one.
Cammalleri has seen a continuous drop in production since arriving in Montreal in the 2009 off-season. After posting a career-high 39 goals for Calgary in '08-'09, he signed a five-year deal with Canadiens, guaranteeing him an average of $6m per year.
In his first season with the club in 2009-10, he posted just 26 goals before slipping yet again to 19 last year.
Bourque, who has a cap-hit of $3.33m, has posted 27 goals in each of the past two seasons and brings much needed grit and size to a Canadiens squad which is severely lacking in both. He has shown constant improvement over the course of his NHL career, after going undrafted out of the NCAA's University of Wisconsin-Madison in 2004.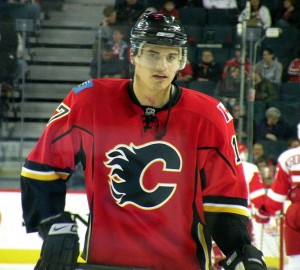 Given the Canadiens' current contract situation, simply having $2.7m in cap relief this coming off-season might have been incentive enough to ship out a discontented and declining forward in exchange for a player who has similar offensive numbers.
But when you factor in that they were able to address a serious deficiency up-front by bringing in a larger, tougher, north-south style player, the pot gets even sweeter.
Contrary to what many seem to believe, the "winner" of an NHL trade is not the club who receives the most talented player in the deal, but rather the club whose team is improved most by the exchange.
Despite terrible timing and downright bizarre circumstances, Pierre Gauthier was able to ship out an unhappy player in exchange for similar offensive production at a lower price, and still managed to get bigger and tougher up front while adding a quality draft pick in 2013.
With waning support from fans and media alike, Gauthier's antics are wearing thin for many in Montreal, and rightfully so.
Since taking the reins in 2010, his tenure has been marked by secrecy, controversy, and downright squirrelly behaviour. But when the dust settles, this trade may actually go down as one of his smartest moves as GM.
Hey, they say even a blind squirrel finds a nut every once in a while…
K. Ross Read is the lead hockey analyst for Backsportspage.com and co-host of the "Off the Krossbar" radio show and podcast. He also covers the Montreal Canadiens for TheHockeyWriters.com and is a feature writer with Canadian Hockey Online.
Covering all things hockey with an honest edge and keen wit, he continues to develop a loyal readership on both sides of the Canada/U.S. border. Offering refreshing insight and sharp criticism, K. Ross Read is quickly earning a reputation as one of hockey's straightest shooters.
You can contact K. Ross on Facebook or twitter: @KRossRead