The Pittsburgh Penguins currently sit in the Eastern conference's second wild card spot. They have a record of 30-21-8 for a total of 68 points. Statistically speaking, they're scored just three more goals than they've allowed and have ninth highest Corsi For percentage, of 51.7, at even strength.
However, the Penguins have made the most of those shots, they're currently fifth in percentage of scoring chances for at 53.1. And this isn't even discussing the massive difference between the Penguins under Mike Johnston and the Penguins under Mike Sullivan. It's been an absolute night and day change.
Personally, I still have doubts about this roster and their ability to compete for the Stanley Cup. But there's a way this team makes a deep run and that's if Sidney Crosby, Evgeni Malkin, Kris Letang and Marc-Andre Fleury continue to play at an elite level.
With that being said, the Pittsburgh Penguins are the Pittsburgh Penguins and they've been linked to just about every player in NHL trade rumors. And this shouldn't surprise anyone given Ray Shero's tendency to acquire big places right at the trade deadline.
Pittsburgh Penguins Trade Deadline Outlook
Earlier in the season, general manager Jim Rutherford was very clear about his desire to add a legitimate top-four defender. But 30 games ago, Rutherford made a move that shocked the city of Pittsburgh when he managed to trade defenseman Rob Scuderi for Trevor Daley. While Daley isn't a true top-four defender, and his analytics are poor to say the least, he's been a breath of fresh air and he contributes to shot and goal generation.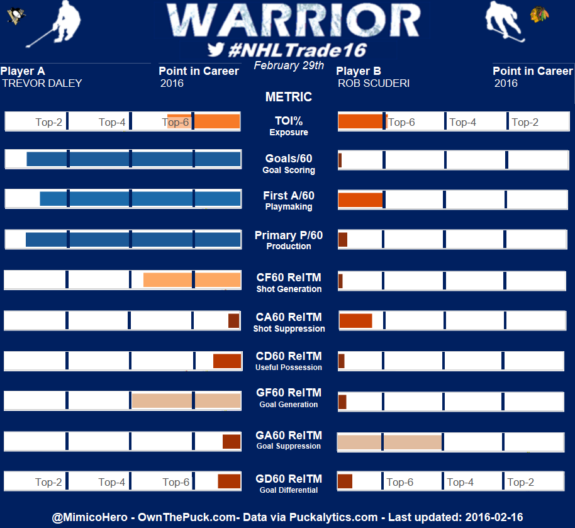 Although Daley's numbers aren't great, it's a giant upgrade over Scuderi and the Penguins are seeing the benefits on the ice.
All of the sudden, Rutherford's mindset has changed and he's no longer looking for a high end defender. Although, he did not rule out making a move for a defender, but he's happy with the way that the blue line is playing.
Our defense moves the puck so much better now. It's helped our transition game so much with these new guys. So much more speed on the back end.
A new ripple was thrown into the mix as defenseman Ben Lovejoy went down due to injury in their 4-2 loss over the Tampa Bay Lightning. And it's been a small sample, but defender Ian Cole, who's routinely been a healthy scratch, has played well in his absence.
Lovejoy's injury is believed to be long-term, but no more specifics are available. If the Penguins believe that Lovejoy will be unavailable for the playoffs, the probability they make a move for a defender rises significantly. On the flip side, if they think Lovejoy will be able to return for the playoffs, I don't see them making a move for a defender, and if they do it certainly won't be for Dan Hamhuis of the Vancouver Canucks.
His $4.5 million cap hit alone makes adding him a big problem, he's a solid defender, but he's not a difference maker and given the group of defenders the Penguins have, they don't need someone like that.
Another name being linked to the Penguins is Calgary Flames defender Kris Russell, who has an annual cap hit of $2.6 million. Here's all you need to know about Russell, he's a far worse version of Daley. Analysts call him a "smooth skater" and a "good puck mover" but looking at the numbers, all of his metrics are worse than Daley's. Here's another fun fact about Russell, he's actually worse than Scuderi at suppressing shots.
Assessing Pittsburgh Penguins Forwards and Trade Rumors
The Penguins bottom-six has been a great surprise recently. It's a group built out of AHL players like Conor Sheary, Scott Wilson and Bryan Rust. However, the Penguins have Eric Fehr, Beau Bennett Nick Bonino and Evgeni Malkin all still recovering from injuries.
When these four return to the lineup, it's likely that Rust, Kevin Porter, Tom Kuhnhackl and Oskar Sundqvist will come out of the lineup.
While the injured Penguins, excluding Malkin, haven't exactly been great this year, they're going to get back their spots back.
A few popular names in the rumor mill are P.A. Parenteau ($1.5 million cap hit, pending UFA) of the Toronto Maple Leafs and Dale Weise ($1.025 million cap hit, pending UFA) of the Montreal Canadians. Our own Mike Necciai is very high on Parenteau and there's a lot to like with both of them.
He's a talented skater, has 15 goals, 15 assists and is fourth on the Leafs in scoring. Parenteau also would not likely cost as much as a lot of the other names on the trade deadline, but the Penguins need to be careful.
Pittsburgh Penguins Must Avoid High Prices
ESPN Pierre LeBrun wrote back on February 10th that many teams aren't going to overpay for rentals at the trade deadline this year. But what's happened in the last few days? Nick Spaling cost a second-round pick and Mike Weber cost a third-round pick. Neither of those players are great and it's very questionable that they're worth the picks that were sent for them.
I do believe teams are going to continue to overpay for rentals this season and the Penguins can't afford a bidding war. The only prospects worth anything significant, like Derrick Pouliot, Matt Murray and Daniel Sprong, should absolutely untouchable.
Pittsburgh does not have first and seventh round picks from prior trades, but they do have the Anaheim Duck's second round pick. General Fanager projects that the Penguins will have $1.513 million in cap space at the deadline.
Given the lack of viable prospects and draft picks to be used as trade bait, this is finally the year the Penguins should either stand pat or make a minor move. Either Weise or Parenteau would fit in nicely, but as long as they can be acquired in a cost-effective manner.
Personally, I say take a run for Parenteau and if Toronto asks for too much, don't make a move. I know this would be very rare for the Penguins, but Russell won't help this team and there's almost no chance a big name player like Hamhuis, Andrew Ladd or Scott Hartnell are coming to the Penguins.
Thanks for reading! Feel free to leave your comments below or tweet me anytime @MPityk_PIT
Michael Pityk is an analyst who has written for numerous sites since beginning his professional career. He's acted as a credentialed member of the media for the Philadelphia Phillies, Philadelphia Flyers, Pittsburgh Pirates and the Pittsburgh Penguins. His work has been featured in Sports Illustrated, The Sports Journal, MSN, PensLabyrinth, Montreal Hockey Talk, ESPN Pittsburgh, The Hockey Writers, Todays SlapShot and The Bleacher Report. He formerly was the editor of Pens Labyrinth and an analyst for The Sports Journal. Michael presently acts as an NHL Analyst for The Hockey Writers