Just when it looked as though the Pittsburgh Penguins were officially through the injury bug, a slew of bad news has hit the team since the weekend.
On Saturday, the Penguins ruled out left wing Chris Kunitz for Sunday's contest versus the Carolina Hurricanes. At that time, his timetable to return was unknown; just a day later, coach Mike Sullivan announced it would be a long-term injury. Some have begun speculating he might have already played his final game in a Penguins uniform.
Mike Sullivan just described the injury to Chris Kunitz as longer term. -DP

— AT&T SportsNet™ PIT (@ATTSportsNetPIT) April 2, 2017
Just saw Chris Kunitz on crutches. Probably doesn't bode well for him.

— Dave Molinari (@MolinariPGH) April 5, 2017
Losing Kunitz is a major blow to the Penguins. Of course, it's not as significant as Letang being ruled out for the playoffs as he was Wednesday, but one injury crisis at a time. If the last two games without Kunitz is foreshadowing in any way, Pittsburgh could possess the depth necessary to overcome yet another injury. Let's take a look at what Kunitz provides the Penguins and how they can replace him:
Hits & Veteran Presence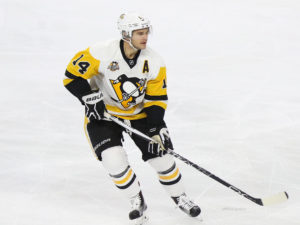 Kunitz isn't the player he once was, but he still holds quite a bit of value to the Penguins. The winger physically fills a role no one else on the team really does.
Prior to Sunday, Kunitz led Pittsburgh with 216 hits. Patric Hornqvist is the only other Penguins skater with more than 170 hits. Obviously, Pittsburgh isn't a very physical team, but in a pinch, Kunitz provides that little extra oomph even at 37 years old.
That could prove to be very important against a team like the Columbus Blue Jackets in the first round of the postseason. It's all but written in stone that will be the matchup, and in Tuesday night's playoff preview, the Blue Jackets posted 49 hits versus the Penguins. Expect more of the same next week. Not that Pittsburgh wants to get caught up in the after-the-whistle stuff, but without Kunitz, it's going to be harder for the Penguins to answer back from a physical stand point.
Furthermore, Kunitz leads all Penguins players with 141 career postseason games. That's an invaluable asset to the young players in Pittsburgh's lineup. His replacement through these last two games, Josh Archibald, has played in just eight NHL games and zero in the playoffs.
Physical Play
From a physical standpoint, though, Archibald and others appear ready to make up for the loss of Kunitz. It's a small sample size, but Archibald has posted 20 hits in seven games this season, giving him an average of 2.86 per game. Kunitz registered a little more per contest (3.04) but also received an average of 15:31 minutes per game. Archibald is playing just over 9:30 per night, so he's accumulating more hits per 60 minutes.
Archibald has also ramped up his physicality in the last handful of games, posting four hits in each of the last four contests. The Penguins will be expecting him to bring his gritty game every night to fill the Kunitz void.
Great win by the Pens tonight. Unsung hero: Josh Archibald. Did you see the way that kid was skating? Unreal. #LetsGoPens #45

— Adam Wainwright (@adamnccc) April 5, 2017
As a result of the veteran's injury, Pittsburgh features a new fourth line that is physical all-around. In addition to Archibald, 27-year-old center Carter Rowney has 54 hits in 24 games and recorded four hits Tuesday versus Columbus. Winger Scott Wilson registered just two hits on the night, but he is third on the team in hits this season behind only Kunitz and Hornqvist.
The Wilson-Rowney-Archibald unit has only been together two games, but it's looking pretty solid. None of them has ever played in the postseason, but collectively as a group, they appear capable of replacing Kunitz from a physical standpoint.
Fourth-Line Scoring
And from a scoring standpoint, this new line seems more dangerous without Kunitz. While the veteran forward has continued to provide Pittsburgh with some physicality, his scoring skills have greatly diminished. Kunitz has posted a career-low nine goals and 29 points this season. Three years ago, the veteran was a 30-goal scorer, and just last season, he recorded nine goals in February and March combined.
https://twitter.com/_tdome/status/845097856004509696
Since Feb. 17, Kunitz has no goals and just three assists with a minus-10 rating in 21 games. It's hard to admit this because he's been so invaluable to the Penguins over the years, helping them win two Stanley Cup championships, but right now, Pittsburgh might be better off without him.
That could be particularly true with the chemistry the new fourth line is developing. The Penguins have been waiting for Wilson to do more on the offensive end, and all the sudden he's come alive. He scored a dirty goal in the crease Sunday and then found Rowney for a re-direction goal for an important first score Tuesday.
In the last two games, the fourth line has arguably been Pittsburgh's best unit. It's not going to take the league by storm like the "HBK" line did last spring, but it's a unit that can provide the Penguins with some much-needed physicality and grit.
Should it continue to create offense too, Pittsburgh will have a formidable forward core even with all the injuries. And scoring from all lines is something this team will need to repeat without its best defender.