We're rounding out March, and the Pittsburgh Penguins have done what most would consider impossible prior to the Mike Sullivan era. They tore through a grueling span of Metropolitan Division games and not only did they win, they dominated.
And, they did so without the services of Evgeni Malkin.
Pittsburgh is 9-1-0 in their last 10 and 11-4-0 throughout March heading into tonight's matchup against the Nashville Predators. They won important games vs. the Detroit Red Wings and Philadelphia Flyers while also making a statement against the Washington Capitals.
Reminiscent of the Penguins team from 2009 that turned it on in a big way following Dan Bylsma's hiring, this Pittsburgh team looks as if something special is happening. They're overcoming injuries to key players, erasing deficits and simply overwhelming opponents with their commitment to playing fast.
All that's left now is clinching, then preparing for a run at hockey's ultimate prize.
Pittsburgh Penguins Magic Number
As it currently stands, the Penguins sit in third place among the Metropolitan Division with 94 points, three points ahead of the New York Islanders who occupy fourth. The Islanders have one game-in-hand on the Penguins. But, when it comes to clinching, the Islanders are of no concern right now. (Standings courtesy of NHL.Com)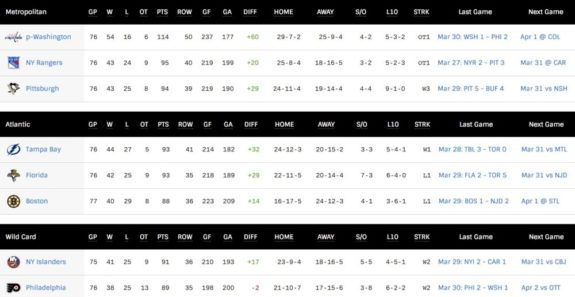 The Penguins' magic number is 97 98, so three four points will lock-up their postseason bid. Detroit, currently on the outside looking in, has 87 points with five games remaining, meaning they can accrue no more than 97 but with the tie-breaker being regulation and overtime wins (ROW), Detroit could technically still surpass Pittsburgh if they won out.
Keep in mind, If the Penguins win tonight, they also clinch if Detroit loses tomorrow night vs. the Minnesota Wild. At that point, 96 points gets it done.
One observation that's extremely impressive for Pittsburgh is their current goal differential. At plus-29, they have a real shot at finishing second in the Eastern Conference in that regard. It wasn't long ago the Penguins were negative in that category, which is a testament to just how good they've been over the last three months.
The Evgeni Malkin Debate
We're nowhere near seeing Malkin take the ice for the Penguins, yet there are constant debates around what happens when he does finally return. When you consider how well Pittsburgh's second line is playing with Nick Bonino at center, it raises the question of whether or not he should stay there.
Phil Kessel and Carl Hagelin are benefitting from Bonino's straight-line game. Their philosophy is simple, and it's based on speed through the neutral zone and getting behind opposing defensemen. Malkin wasn't necessarily hindering that but there's no denying the results since his injury.
The thing is, far too many people get caught up on terms like "top-six". When you deploy a team with this much depth, it allows you to approach your lineup with a "top-nine" perspective. Three dangerous lines is a good thing, and depending on his health, slotting Beau Bennett with Malkin may be the best option in this scenario.
Mike Sullivan may be best served leaving Sidney Crosby's unit alone, as well as the trio of Hagelin, Bonino and Kessel. Malkin centering Bennett and Conor Sheary would provide a solid mix of speed and skill, making the Penguins a matchup nightmare for most opponents.
Can Anyone Stop the Capitals?
The Capitals have been a runaway train all season. With 114 points, they've clinched the President's trophy and are essentially coasting into the postseason. Unfortunately, coasting may not be what's best for them.
Last night's matchup between the Capitals and Flyers was pretty telling, with a very important observation surfacing. Eastern Conference teams should be praying to the hockey Gods that these two teams meet in the first round.
Similar to the Penguins, the Flyers are rolling, running over almost everyone that stands in their way. Last night got extremely physical and even quite dirty, with both teams taking any shot they could at an opposing player.
https://twitter.com/myregularface/status/715353118549086208
Currently sitting in the final wild card spot, they're on a collision course with Washington. Whoever makes it out of that series is sure to be battered and beaten. And, the Flyers might just be one of the few teams that can eliminate the Capitals. Or, at least take them seven games and wear them down.
The Capitals have only five regulation wins through the month of March. Is it because they're already looking ahead to the postseason?
Maybe.
However, they aren't finishing the season on a high note and as we've seen in Pittsburgh many times, that isn't always a good way to close out a successful regular season.
Pittsburgh Penguins writer for TheHockeyWriters.Com and PittsburghHockeyNow.Com. Youth hockey coach, and student of the game.