The Pittsburgh Penguins, just hours after announcing that they've reassigned rookie Daniel Sprong to his junior team, lost their fifth straight contest. This time, the defeat came at the hands of the Carolina Hurricanes. Pittsburgh tallied only one goal, despite what was arguably the most complete effort from the Penguins since Mike Sullivan took over as head coach. There were signs of progress, just not enough to record their first win under Sullivan's direction. So, with continued scoring issues, why did they send Sprong back to the juniors? Why now?
Though this will be an unpopular opinion, Sprong hasn't been very good in the limited opportunities he received at the NHL level. He's an exciting young forward with a top-tier shot but keep in mind, he only scored twice in his 18 games-played with the Penguins. There's no denying that he showed signs of brilliance and he'll likely be a special hockey player in this league going forward. But, he isn't ready yet.
The problem though, is the timing of this transaction. The Penguins kept Sprong past his nine game tryout period, which means they've activated the first year of his entry-level contract, only to scratch him 13 times in 31 games and eventually send him back to juniors. As an 18-year old, I'm sure he didn't mind collecting on that salary for a few months but from an organizational standpoint, this was a poorly managed situation which has caused the Penguins to lose a year of Sprong's services at a low cost and they have very little to show for it. Did it aid in his development? Maybe. If they weren't confident that he could play at this level, they should have sent him down after nine games.
Misdirected Hostility – Penguins' Management Takes Brunt of Blame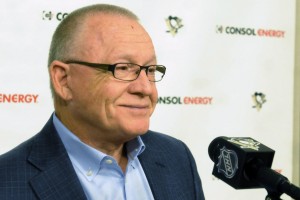 Rutherford and company fumbled the Sprong situation in a big way. This regime has made their fair share of mistakes, which includes the salary cap debacle that caused the Penguins to play with only five defensemen down the stretch last season. One gets the feeling that at this point, most are pointing fingers at Penguins' management for the sole reason of finding someone to blame for their on-ice struggles without understanding or wanting to admit where the problem truly lies. The problem with this team is execution and underperformance.
You can't talk about the Penguins' inability to score without first discussing Sidney Crosby and his disappearing act so far this season. Though he's currently injured, Kris Letang is another individual that's viewed as a cornerstone in this organization but his play has been far less than stellar so far. In fact, he has been downright bad. Those two are just the beginning of what's happening on the ice.
The Penguins are competing with what is arguably the worst blue line in the NHL. And, while its easy to say that Rutherford didn't do enough to address that group, it's impossible for him to foresee Derrick Pouliot regressing in his development or Ian Cole playing so poorly. Combine those performances with the injuries to Olli Maatta, who missed a few weeks through November and December and Letang, currently on injured reserve and it's clear that the poor performance of this defense is a mix of both circumstance and poor play. Speaking of poor play…
Kessel held w/o a goal in 15 of last 17 GP; Hornqvist in 14 of last 15; Perron in 11 of last 12; Kunitz in 18 of last 20; Sid 10 of last 12.

— Bob Grove (@bobgrove91) December 19, 2015
With the exception of a few, the players on this team are simply playing poorly. There's nothing that Rutherford, Mario Lemieux, Ron Burkle or David Morehouse can do that will fix this. Is the ownership group and management team completely innocent in all of this? Absolutely not. But, if you're looking upstairs and blaming them for how the Penguins are playing, I'm afraid you won't find any answers. It starts with the individuals in the locker room.
The Perfect Storm for the Pittsburgh Penguins
It's nearly impossible to be optimistic right now if you're a fan of the Pittsburgh Penguins. There seems to be very little hope of them turning things around and they could very well miss the playoffs for the first time since the 2005-06 season. But, it's important to keep things in perspective and understand that the Penguins are truly experiencing the perfect storm of problems right now.
The Penguins have lost Marc-Andre Fleury for at least a week with a concussion. Letang's injury means that despite the acquisition of Trevor Daley, the Penguins are still forced to experiment with a mixture of AHL blue-liners to try to fill a competent defensive group. They also have a new head coach that's trying to infuse his system and approach, while playing five games in seven days and very little practice time. It's a scenario that's nearly impossible to overcome.
The Penguins will require patience. Time isn't on their side right now but it doesn't matter, as this is a process that has to play out. They have looked more and more structured under Sullivan as they progress and in their most recent contest against the Hurricanes, they looked much better than they have over the last few weeks. They're creating chances but suffering from an absurdly low shooting percentage, which history tells us that it will even out and the goals will come. I'm not telling you to be either optimistic or pessimistic, I'm simply saying that there is a small chance the Penguins can right the ship in the coming weeks. Hopefully for their sake, it won't be too late.
Other Thoughts and Observations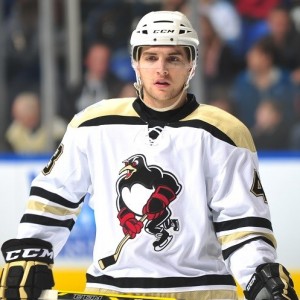 Conor Sheary epitomizes what this team needs right now. He was called up from Wilkes-Barre during a time in which the Penguins' AHL affiliate was 18-5-0 and Sheary had 25 points in 24 games-played. He brought with him a welcomed energy and blast of confidence, which is evident in his willingness to simply react on his instincts and not second guess himself. The Penguins are struggling with confidence right now and it's a large part of why they've been unable to find their scoring touch. Sheary should help remedy that, unless he also falls into the same mindset.
Trevor Daley has played very well since coming to Pittsburgh in a swap that sent Rob Scuderi to the Blackhawks. The only time you hear his name is during the rush or on the power play, which means he's quietly doing his job in the defensive zone. He should be a nice boost to this blue line and when Letang returns from injury, the Penguins just might have a formidable top-four.
Matt Murray, widely viewed as the Penguins' goaltender of the future, finally made his NHL debut last night. He turned away 24 shots and although the first goal he surrendered was one he'd like to have back, he put together a solid effort. Murray should have earned the right to start on Monday night when Columbus comes to Pittsburgh.
Phil Kessel failed to record a shot against the Hurricanes. He actually battled pretty hard on multiple occasions along the boards and behind the net. He put together a noticeable outing, mainly due to his effort and hard work, which is quite rare for him. We haven't seen him break out yet in Pittsburgh but you have to think it's only a matter of time. If the Penguins can right the ship, Kessel should benefit and do the things everyone has been anxiously awaiting.