Phil Kessel and the Penguins are off to what is arguably the most disappointing start for this franchise over the last decade. A roster packed with superstars and dynamic scorers can't seem to put up points and their .500 record shows it. The expectations for this team were through the roof after General Manager Jim Rutherford built what looked to be one of the deepest offensive groups in the NHL. Kessel was the biggest part of that re-tooling.
The most common scapegoats in Pittsburgh, Defenseman Rob Scuderi and Head Coach Mike Johnston, are gone. The team is 0-2 under newly promoted bench boss Mike Sullivan and Kessel is on pace for 25 goals, which is obviously far less than what was expected. The Penguins are struggling as a team but there always has to be a fall guy, right? Lately, Kessel has earned that attention by many in the Pittsburgh media.
Terms that we've heard so often throughout Kessel's career have resurfaced. Lazy, sluggish, gun-shy and uninterested can be found in print and blaring across Pittsburgh airwaves as everyone asks; Was the Toronto media, who seemed to go out of their way on a daily basis to insult Kessel, more accurate in their analysis than others assumed? Is Kessel, predicted by so many to score 40-plus goals alongside Sidney Crosby or Evgeni Malkin, doing enough offensively to excuse his defensive deficiencies and complete disregard for the physical aspect of the game?
One thing is for sure. The Penguins' front office shouldn't be surprised at all with Kessel's performance so far.
Pittsburgh Knew What They Were Getting With Phil Kessel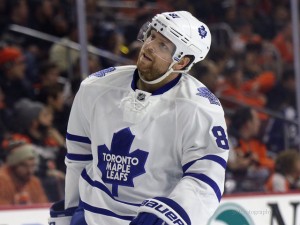 Kessel hasn't stayed healthy so often throughout his career due to durability or extreme conditioning. He has stayed healthy because he avoids almost all forms of contact. He rarely battles on the boards, doesn't hit and won't be caught blocking shots in the defensive zone. None of that is a knock on the prolific scorer, it's just fact. And, when Rutherford honed in on prying Kessel from Toronto, he knew exactly what he was getting. Kessel is as advertised. He is who we thought he was.
Maybe the most disappointing part of Kessel's short tenure in Pittsburgh is his production. If you're concerned that he isn't scoring, I can't necessarily argue with you. One thing that you'll want to consider though, is that Kessel is Pittsburgh's third leading scorer right now, falling just one point behind Crosby with 18 total points on the year. His nine goals are second to only Malkin, who has 14 tallies so far. So, in other words, Kessel is positioned exactly where most would have predicted prior to the season. Unfortunately, the entire team's scoring totals are down and he's being impacted greatly by that.
I believe the biggest test for Kessel is yet to come. A true test of his character and how much of a team guy he is. That test is whether or not he's willing to do whats necessary in order to help this team power through some very troubling times.
Will Increased Accountability Derail Kessel?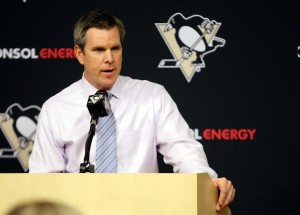 Sullivan, while speaking with the media shortly after it was announced that he would be taking over the Penguins, discussed accountability and players earning their minutes. After the Penguins lost to the Washington Capitals in Sullivan's debut, Kessel was skating on the third line in practice the following day. My understanding, which was confirmed by Josh Yohe on 105.9 The X, is that Kessel would have remained there if Nick Bonino was healthy enough to play and center that line on Wednesday night in Boston. Without Bonino, the decision was made to put Kessel back with Malkin but what if he finds himself back in the bottom-six this weekend?
When asked about his practice session on the third line, Kessel stated that he'll play wherever and do whatever it takes to help this team. But, we've heard that before from almost every player when they're initially asked about unfavorable situations. What happens behind closed doors is a different story and whether or not Kessel will be ok with a decreased role remains to be seen. Sullivan will indeed hold him accountable. Will he respond positively?
Personally, Phil Kessel has been the least of my concerns with this team. If the Penguins can fix their transition game and begin getting him the puck with speed on the rush, similar to Crosby, he'll begin to do the things everyone is anxiously waiting for. When Sullivan eventually finds a fit for him on the power play that doesn't put him in a position for one-timers, which is clearly not a strength of his, we'll see those power play tallies begin piling up. What we won't see, is Kessel putting the Penguins on his shoulders and carrying them through this rough patch. He simply isn't built for that, just as he wasn't when the Toronto Maple Leafs expected that of him over the last six seasons. Kessel isn't lighting the world on fire yet in Pittsburgh. But, fix the issues that this team has with their transitions and offensive zone entry and you'll begin seeing number 81 on the score sheet on a fairly regular basis.