It's been an interesting two weeks since the last Penguins Pulpit. After briefly falling to last in the Eastern Conference in mid-November, the team has managed a slight turnaround to get back into the playoff race. After play on Sunday night, the Penguins sit just one point out of third place in the Metropolitan Division and five points out of a Wild Card spot. While they've had some inconsistent showings, there's been more good than bad over the last six games.
Two weeks ago, the Penguins had a back-to-back set against the Winnipeg Jets and Colorado Avalanche and produced a mixed bag. They came from behind to beat the Jets 4-3 and got plenty of scoring from depth players. Against the Avalanche, the Penguins spoiled a Sidney Crosby natural hat trick by allowing three goals in the third period en route to a 6-3 loss. The inconsistency continued in a 4-2 loss to the Philadelphia Flyers on Dec. 1, when the team put forth one of their worst efforts of the season.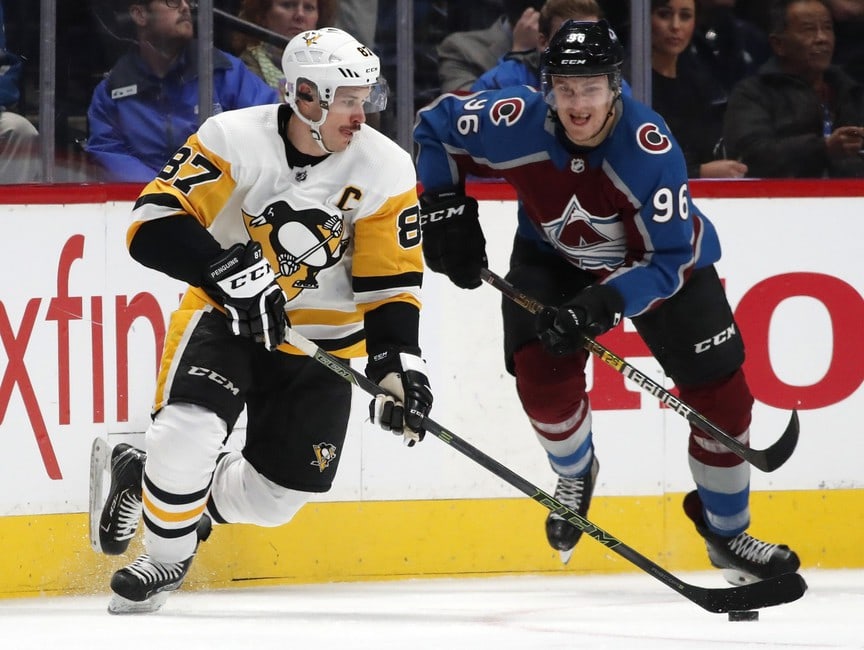 To begin the new week, general manager Jim Rutherford decided to make a move to shake up the team, sending top prospect Daniel Sprong to the Anaheim Ducks in exchange for defenseman Marcus Pettersson.
Related: Springing Sprong was Necessary for Penguins 
On Tuesday, the Penguins played the Avalanche for the second time in five days and were on the right side of a 6-3 score this time, after Patric Hornqvist's natural hat trick in the third period. On Thursday, Phil Kessel recorded four points and Crosby scored another no-angle goal to lead the team to a 6-2 victory over the New York Islanders. On Saturday night, the Penguins fell 2-1 in overtime to the Ottawa Senators, in a game they would've won had a goalie other than Craig Anderson been in the Senators' net. Earning five-of-six points is still a successful week and has helped the team climb back into the playoff race.
In the return of Penguins Pulpit, Pettersson's impressive start with the team, the depth scoring beginning to show signs of life and what the future may hold for Olli Maatta are all discussed.
2018-19 record: 12-10-6 (4th in Metropolitan Division, 10th in Eastern Conference, 20th in League Standings)
Pettersson Off to Strong Start With Penguins
After being acquired from the Ducks on Monday afternoon, Pettersson quickly impressed during his first three games with his new team. The common saying is, the first impression is a lasting impression, and Pettersson is making sure he's viewed in positively for the foreseeable future.
He began his Penguins career with a couple of solid performances against the Avalanche and Islanders, where he wasn't overly noticeable, which is what you want from a defenseman unless they're Kris Letang or Erik Karlsson. Although against the Senators on Saturday night, Pettersson was noticeable, and in a good way. In 11:27 of ice-time (TOI) Pettersson didn't surrender a single shot or shot attempt against, going a respective 11-0 and 15-0 in those departments. In the process, he became the only Penguins defensemen to not allow a shot attempt in a game this season. It's an impressive feat for the youngest player on the Penguins' roster.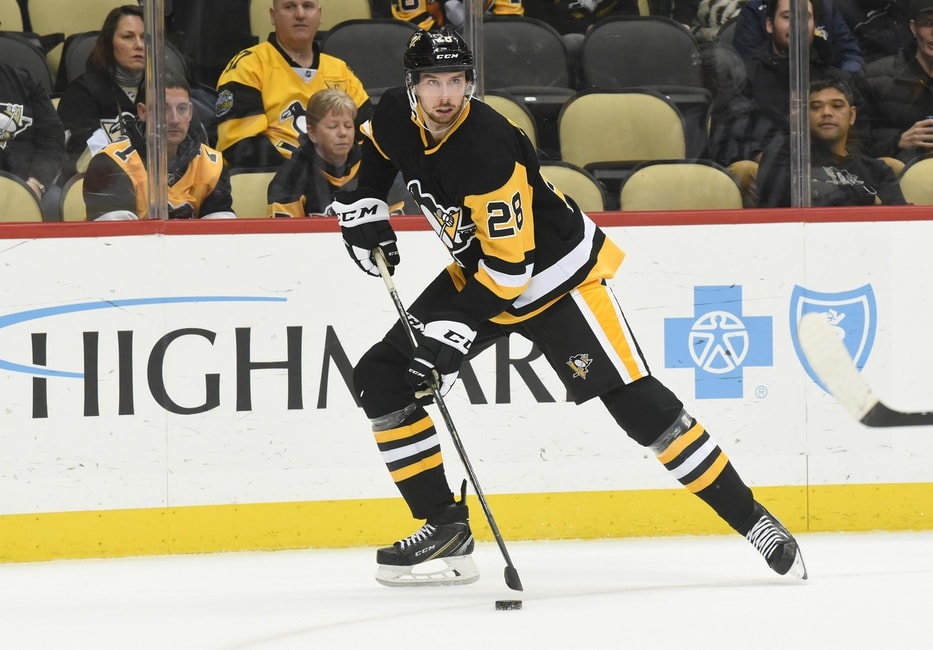 Through his first three games, Pettersson's possession game has been a mixed bag. While he holds a positive Corsi for percentage (CF%) of 53.6, he has a Fenwick for percentage (FF%) of 44.6, shots for percentage (SF%) of 44.9 and scoring chances for percentage (SCF%) of 45.5. To be fair to Pettersson, Jack Johnson, who isn't known for shot suppression, has been his main partner. So positive possession numbers going forward shouldn't be expected as long as he's with Johnson. But, independently, Pettersson has been a good addition to the Penguins blue line.
He's displayed a strong first pass, getting the pucks out with ease, as well as good mobility for a player of his size — six-foot-four, 181-pounds. Pettersson has also displayed a willingness to get in front of shots, which is a welcome sight. He still needs to become more physical if he's going to reach his potential — which Rutherford thinks could be Brian Dumoulin — but it's something which will come in the training room and over time. But so far, so good for the Swedish defenseman.
Secondary Scoring is Beginning to Pick Up
Something that's plagued the Penguins over the last season and a quarter is their lack of scoring from forwards not named Jake Guentzel, Evgeni Malkin, Kessel, Hornqvist or Crosby. As one would assume, it's caused the team trouble when it comes to winning close games. But, in recent weeks, it's begun to turn a corner, as the return of Derick Brassard has brought balance and skill to the bottom-six.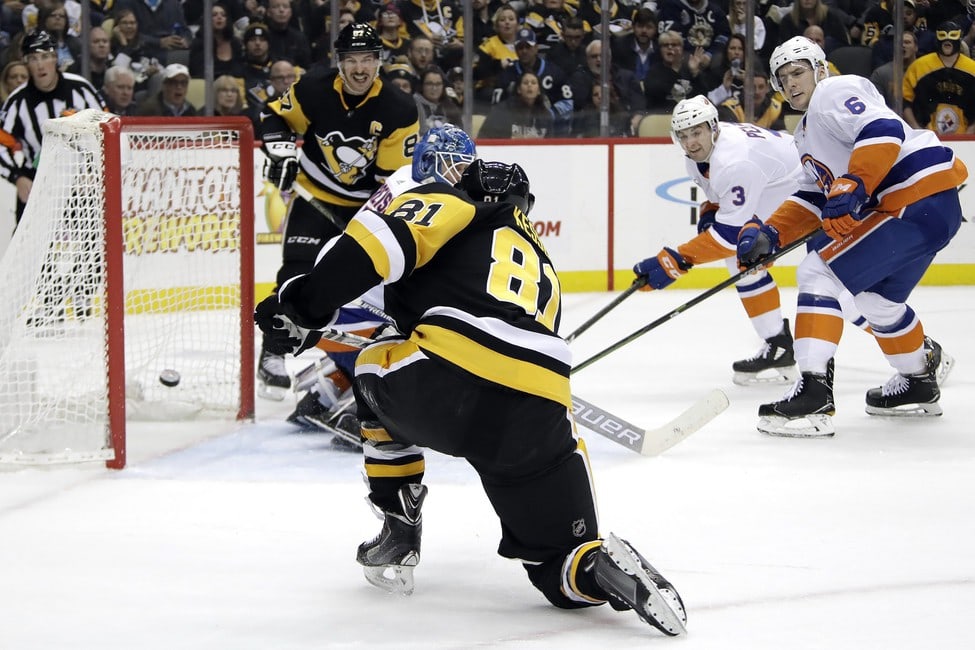 In the Penguins' first-quarter report, the team's depth scoring troubles were put into perspective. It was clear they have been too top heavy, and as the team has seen first hand, it's not going to win many games.
The top-six — when healthy — is made up of Sidney Crosby, Jake Guentzel, Patric Hornqvist, Evgeni Malkin, Phil Kessel, and Tanner Pearson — formerly Carl Hagelin. Those players have 52 of the 62 goals (84 percent) scored by the team's forwards, or 70 percent of all goals scored by the Penguins this season.
Over their last six games, the Penguins have scored 22 goals, and the forwards have 20 of them. The same top-six from the quarter-season update has 13 of them, or 65 percent, while the depth forwards — consisting of players like Brassard, Bryan Rust, Riley Sheahan Dominik Simon, J.S. Dea, Derek Grant, Garrett Wilson, and Zach Aston-Reese — have seven, or 35 percent of goals from forwards. The depth scoring has nearly matched their goal total from the first 22 games of the season (10 goals) with seven over their last six games.
As of Dec. 9, the Penguins have now scored 96 goals for the season, with 83 (86 percent) of them scored by the forwards. The top-six — including Hagelin — has 65 of the 83 goals (78 percent) scored by the team's forwards, or 67 percent of all goals scored by the Penguins this season. Respective changes of six and three percent don't mean their struggles are over, but it's a step in the right direction. If the bottom-six can continue to improve, score at the rate they have and knock the top-six's number down to 70 or even 65 percent, the Penguins will be in a better position as the playoffs get closer.
What Does the Future Hold for Olli Maatta?
If there's one word to describe Maatta over the last five seasons it would be this: confusing.
After his rookie season in 2013-14, the 22nd overall pick of the 2012 draft looked like a future top-four defenseman in the making. Then came the multiple shoulder surgeries and thyroid cancer in 2014-15, a hip injury in 2015-16, a broken hand in 2016-17, and inconsistent play when he was on the ice. Maatta wasn't able to truly get into a rhythm, as he played just 142 of 246 games (57 percent) during those three seasons.
Finally healthy in 2017-18, Maatta looked to have turned a corner as he played all 82 games for the first time in his career and was one of the Penguins' most consistent defenseman all season. Entering his age-24 season in 2018-19, it looked like Maatta was beginning to turn a corner. It hasn't gone as hoped, though. While he's had his good games and moments, it's been the worst season of Maatta's career from an overall standpoint.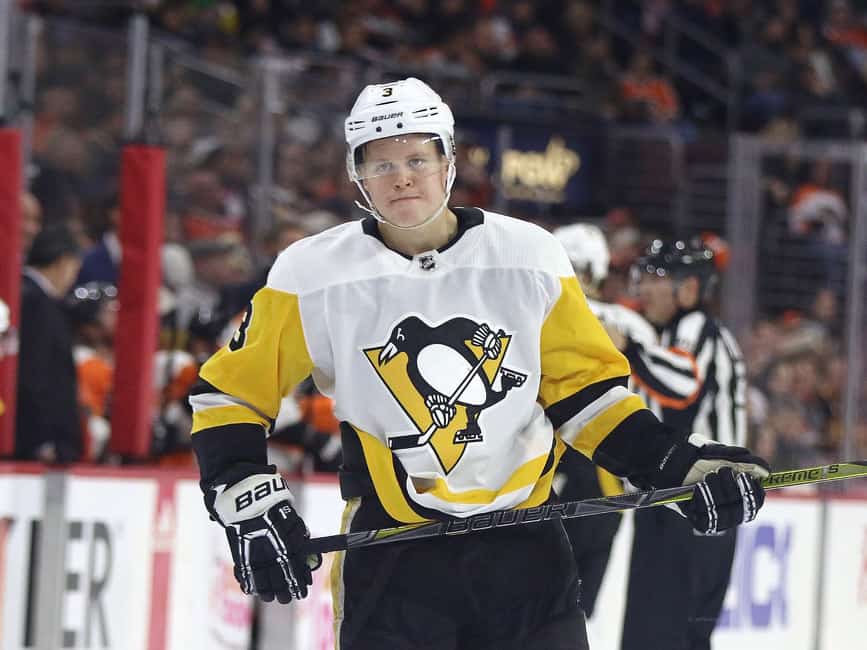 Through 27 games, he has eight assists while averaging 19:22 TOI per night, the second most of his career. Not only is his offensive production disappointing, but his advanced metrics have been bad, too. Maatta currently holds career-worst numbers at five-on-five in CF% (46.9) and CF% Rel (-7.2), FF% (48.6) and FF% Rel (-4.9), and SCF% (46.7) and SCF% Rel (-8.5). Anytime he's out on the ice, Maatta is negatively impacting the Penguins' possession game and hurting their chances of getting anything going.
Despite his poor metrics, Maatta holds a PDO of 105, due to a career-high on-ice shooting percentage of 12.1, along with an on-ice save percentage of .929. These numbers are likely to regress as time goes on and if they do, it could get ugly for the Finnish defenseman.
One constant knock against Maatta has been his skating ability. Every year it's expected to improve and every year it doesn't. Now in his sixth NHL season, his skating still isn't good and he's one of the slowest players on the roster. It creates a number of problems for him. It doesn't matter if Maatta reads a play well because he doesn't have the foot speed to get into position and make a play. To add to it, his lack of speed also causes him to make a number of mistakes because he has to overcompensate just to get into position. It's a lose-lose situation for him, and Maatta's become a liability the defensively-challenged Penguins can't afford.
Perhaps a change of scenery could help Maatta find his game, or at least become a more consistent player. Although, with Justin Schultz out until mid-February, moving Maatta now isn't going to help the Penguins, but the team could look to move him in the offseason.
It wouldn't be the hardest pill to swallow, either. The Penguins have five other defensemen — Jamie Oleksiak, Johnson, Schultz, Dumoulin, and Letang — under contract next season and can re-sign their RFA defensemen, Juuso Riikola, and Pettersson to inexpensive deals to fill out the sixth and seventh spots. Dangling Maatta in trade talks could also help the Penguins find their new third line center in 2019-20, as Brassard will most likely leave in free agency. Maatta is still young (25 entering 2019-20) and cheap enough ($4.08 million through 2021-22) that a team looking for defense would likely take a chance on his upside. And the Penguins need to capitalize on his value while they can.
One Penguins' defenseman is trending up while another is trending downward and the offense is starting to find balance as the team heads into a four-game slate featuring their second back-to-back set of the season.
What's Up Next
10/12/18 @ New York Islanders
12/12/18 @ Chicago Blackhawks 
14/12/18 vs Boston Bruins
15/12/18 vs Los Angeles Kings 
Leading scorer of the week: Phil Kessel, five points (two goals, three assists)
Three Stars of the week:
Phil Kessel: five points
Kris Letang: four points, 25:56 average TOI
Sidney Crosby: three points
What are your thoughts on the headlines from this weeks Penguins Pulpit? Make sure to let us know in the comment section.