Player evaluations will be based on each individual's performance with a focus on January 1 and forward, due to the Penguins' coaching change and shift in philosophy. Individual stats and their impact on teammates will be a large focus, with other factors playing a role as well. 
When Jim Rutherford took over the Penguins in 2014, he shocked the Pittsburgh fan base right out of the gate by trading sniper James Neal. Everyone knew change was necessary but no one saw that move coming. Especially when the return was Patric Hornqvist, a completely different type of player and someone who wasn't viewed as a scorer by any means.
No one, including myself, realized the future impact that Hornqvist would have on the Penguins' lineup.
The start of 2015-16, which saw Pittsburgh struggle under former head coach Mike Johnston, makes it difficult to assess that span for anyone on this roster. Lines were shuffled, the Penguins were playing a defense-first system that stymied their offense and everyone's production was hampered as a result. Hornqvist scored only four goals and eight total points through their first 23 games.
Once Mike Sullivan's system set in, Pittsburgh became a completely different team. All of a sudden, Hornqvist and the Penguins looked like the real deal. From an individual standpoint, Hornqvist silenced a lot of critics after turning his season around. He had become a name that most viewed as expendable, which all changed when he returned to form.
Know Your Role
Very few players in the league can cause havoc in the crease as Hornqvist does. He's an agitator, but not in the normal sense of the word as it's often used in hockey. He isn't Matt Cooke, Sean Avery or Zac Rinaldo but instead, he's a player that offers relentless pressure on opposing goalies and makes life difficult for anyone trying to cover the blue paint. He's aggressive on the forecheck, wins battles along the boards and has a motor unlike almost any other player in the league.
Those attributes were on full display in the second half of 2015-16, especially during Pittsburgh's postseason run. That skill set is also the reason he's such a good fit on Pittsburgh's star-studded power play.
Hornqvist tallied 15 goals and 36 total points through the final 45 games of the regular season. Sans a two-week adjustment period after Sullivan took over behind the bench, you could see an immediate uptick in production after the coaching change. Hornqvist didn't change his style of play. He never looked as if he let off the gas, even when the Penguins were struggling through early December. However, he was producing again.
He was back to being the productive nuisance everyone had come to expect.
He followed up his regular season turnaround with 13 points through Pittsburgh's 24 playoff games en route to a Stanley Cup Championship. His nine postseason goals trailed only Phil Kessel, who led the team with 10 playoff goals. Hornqvist was once hockey's version of 'Mr. Irrelevant', a name given to the NFL's last overall draft pick each year. He was the last player chosen in 2005, which was the same year Sidney Crosby was selected first overall. Now, the two are line mates.
And, Hornqvist is far from a passenger.
Perfect Fit
Maybe, when Rutherford acquired Hornqvist from the Nashville Predators, he had a plan in mind. Crosby has experienced the most success while flanked by players like Pascal Dupuis and Chris Kunitz or in other words, North-South type of forwards that play fast and aren't afraid to do the dirty work.
Hornqvist fits that mold perfectly. Consider the following information…

(Courtesy of Corsica.Hockey)
The above screenshot reflects the top-10 forward trios for the entire 2015-16 season that played at least 200 minutes together. Despite their slow start, the Crosby line boasted the best Corsi-for percentage of any trio in the league. Hornqvist has been criticized for how often he dumps the puck during offensive rushes but the proof is in the numbers. That line owned over 61-percent of shot attempts while together at even strength.
Of course, most of that is due to the best player in hockey anchoring that line, right?
Hornqvist's impact on his teammates can't be ignored. Yes, Crosby is the driving force. However, Crosby and almost every other line mate Hornqvist has played with sees a drop in production without him. The below chart, which is also courtesy of Corsica.Hockey, reflects his WOWY (with or without you) numbers. Notice the improvement in Crosby's Corsi with Hornqvist by his side. It's substantial.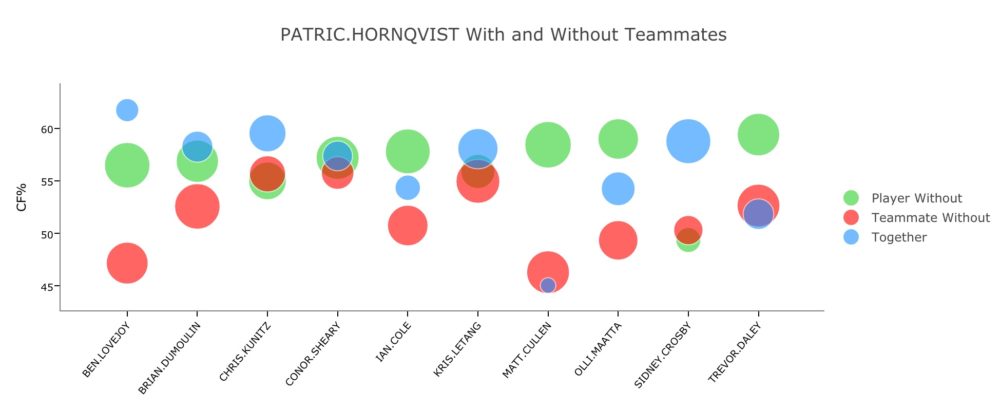 That data includes January 1 through the conclusion of the postseason. While Conor Sheary remained fairly flat with or without Hornqvist when the two played together so often in the playoffs, both Kunitz and Crosby recognized a large boost. Say what you want about his knack for chipping and chasing as opposed to carrying the puck into the offensive zone. I'll take the above results any day.
Final Grade for Patric Hornqvist
I have a hard time finding holes in Hornqvist's game, and the same goes for his performance in 2015-16. There's never a question of effort or work ethic and once the Penguins found their way, Hornqvist delivered as you'd expect.
I'll give him a solid 'A' for last season.
Many assumed that Kessel would be Crosby's new right-hand man. However, Hornqvist assumed that role after some early season experimenting and never really looked back. His ability to play with Crosby is also an underrated piece of Pittsburgh's HBK line forming, which saw Kessel settle in alongside Carl Hagelin and Nick Bonino. He has proven that he belongs in the top-six, flanking the world's most elite center, which allows Pittsburgh to sprinkle their scoring depth throughout the lineup.
In other words, he has been invaluable to the Penguins and should continue to be exactly that for the foreseeable future.
Pittsburgh Penguins writer for TheHockeyWriters.Com and PittsburghHockeyNow.Com. Youth hockey coach, and student of the game.