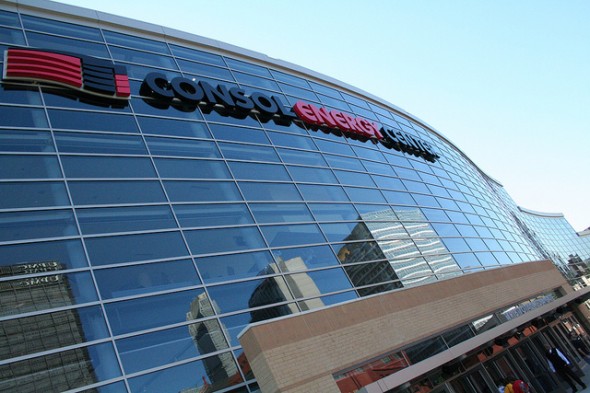 With less than 24 hours left until the NHL trade deadline, the biggest challenge for Pittsburgh Penguins General Manager Jim Rutherford is going to be navigating the salary cap.
When Pittsburgh acquired Daniel Winnik from Toronto on Wednesday, Rutherford convinced the Leafs to not only retain half of Winnik's $1.3 million cap hit but also take Zach Sill ($550k) as well.
Rutherford said it 'cost' him a 2015 fourth-round pick to get that extra salary cap flexibility.
Pittsburgh could've made the Winnik deal work without the extra wrinkles, but Rutherford wants to keep an ear open for other potential deals.  He needs maximum flexibility to do that.
It still won't be easy.
"I have a little bit of wiggle room, " Rutherford told 93.7 the Fan in Pittsburgh, "but any deal that we make going forward the team would have to take some money back and we'd have to move a player out."
Instead of trying to describe all the specifics of the Penguins' cap situation, I decided to quickly make a cap tracker tool for readers to download and create their own scenarios.
Click this image below to visit the tracker:

Consider it a fun short-term replacement for CapGeek.com's 'Armchair GM' tool — nothing more.
I have no idea if this will be an effective way of sharing cap information, but feel free to pass along your feedback (good and bad).
A few caveats:
Due to lack of time and any coding expertise, I had to upload the Microsoft Excel document to Google Docs.  You'll need to download this and have Microsoft Excel in order to use the tool. Instructions are in the tool.
I want this to be easy to use, so I've intentionally oversimplified the tool, numbers, and calculations. Don't try to use this to track the Penguins' cap situation next season or another team's current status.
The Penguins are receiving long-term injury relief (LTIR) for Pascal Dupuis and Olli Maatta for the rest of the season.  Teams usually make an effort to maximize this relief but it's almost impossible to utilize every dollar. I've built in an assumption that the Penguins aren't utilizing $250k and this could be low or high. It depends on exactly when the players were placed on LTIR and the roster situation on that day — information we don't have.
Finally, let's check out an example to see how it actually works.
In our VERY hypothetical trade, the Penguins trade Brandon Sutter to Edmonton for Jeff Petry and Derek Roy.  After acquiring Petry, a defenseman, the Penguins decide to demote Derrick Pouliot to the AHL for the rest of the season.
In the tool, you'd want to delete the YES for both Sutter and Pouliot.  Next, check the list at the bottom for Petry and Roy's cap hits.  Type those numbers into their respective yellow cells and that's it.  You should have your answer.
This deal leaves the Penguins with $188k in cap space.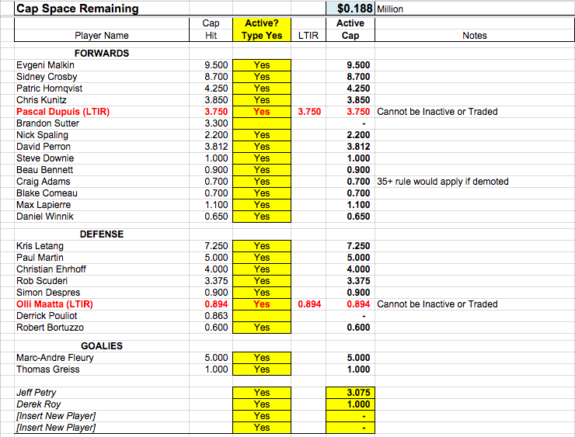 Have fun. Enjoy the trade deadline frenzy.