As we inch closer to the end of the season, and the "McEichel" race heats up, now is a great time to have some fun and project where the dynamic duo should play. Meaning, what two respective landings spots for Conner McDavid and Jack Eichel would be best for the game of hockey and what would create the most compelling storylines ?
Growing the Game in the South
Josh Cooper of Puck Daddy suggests the Arizona Coyotes and Carolina Hurricanes are the best destinations. Cooper writes,
They must go to places where they can help push the game to new and unseen heights. They need to go to places that have never seen prodigies with their prodigious skill sets.We need one of you to save hockey in the desert. We need the other to be the heir apparent to Eric Staal and bring back the playoff hockey tailgates we knew and loved in Carolina's runs to the Cup Final.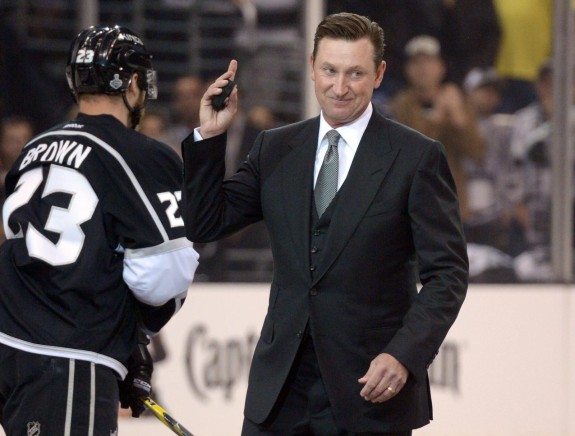 The idea here would be hoping that Eichel and McDavid are able to have the same impact in the south as Wayne Gretzky did in California when he was dealt to the Los Angeles Kings. Along with the Kings, the San Jose Sharks and Anaheim Ducks have become successful California-based NHL franchises.
As an effect, a number of California-born players born in the early 90s have made it to the NHL such as: Beau Bennett, Matthew Nieto, Emerson Etem and Jason Zucker.
Now, as plans for further expansion, the AHL is moving five teams to California cities including: San Jose (Sharks), Stockton (Calgary Flames), Bakersfield (Edmonton Oilers), Ontario (Los Angeles Kings), San Diego (Anaheim Ducks).
Could the presence of Eichel and McDavid in the south have the same impact? It could certainly be a possibility, especially if they win. Just take a look back at Carolina during the Canes 2006 Stanley Cup run.
Canada Gets Its Prodigal Son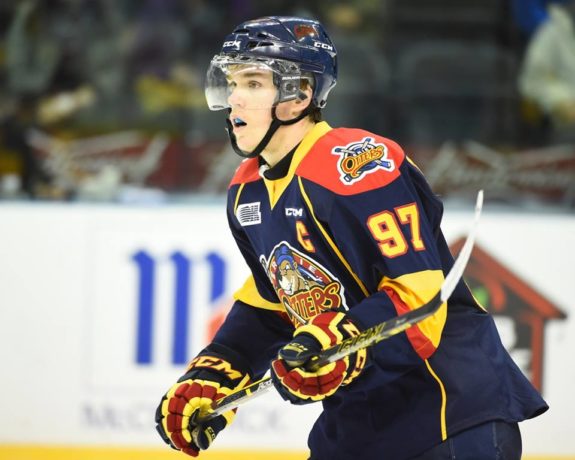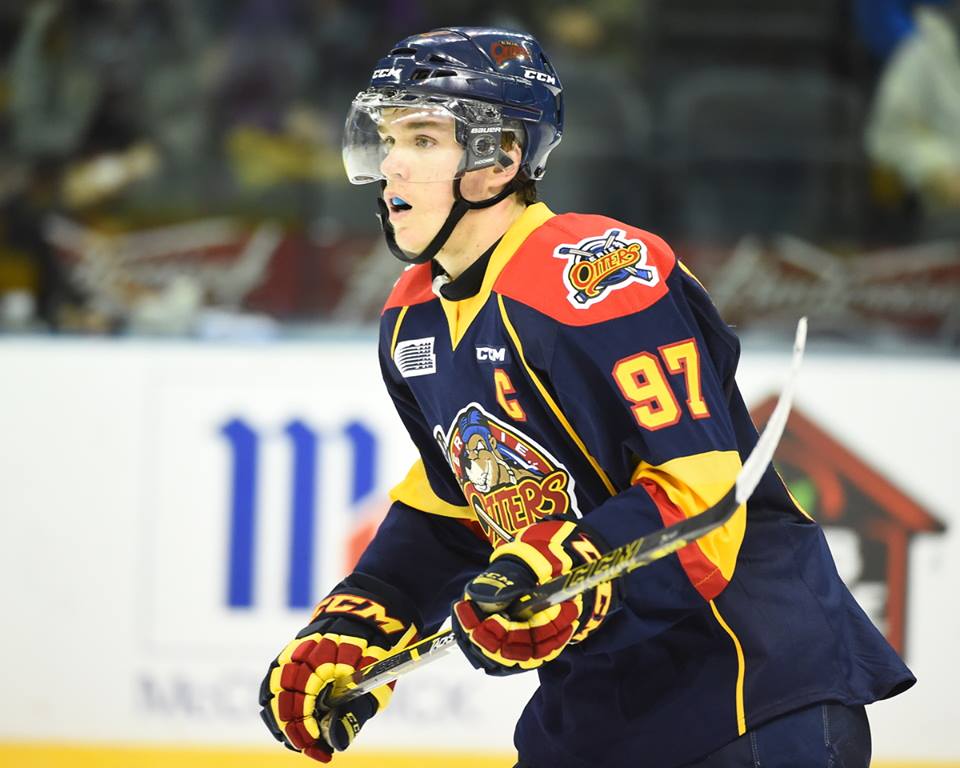 Now that the Toronto Maple Leafs have entered the tanking game, it's not too far out of the realm of possibility imagining McDavid wearing blue and white.  McDavid has actually been on record stating his desire to be a Maple Leaf. When asked by Mike Zeisberger of the Toronto Sun about playing for the Leafs, McDavid responded,
"It's pretty crazy to even think about. But that would be an absolute dream come true."
This would give the Leafs franchise something it hasn't had in a very long time – a bonafide superstar. Considering the fanfare that already follows McDavid around now, just imagine how intense that would be should he somehow end up in Toronto.
But would the spotlight be too bright? Would McDavid succumb to the pressure brought on by the Toronto media and the rest of the hockey world? Given his down-to-earth attitude and calm demeanor, it's unlikely this would be an issue for the wunderkind.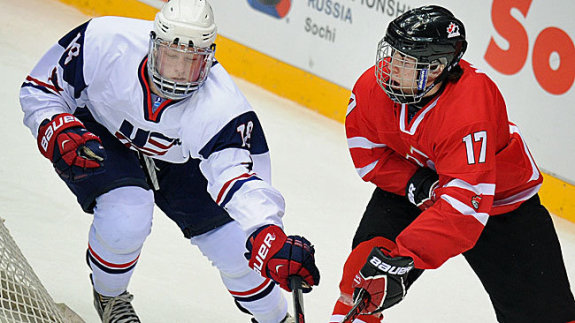 Where does Eichel land in this scenario? The likely possibility would be that Toronto wins the lottery (currently a 6.5% chance of such an occurrence) and drafts McDavid while the 30th place finisher (most likely the Buffalo Sabres, Edmonton Oiler or Coyotes) selects Eichel.
For the sake of this particular scenario, lets look at Edmonton and Buffalo. If Eichel goes to Edmonton, then both franchise talents wind up in Canada. Connor in the east and Jack out west. Their parallel careers would forever be compared to one another, and maybe Eichel can finally be the piece to turn around the Oilers.
But the far more exciting storyline here is Eichel to Buffalo. This would be an exceptional border rivalry. Toronto and Buffalo are separated by just a short drive down the QEW. It would transcend beyond Eichel vs. McDavid or even Buffalo vs. Toronto. It would be USA vs. Canada. A true battle of patriotism. It'd the Canadian team and their guy against the U.S. team and their guy.
Another Atlantic Rivalry
Another scenario involving Eichel and McDavid as Atlantic Division rivals would quite possibly be even more compelling. While discussing Eichel's infamous beer-pounding video, WGR 550's Howard Simon and Jeremy White thought of a real doozy. Imagine the Boston Bruins missing the playoffs, winning the draft lottery and drafting McDavid, while the Sabres take Eichel. Have a listen to the idea below.
The heart of this storyline lies in the fact that Eichel is a born and bred Massachusetts boy. He most certainly would feel slighted by his hometown team who would without a question take McDavid should they miraculously win the draft lottery. This would then mean the frontrunner (to finish last) Sabres would be left with Eichel.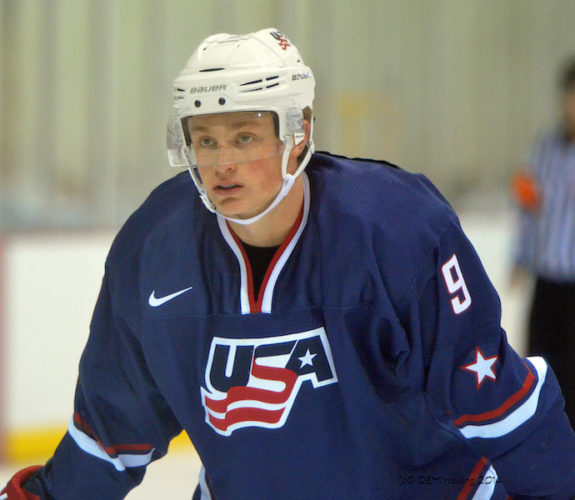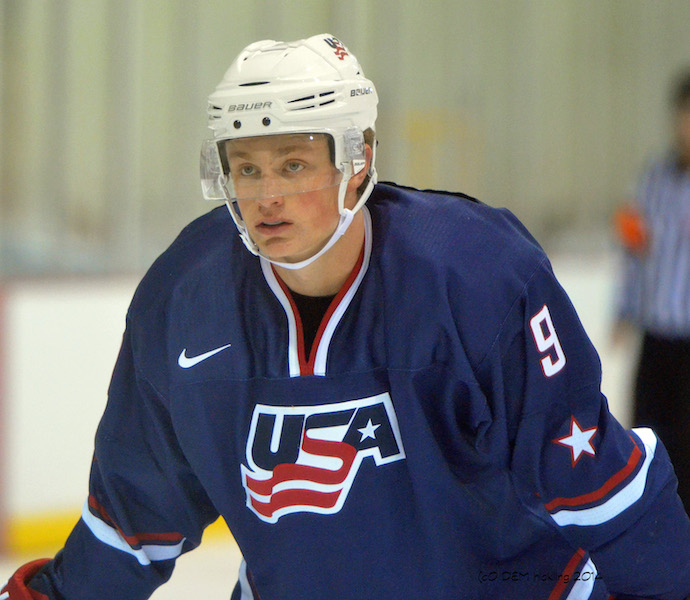 This scenario would be a great one for all parties involved. First off, McDavid would inject life into an Original Six franchise that is rapidly ageing and keep the Bruins a top draw. With McDavid in Boston and Eichel in Buffalo, two popular U.S. hockey markets would possess star players. How many times would we see these two going at it on NBC on Sunday afternoon?
For Eichel and the Sabres, this would be a perfect fit. Buffalo has long been the bridesmaid of professional sports cities, overlooked, under-appreciated and championship-less. Eichel, especially after being passed up by his local franchise, must feel quite the same, as he's always been second fiddle to McDavid. By playing in Buffalo, Eichel would have plenty of opportunities to exact revenge on Boston.
With Eichel in Buffalo, another fun matchup would be seeing him square off against Buffalo's own prodigal son Patrick Kane. The two could drive USA Hockey to the next level and create an enticing intra-country rivalry.
Where would you like to see Eichel and McDavid Land?
As an American based in Amsterdam, Joe provides a unique hockey insight, bringing a global perspective to the game. Joe has several years of experience covering the game on both a domestic and international level, including being credentialed for multiple World and World Junior Championships.