Daniel Sprong's time in Pittsburgh has come to an end. After weeks of speculation and rumors, the Penguins made the move on Monday, sending the 21-year-old forward to the Anaheim Ducks in exchange for defenseman Marcus Pettersson.
It's a quick and bitter end to Sprong's time in Pittsburgh. Surrounded by high expectations after producing in the QMJHL and AHL, Sprong, the 46th overall pick in the 2015 draft, had trouble translating his skills to the game's highest level, recording just four assists in 16 games this season. His struggles resulted in limited ice-time and a number of healthy scratches before being dealt. While Sprong's departure is disappointing, it was a necessary move before his value tanked further and ended with a Valentin Zykov situation.
Related – Penguins Pulpit: Crosby Dominant, Guentzel Heating Up & Sprong's Future
Sprong Wasn't Going to Get a Chance With Penguins
After recording a point a game (65 points in 65 games) with the Wilkes-Barre Scranton Penguins of the AHL last season, general manager Jim Rutherford made it clear in the offseason that Sprong would be an important piece of the NHL team in 2018-19. He opened training camp on a line with Jake Guentzel and Sidney Crosby but underwhelmed and ended up opening the season on the fourth line.
A player with an offense-first skill set like Sprong is supposed to play on a scoring line, not the fourth line. Of course, Sprong didn't do himself any favors with his play as he was afraid to shoot the puck and was caught puck watching often. But it was clear head coach Mike Sullivan never felt the same way Rutherford did when it came to his role. With Sprong's fourth line status, Sullivan tried to get him to shift away from the offensive mindset and become a responsible two-way player. The team didn't like what they saw, and Sprong saw just 8:34 per night as a result of it. He had also been a healthy scratch nine times, including all three games last week.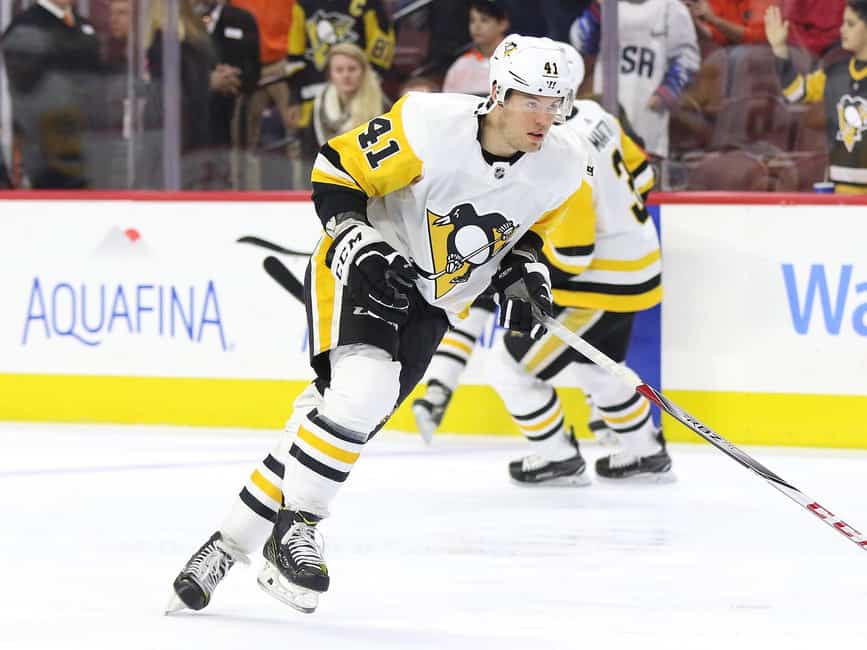 He also saw himself stuck on the bench if he made a mistake or was on the ice for a goal against. It's hard for a young player to be confident when they know anything could lead to them watching the next game from the press box. Sullivan often preaches accountability and playing the right way, but Sprong was often the only one held accountable, even if other players were to blame.
While he has the potential to be a top-six winger in the future, Sprong's nine career points in 42 games show he hasn't proven anything yet. Perhaps it's just another Derrick Pouliot situation where he just doesn't turn out to be good at the NHL level. But writing Sprong off because of half a season worth of games between the ages of 18 and 21 is irresponsible. Not every player adjusts to the league quickly, and some teams are willing to wait longer than others. But desperate to reclaim a playoff spot, the Penguins can't afford to wait for something which may never happen.
Rutherford Sees Pettersson as Dumoulin-Like
Considering the circumstances, the Penguins did well to acquire Pettersson; the 38th overall selection in 2014. In 27 games with the Ducks, Pettersson had six assists while averaging 14:01 per game. In 49 career games, he has 10 points — one goal, nine assists — and has skated 13:50 per game. At 22 years old, Pettersson becomes the youngest defensemen on the Penguins' roster by two years.
The native of Skelleftea, Sweden, isn't the next Erik Karlsson, but Rutherford sees him as similar to current Penguins blueliner, Brian Dumoulin.
"I don't want to put a timeframe on it, but in a year or two, we believe he can be a Brian Dumoulin kind of player. And I'll take a lot of those kinds of defensemen on my team."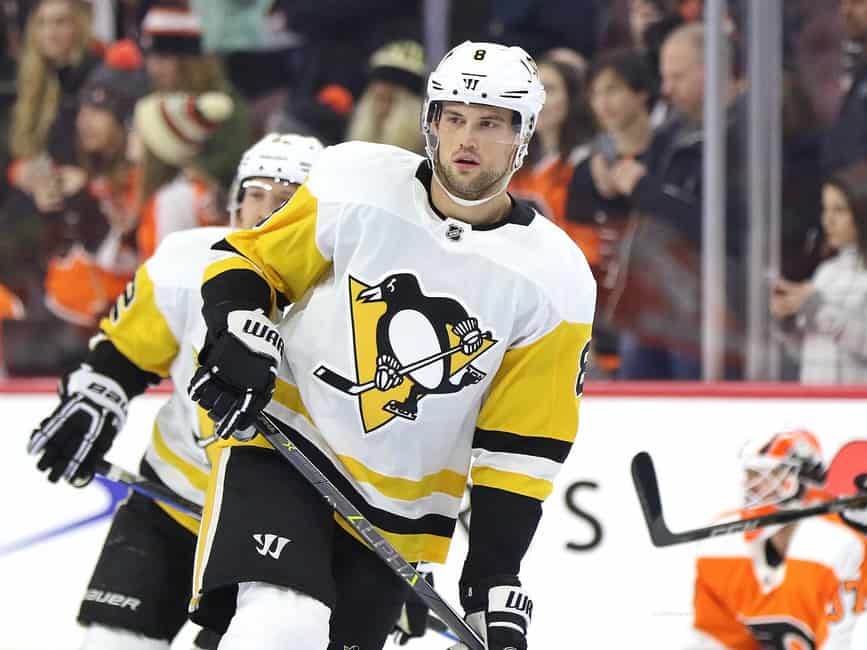 It's not a far-fetched comparison, either. Dumoulin isn't much of an offensive threat as evidenced by his 58 points in 268 career points, but he's one of the more underrated shutdown defensemen. The 27-year-old has gotten better in each of his three-plus NHL seasons and has played alongside Kris Letang on the top pairing since the 2015-16 season. Dumoulin also filled in as the Penguins' number one defenseman when Letang missed the 2017 playoffs due to a neck injury and helped the team win its second consecutive Stanley Cup.
Dumoulin uses every inch of his six-foot, four-inch frame to his advantage against opponents and has gotten more physical in recent seasons. He's also mobile for a player of his size and has good puck-moving abilities, despite his low point totals.
Pettersson's 10 points in 49 games are about the same as Dumoulin on a per-game basis (.22 for Dumoulin, .20 for Pettersson.). Also like Dumoulin, he's mobile and good at moving the puck up to his forwards, which is more important than points for stay-at-home defensemen. Defensively, the word to describe Pettersson is solid. At six-foot, four-inches, Pettersson uses his stick effectively, but if he's going to take the next step he needs to become more physical.
Related – Ducks' Blue Line: Tracking the Fresh Faces
Now, in the all-important world of analytics, how does Pettersson stack up?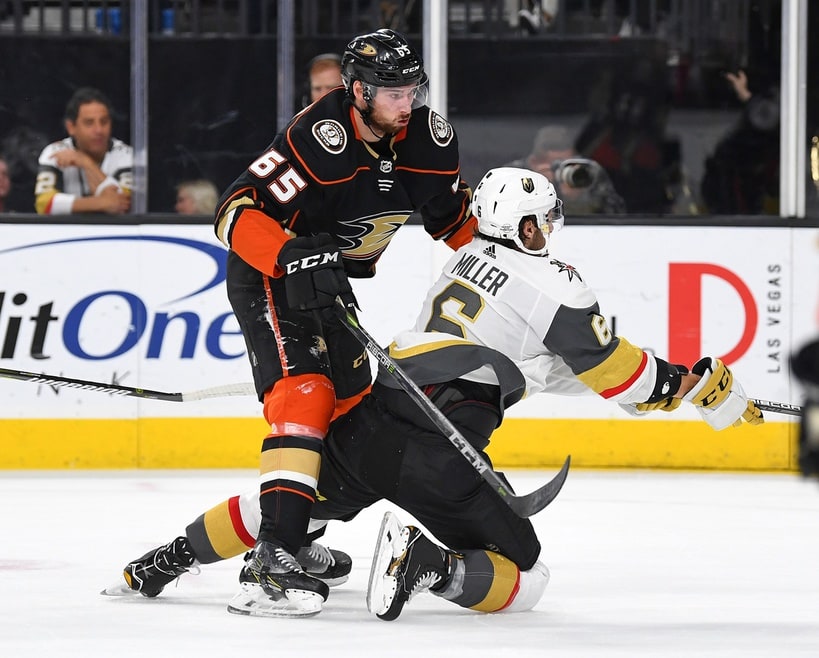 He possesses a five-on-five CF% of 46.29, a SF% of 45.54 and SCF% of 47.16. Although, on a shot-bleeding Ducks team, it's better to use relative percentages. Pettersson's CF% REL of 1.65 was third among Ducks' defensemen behind Brandon Montour and Hampus Lindholm. His SF% REL of 1.55 was second to Montour, and his SCF% REL of 4.53 was also second to Montour. Pettersson was a good possession player on a bad possession team. So, it would seem he'll be a welcome addition to the Penguins' possession game.
He'll likely begin his time with the Penguins on the bottom pair while pushing Juuso Riikola for playing time. With a strong showing this season, he could make some names on the blue line expendable in the summer.
Not every defenseman is going to play on the top pairing, and comparing Pettersson to Dumoulin doesn't necessarily mean he's going to be just that. It just means Rutherford thinks highly of him and believes Pettersson will be an impact player in the future.
A Win for Everyone Involved
This trade isn't going to shake up the landscape of the NHL, but as low-risk, medium-reward moves for both teams, it's a win for all parties. For the players, Sprong has a chance to be a top-nine winger with an organization with no preconceived notions about him. Petterson is given a chance to help improve the Penguins' blue line. For the teams, the Ducks deal from a position of strength and add, a cheap and young player to an expensive, aging forward group. While the Penguins' get an upgrade on the blue line and deal a player who wasn't a favorite of the coach and had no clear future.
Much like any trade in professional sports, it could come back to hurt the Penguins or Ducks in the future. Maybe Sprong becomes a consistent 35 goal scorer while Pettersson struggles, and maybe Sprong flames out and Petterson becomes a Norris Trophy contender. There's a lot of hypotheticals when two young players are swapped for each other. Although for now, it's a one-for-one trade which benefits both teams in the short-term.