What if I told you the Pittsburgh Penguins, yes those Penguins, have a surplus of not only NHL ready defensemen but a group of blue-liners that excel in their current system?
If you haven't watched closely, you'd likely call me insane.
If you're an outsider looking in, it's tough to follow the ebbs and flows this defensive group has experienced. It's been quite the ride so far in 2015-16. They were once described as a good defensive unit, as the Penguins were one of the best teams from the perspective of goals-against per game.
However, that was due to stellar goaltending. This defense was hemorrhaging shots-against and scoring chances.
There was a point in which everyone was baffled, with no idea what identity they were attempting to take on. An odd mix of stars like Kris Letang and Olli Maatta combined with maybe's like Brian Dumoulin and Ian Cole. And, the cagey old veteran Rob Scuderi.
Also, we can't forget about possible depth guys like Adam Clendening and David Warsofsky. Were they capable seventh defensemen?
A true mishmash of styles and skill levels that garnered plenty of criticism for Penguins' GM Jim Rutherford. Maybe he had a plan all along.
Younger and Faster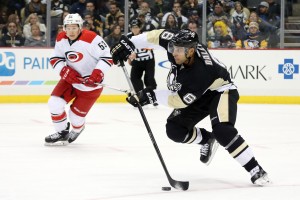 The ultimate goal for this team was to add some youth and more importantly, a lot of speed. The Blackhawks created the blue print for today's NHL and teams like the Penguins, who have the ability to do so, are following suit.
Like Chicago, Pittsburgh has built a blue line that doesn't try to beat you up. They attack the puck, as opposed to attacking the puck carrier. Their main goal is retrieval and a quick transition up ice. It's simple.
How fast can you get the puck up ice to some of the most dangerous centers in the world?
Rutherford shipped Scuderi to Chicago in exchange for shifty, offensively gifted Trevor Daley. In addition to that trade, the Penguins also recalled Derrick Pouliot from the AHL. Then, to add depth that makes sense for this unit's mission, a third-round pick was sent to Edmonton in exchange for Justin Schultz who's no sure thing but got off to a good start in his first game with Pittsburgh.
Head coach Mike Sullivan likes for his defensemen to join the rush. Letang, Daley, Pouliot and Schultz can provide what is essentially a fourth forward. Even Cole, who has struggled this season but looks much better as of late, can be a threat.
Like Hannibal Smith, Rutherford loves it when a plan comes together. For the first two months of the season, the Penguins had a coach and GM that weren't on the same page and a perplexing blue line. Now, they're 'all-in' on speed and skill on that unit. It required some patience but this is the type of group they envisioned all along.
Lineup Decisions Becoming More Complicated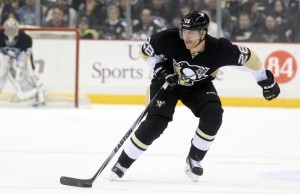 The addition of Schultz, combined with the recent improvement from Cole has made things a bit complicated when choosing who dresses and which player occupies the press box. When Ben Lovejoy returns, things get even more convoluted.
Pouliot and Cole are proving to be quite the pairing. In fact, Pouliot has had a positive impact on everyone he's paired with. Schultz also played well with Cole this past weekend when he got the nod over Pouliot, so who do they stick with long-term?
Barring injury, Lovejoy has likely seen his last game in the Penguins' starting rotation. I also look for both Schultz and Pouliot to slot in and out alongside Cole to see who sticks. While I think Pouliot is already proving he's worthy of being a mainstay, competition is never a bad thing. Neither is depth.
The Penguins are faced with a problem most couldn't imagine they'd have earlier this season. And, it's a great problem to have. Will Sullivan eventually give Pouliot and Schultz a try? An important home stretch leaves little room for error, so Pittsburgh will likely play it safe instead. Either way, the days of wondering what direction the Penguins want to go with their blue line are over.
Thanks for reading. Follow me on Twitter at @Michael29Angelo for more coverage of the Pittsburgh Penguins and everything NHL.