Repeating as Stanley Cup champs isn't easy. In fact, before the Pittsburgh Penguins' ridiculous 2017 run, it hadn't been done since before the salary cap era, when the Detroit Red Wings repeated as champions in 1998. Of course, the Wings probably spent around $60 million on their team—adjusted for inflation, that's about $90 million in 2017, which is $15 million over the current salary cap.
Why is repeating so difficult? One reason out of many is simply that winners get paid more. Once a player wins, they expect a raise; under the salary cap, the team can't afford the increase, so they trade the player; the winning team dissolves and becomes less competitive, and such is the cycle of hockey dominance. The Penguins managed to dodge this for this most part between the 2015-16 and 2016-17 seasons, which was some of the reason that 2017 saw Sidney Crosby lifting his second Cup in two years. Unfortunately for them, they won't be so lucky going into the 2017-18 season.
2016 Penguins Offseason
In 2016, the Penguins lost a fair amount of players midseason. They gave away Rob Scuderi in the trade for Trevor Daley; they lost David Perron and Adam Clendening for Carl Hagelin. Pascal Dupuis also retired in the winter due to his medical condition. These changes helped shaped what eventually became the Stanley Cup-winning team. (Also, less notably, Bobby Farnham was claimed off waivers, and Sergei Plotnikov was traded for Matthias Plachta, who spent one year in the minors before returning to Germany.)
But the Penguins' 2016 offseason was particularly quiet, especially for Cup champions. Jeff Zatkoff was traded, but that was to be expected, given Matt Murray's precipitous rise to glory; the only other losses from the team were Beau Bennett and Ben Lovejoy.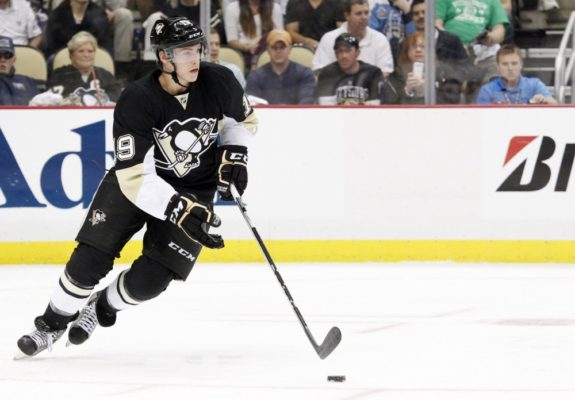 The 2017 season was completely different. Midseason saw barely any player losses. Steve Oleksy and Eric Fehr were traded for Frank Corrado (he ended up playing only two regular-season games in the NHL). Third-string goaltender Mike Condon was traded for picks. But for the most part, between the 2016 and 2017 Cup wins, the team—barring a few exceptions, most notably
rookie Jake Guentzel's call-up
—stayed almost exactly the same.
2017 Penguins Offseason
The 2017 offseason has been notably different from the Penguins' previous break. Where the Penguins only lost three players in the 2016 offseason (Bennett, Lovejoy, Zatkoff), this offseason, the list stretches a little longer: Nick Bonino, Daley, Marc-Andre Fleury, Cameron Gaunce, Ron Hainsey, Chris Kunitz, Kevin Porter, Mark Streit, Oskar Sundqvist and David Warsofsky. (Also, Matt Cullen, noted with an asterisk because of his pending retirement decision.)
| | |
| --- | --- |
| 2016 Postseason Losses | 2017 Postseason Losses |
| Beau Bennett | Nick Bonino |
| Ben Lovejoy | Matt Cullen* |
| Jeff Zatkoff | Trevor Daley |
| | Marc-Andre Fleury |
| | Cameron Gaunce |
| | Ron Hainsey |
| | Chris Kunitz |
| | Kevin Porter |
| | Mark Streit |
| | Oskar Sundqvist |
| | David Warsofsky |
Sure, Streit and Hainsey were playoff rentals, and Porter and Warsofsky were AHL players. But Sundqvist and Gaunce were developing minor-league players who had been getting shots at the NHL, and some of those other names—Fleury, Kunitz, Bonino, Daley, and Cullen, for example—yeah, those ones hurt.
Impact of Offseason Changes
The losses of Fleury, Kunitz, and Cullen mean the loss of significant veteran presence on the team. Cullen has been in the NHL for two decades, and Fleury and Kunitz were part of the Penguins' core that had been present for all three Cups of the modern era. (Without them, the core dwindles down to just Crosby, Evgeni Malkin, and Kris Letang.) It also means that the 'A', which had been on Kunitz's jersey for years, will be handed to someone else.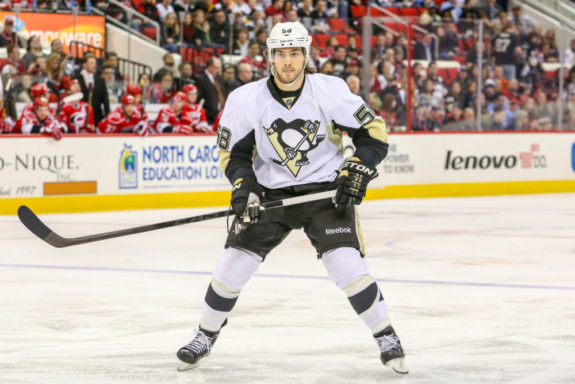 The impact of the loss of these players on the game is two-fold: a significant loss in production, and the loss of a high-quality backup goaltender.
When combining the regular-season production of everyone traded away in the postseason (the highest being Bonino at 37 points; second place goes to Cullen, with an impressive 31) the players totaled 130 points on the season, which represents about 17 percent of the Penguins' 2016-17 production. That's a huge increase from the 2016 offseason, when the departing players totaled to about 3.4 percent of that year's regular-season production.
Fleury is a whole different problem. A huge part of the reason the Penguins managed to repeat was that they had two starting-caliber goaltenders who could take over when the other got hurt (like Fleury did in the 2016 playoffs, and like Matt Murray did in 2017.) Without him, the Penguins will feel an injury to their starter much more keenly. This, combined with the overall loss in production, means it just got a whole lot harder for the Penguins to repeat.
Hope Remains in Pittsburgh
Is it overly sentimental to bemoan the loss of these players as something that will make the Penguins a much weaker team? Maybe; after all, quite a few were older and declining in production. And if you don't think about Fleury's stick save on Alex Ovechkin in Game 7, or Chris Kunitz's game-, series-, and life-changing double-overtime goal in the following Game 7, then it might not hurt so much.
Fond playoff memories aside, these trades do make the makeup of the team younger going into the 2017-18 season. Instead of basing their team around aging players, the Penguins can put stock in young players, still in the portion of their careers where they can hope for their games to improve significantly.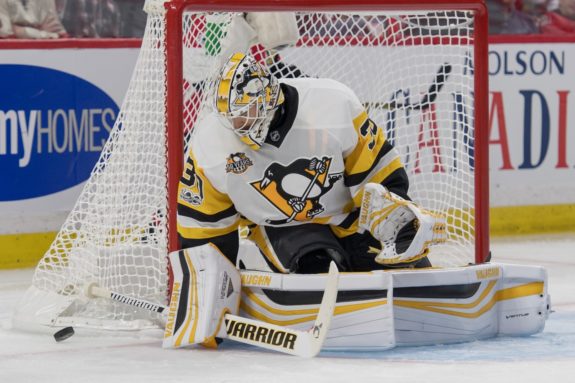 The Penguins have a young goaltender in Murray; they have young forwards who will be looking for more ice time in Guentzel, Conor Sheary and Bryan Rust. The loss of veterans mean a loss of experience, but it also means that these younger players will get even more exposure and time to prove themselves.
This postseason was more like a typical post-Cup summer than the one the Penguins experienced in 2016; going into 2017-18 as a significantly different team, we're finally seeing the wear and tear of a Cup repeat. It will likely make the beginning of next season an adjustment period. But despite the long list of departing players, there's always a bright side: the Penguins organization has depth players just waiting to get their chance on the big stage.
Julia Stumbaugh is a student at the College of William & Mary.