The hockey world lost a true icon Saturday with the passing of long-time executive Bryan Murray. The 74-year-old succumbed to the Stage 4 colon cancer he had been fighting for the last three years.
Murray began his NHL executive career in 1981-82 with the Washington Capitals, the start of what would be an illustrious career that spanned over 30 years with five franchises. No matter where he found himself working, one characteristic that defined Murray during his career was his ability to win above all else.
"Ottawa" Boy Stays Local
For everything he achieved in his career – and there was a lot – perhaps most noteworthy is the fact he was able to do so much for his "hometown" team, the Ottawa Senators. A native of Shawville, Quebec (about an hour west of Ottawa), that Murray was able to spend the final 11 years of his career in Ottawa and enjoy some success only adds to his legacy.
My thoughts and prayers are with the entire Murray family. Thank you for everything Bryan. You gave me the chance to be who I am today.

— Erik Karlsson (@ErikKarlsson65) August 12, 2017
He first joined the organization (rather unexpectedly) in the 2005-06 season as head coach, having resigned from his post as general manager of the then-Anaheim Mighty Ducks at the conclusion of the 2003-04 season. In two full seasons as Ottawa's bench boss, Murray twice helped his team make the playoffs, including taking the Sens to their first ever Stanley Cup Final (and his first as a coach) in 2006-07.
Ironically, it was the work Murray did as GM of the Mighty Ducks – drafting the likes of Corey Perry and Ryan Getzlaf – that would ultimately be the Senators' undoing in the Cup Final. Unfortunately for Murray, his shift to the press box in 2007-08 as general manager also signified a change of fortunes for the Sens: once perennial playoff contenders, they would make consecutive appearances just once in the eight seasons he served as GM.
Still, in recognition of all his contributions throughout his Senators career, Murray was the first and thus far only person to be named to the Senators Ring of Honour late last year.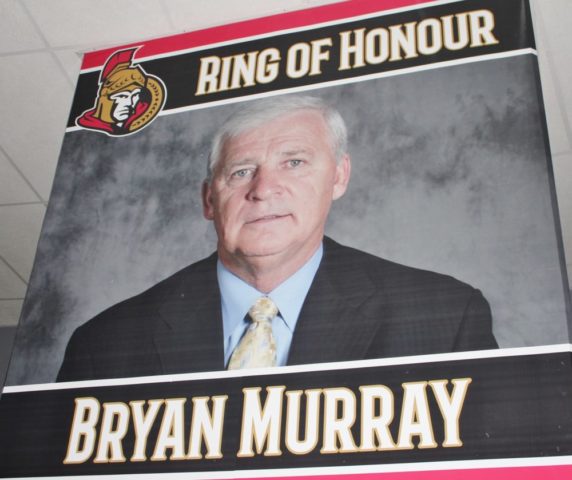 Career Winner
Despite the mixed results at the tail end of his career, his three-plus decades in the game were filled with many more successes than failures.
Coach Murray
As a head coach with five different organizations (the Mighty Ducks, Senators, Capitals, Detroit Red Wings, and Florida Panthers) Murray finished his career as one of the winningest coaches in NHL history.
His 620 wins put him 10th all-time, and his overall record of 620-465-133-21 gave him a .563 career winning percentage. More impressive than the numbers was Murray's knack for helping guide teams to success – in 17 seasons as a coach, his teams missed the playoffs only three times.
Some of his best and most memorable moments behind an NHL bench came with the Capitals who, as mentioned, gave him his first job in 1981-82. Murray helped the Caps to their first playoff series win in franchise history in 1983-84 and, for his efforts in the regular season, was awarded the Jack Adams for the first and only time in his career.
Heartbroken at the passing of my friend Bryan Murray. Hockey world has lost a great man. Rest well Bryan.

— Eugene Melnyk (@MelnykEugene) August 12, 2017
General Manager Murray
Save for the Capitals, Murray served as coach and general manager (separately or concurrently) for each of the above teams, enjoying even more noteworthy success in the press box. As general manager of the Panthers from their inception in 1994-95 to 1997-98, Murray took the upstart franchise to its first Stanley Cup Final in just its third season, which also happened to be the first playoff appearance in franchise history (he accomplished the same feat with Anaheim in 2003).
Beyond team success, Murray drafted a number of well-known names, including Radek Dvorak (Panthers), Chris Osgood and Darren McCarty (Red Wings), and Erik Karlsson (Senators).
Building Cancer Awareness
All of the achievements mentioned above pale in comparison to the effect Murray has had in the fight against cancer. Since taking his story public in 2014, Murray had been one of the NHL's biggest ambassadors for the Hockey Fights Cancer campaign, helping grow its reach even beyond Ottawa's borders.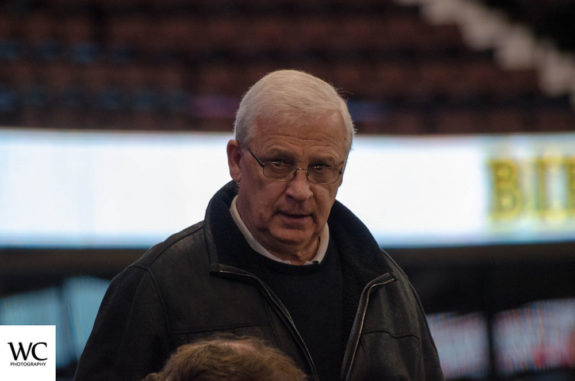 His admission that he may have been living with cancer for 10 years before his diagnosis, and that a colonoscopy was what finally detected it, prompted many people both inside and outside the hockey world to get tested. One of those people was Brad Shaw, an assistant coach with the St. Louis Blues, who underwent a colonoscopy in 2015 and discovered he had a polyp.
Shaw's is but one of the many positive stories to emerge out of Murray's heartbreaking diagnosis, which was why Murray went public to begin with.
He did so much for the game of hockey and the product on the ice, but it's the work he did to promote men's health and the fight against cancer – not the achievements of the players he drafted – that will be Murray's lasting legacy.
Andrew is a sports nerd extraordinaire. He holds an undergraduate degree in journalism, as well as a journalism diploma, and has been in the sports writing biz for the past four years (previously with Hooked on Hockey Magazine and SportsEh). He has experience covering junior hockey and the Women's World Hockey Championships in Ottawa. Feel free to reach him on Twitter @littelitaly93.