In one of the deepest drafts in recent history, Jonathan Drouin was one of the most gifted players to come out of it. With some of the sickest hands and playmaking ability to recently come out of the QMJHL, Halifax Chronicle-Herald writer Willy Palov reflects on Drouin,
"His stickhandling and playmaking abilities are generational, so much so that I feel comfortable saying he is the most skilled player with the puck I have seen in my 15-years covering the league. And, yes, I was on the QMJHL beat when Sidney Crosby played for Rimouski Oceanic between 2003-2005."
Hard to argue too much, right?
Due to the fact that Drouin was the lone pick in the top six in that draft class not to play in the NHL the following season, there was still that 'mystery factor' when it came to him. The skill set was ever so apparent each and every time he touched the puck but it was yet to be seen how it translated at the next level.
Too Much Depth For Their Own Good
Entering this season, how Drouin was going to fit on the team was still up for grabs in a way, as General Manager Steve Yzerman maybe did a little too good a job of building depth around Steven Stamkos and as it was a year before roster spots was scarce.
Without the ability to send Drouin to the AHL, and with another year of junior hockey pointless at this point in his development the Lightning was put pretty much in same position they cut him for last season.
The lack of playing opportunities, made worst with the emergence of Vladislav Namestnikov – among others – has forced Drouin to fourth line minutes as well as being forced into the press box on some occasions, one of which Tampa's big win against the New York Rangers Wednesday night.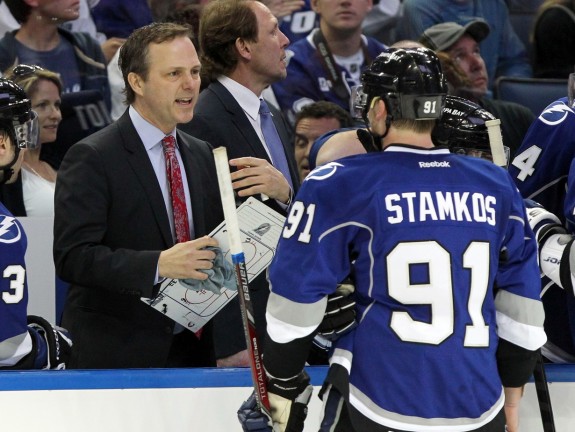 In an article by Joe Smith of the Tampa Bay Times, Jon Cooper broke down his calmed down expectations of the super prospect,
"I don't think from the outset we were there saying 'Jo Drouin will be a 20-minute guy out of the gate,'" Cooper said. "Jo is an ultratalent. He's a really good player. But he has to learn to play away from the puck just like everybody else has to. You play him on a different line, it takes a little bit of pressure off him and just guiding him into where he's hopefully going to end up."
Playing Time Is The Best Developmental Tool
One problem with that, to actually get better without the puck, you actually have to be put in positions where you don't have the puck.
"Jonathan Drouin is not someone we're investing in for one year. We're investing in him for a decade or more."
Cooper in an NHL.com article during Lightning developmental camp.
So if this is about the 'long term' for their young prospect, why not give him the necessary tools to become that player they believe he can be? At this point that tool is ice time, to become that player who is better without the puck.
Cooper and Yzerman have a team to run now, and have players that can help them win now– which sometimes doesn't include Drouin.
No one player should be above the team, and just because Drouin was the third overall pick in his draft year doesn't mean he should automatically get playing time over others but if him getting that invaluable experience now helps Cooper and the Lightning later on this season as well as the future, isn't that worth giving Drouin those few extra minutes?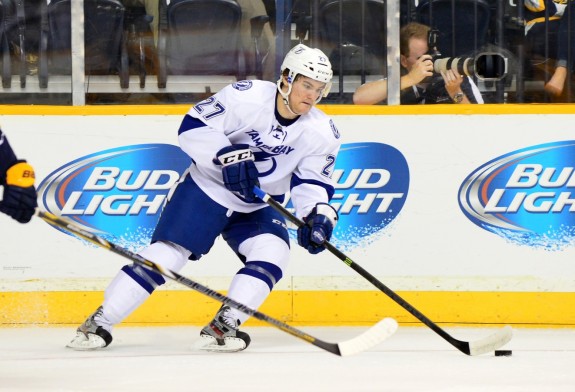 Isn't that the point of building depth? To pick up other parts of the lineup when they aren't contributing or struggling? Barry Melrose tried an almost similar thing with Stamkos his rookie year, albeit with a great deal more stubbornness and with an awful team less excuses to not having his rookie play higher on the depth chart.
To be having the success that the Lightning is having without the help of a player drafted so high speaks the volumes the organization has done to building from the ground up. But imagine adding another weapon like Drouin to the mix?
The sky is the limit, and all it takes is a little (playing) time. Remember how Stamkos took off after Melrose was out of the picture? A player shouldn't be given an expanded role but sometimes all it takes is that player getting that opportunity.
Anthony covers the Tampa Bay Lightning for The Hockey Writers. He is also currently a Featured Columnist for Last Word on Sports, and has held editorial positions on multiple Fansided websites and the now defunct The Farm Club.