Rankings:
Boston College
Minnesota
Wisconsin
Quinnipiac
Clarkson
Boston University
Harvard
Bemidji State
Minnesota Duluth
St. Lawrence
Game of the Week
#7 Harvard (2-1-2) at #1 Boston College (14-0-1) , Fri. 11/28 at 2 p.m. EST
The Crimson will hope to pick things up here against Boston College in the first of two non-conference games on their slate this weekend. They'll be searching for a win after playing three very close contests against Clarkson, St. Lawrence, and Boston University. In each of those three games, Emerance Maschmeyer has been relied on heavily to provide solid goaltending, and that will very likely be the case again as Harvard looks to slow down the Boston College offense. The defense in front of Maschmeyer also needs to be strong; the Crimson's top blue-liners are going to need to be more involved in getting the puck up and limiting breakdowns in the defensive zone, because the Eagles won't have too much trouble taking advantage of them.
Happy thanksgiving!! We're thankful for many things this year: teammates, friends, family and our great fans! pic.twitter.com/l1i5TjkOmh

— BC Women's Hockey (@BC_WHockey) November 27, 2014
For Boston College, they really just need to keep doing what they've been doing, because it's gotten them 15 unbeaten games in a row to start the year. The Eagles' offense is completely unmatched right now, and they'll look to make that a big factor, even with Maschmeyer between the pipes at the other end. Harvard's offense hasn't really hit its full stride yet, but they've definitely got a few weapons up front, so BC's own Katie Burt will need to stand tall in goal. The Eagles will more than likely pressure for very long stretches, which is a good thing, but besides an early-season series against St. Lawrence, they haven't really been frustrated this year. They'll need to stick with it even if Maschmeyer stands on her head and defend well off the rush to negate good scoring opportunities for Harvard.
Top-10 Teams in Action
#2 Minnesota at Princeton, Sat. 11/29 @ 2 p.m. EST & Sun. 11/30 @ 12 p.m. EST
#3 Wisconsin at New Hampshire, Fri. 11/28 @ 7 p.m. EST & Sat. 11/29 @ 2 p.m. EST
#4 Quinnipiac vs. Yale, Fri. 11/28 @ 3 p.m. EST; #4 Quinnipiac vs. #5 Clarkson/Connecticut, Sat. 11/29
#5 Clarkson at Connecticut, Fri. 11/28 @ 7 p.m. EST; #5 Clarkson vs. #4 Quinnipiac/Yale, Sat. 11/29
#6 Boston University at Dartmouth, Sat. 11/29 @ 12 p.m. EST
#7 Harvard at Northeastern, Sat. 11/29 @ 2 p.m. EST; Dartmouth at #7 Harvard, Tues. 12/2 @ 7 p.m. EST
#9 Minnesota Duluth at #8 Bemidji State, Fri. 11/28 @ 2 p.m. CST & Sat. 11/29 @ 2 p.m. CST
What to Watch For
Minnesota Duluth heads to Bemidji State in this weekend's premier WCHA match-up. The Bulldogs have really picked it up over the past few weeks, and early season troubles against Connecticut and Wisconsin seem to be well in the past. Their offense has really come alive, with Jenna McParland and Zoe Hickel providing veteran scoring and the emergence of Ashleigh Brykaliuk and Katerina Mrázová helping things along. But the Beavers have frustrated almost every opponent with a tight defense, averaging just 1.58 goals against per game. Bemidji State will be looking to keep that up and stifle Minnesota Duluth's top players, while finding ways to keep converting on their own chances.
UConn will play host to the annual Nutmeg Classic this weekend, taking on Clarkson while Quinnipiac takes on Yale in the first two games. Barring any upsets, we'll see a Clarkson-Quinnipiac final on Saturday, just a week removed from the Bobcats' 1-0 win over the Golden Knights. Both teams need to take care of business on Friday first; Clarkson will likely be facing really good goaltending from the Huskies, and the Bulldogs have enough talent to create and capitalize on some chance. If we do see the Golden Knights take on Quinnipiac on Saturday, it's safe to say they'll be looking for a much more sustained offensive effort than what they saw last week in that shutout loss.
The Gophers will head to Princeton for a non-conference series against a Tigers squad that has now lost three straight after going 6-1-1 in their first eight games. Sophomores Kelsey Koelzer and Molly Contini have shown some notable improvements production-wise, but scoring will be a tough task this weekend for Princeton against a deep Minnesota club. The Tigers will rely heavily on goaltender Kimberly Newell and try to remain opportunistic from there. The Gophers will be looking for a complete effort in both games, and they'll want to take care of things early, because Princeton has proven to be a pretty capable opponent so far this season.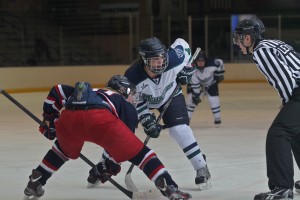 Cornell hosts Mercyhurst for a mid-week game on Tuesday night. It'll be the first action for the Big Red since getting swept on the road last weekend by Minnesota Duluth. They're still looking to climb to .500 for the first time this season. The Lakers, on the other hand, are 14-2-1, and are currently riding a five-game winning streak. Amanda Makela has played all 17 games in net and holds a .955 save percentage and 0.88 goals-against average, so scoring won't be easy for Cornell. The Big Red defense will also have to slow down Mercyhurst's top players, most notably juniors Emily Janiga and Jenna Dingeldein, who are producing at a point-per-game rate.