Kevin Hayes is playing well with a few weeks remaining until the March 3 trade deadline. The 30-year-old forward has eight goals and nine assists in his last 18 games. He has been rumored to be traded at the deadline by the Philadelphia Flyers, given that they are moving forward with a rebuild. They will look to stock up on future draft picks, young players, or prospects with any deals they make over the next two weeks. He has a modified no-trade clause (M-NTC) in his contract in which he submits a 12-team no-trade list to their front office. He has three years remaining on his current deal after this season, with a cap hit of $7.142 million per season. The Flyers may need to absorb half his salary to facilitate a trade with a club in the mix to make the postseason. Let's look at some playoff-contending franchises that may deal for him by the trade deadline.
Boston Bruins
Hayes may wind up being traded to the club that plays in his hometown state. The Boston Bruins have exceeded preseason expectations as they have been dominant in 2022-23. They are looking to win a championship with veterans Patrice Bergeron, David Krejci, Brad Marchand, and their leader in goals and assists, David Pastrnak. Adding another experienced forward, such as Hayes, will improve their depth. They do not have many players on injured reserve (IR). Jake DeBrusk is working his way back from a fractured fibula he suffered on Jan. 2. According to Frank Servalli of Daily Faceoff, they need a center. They couldn't acquire Bo Horvat, who was traded from the Vancouver Canucks to the New York Islanders on Jan. 31.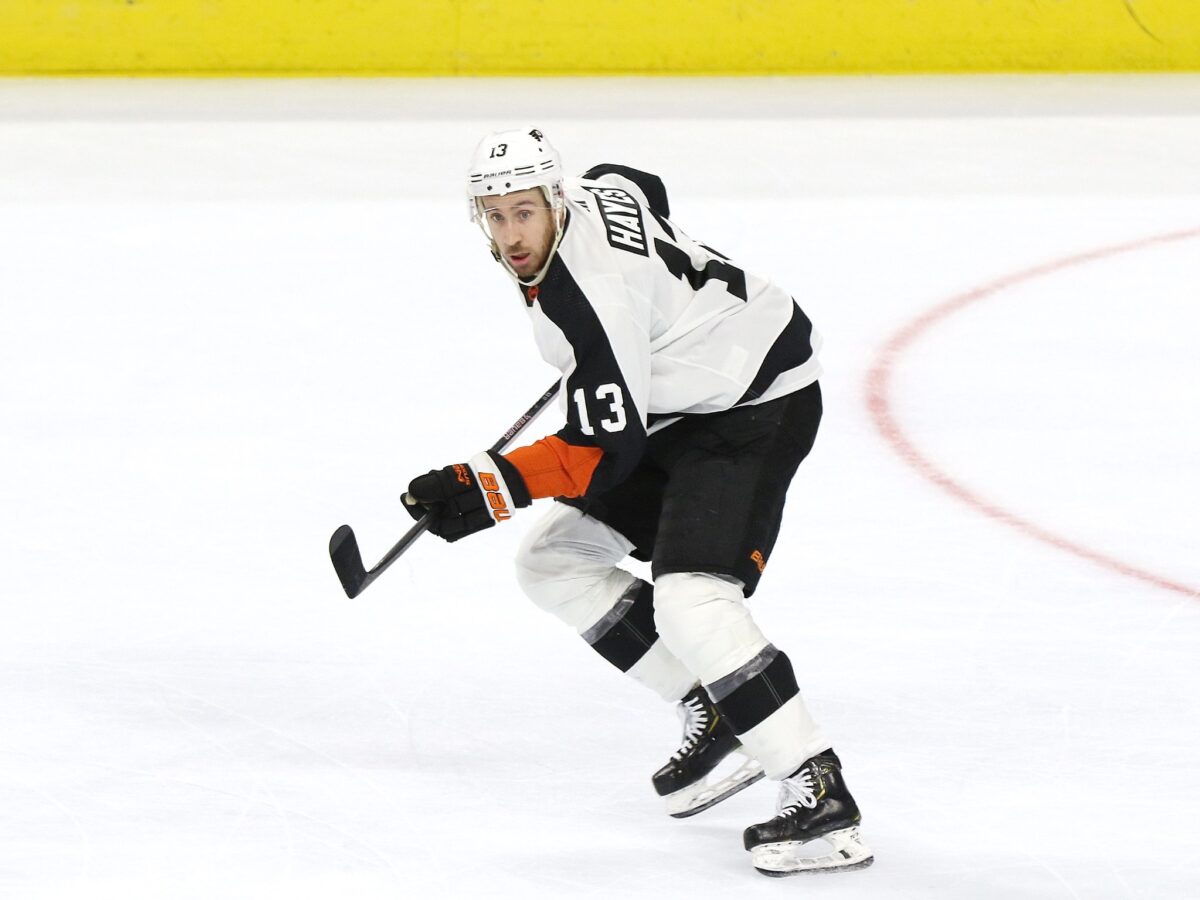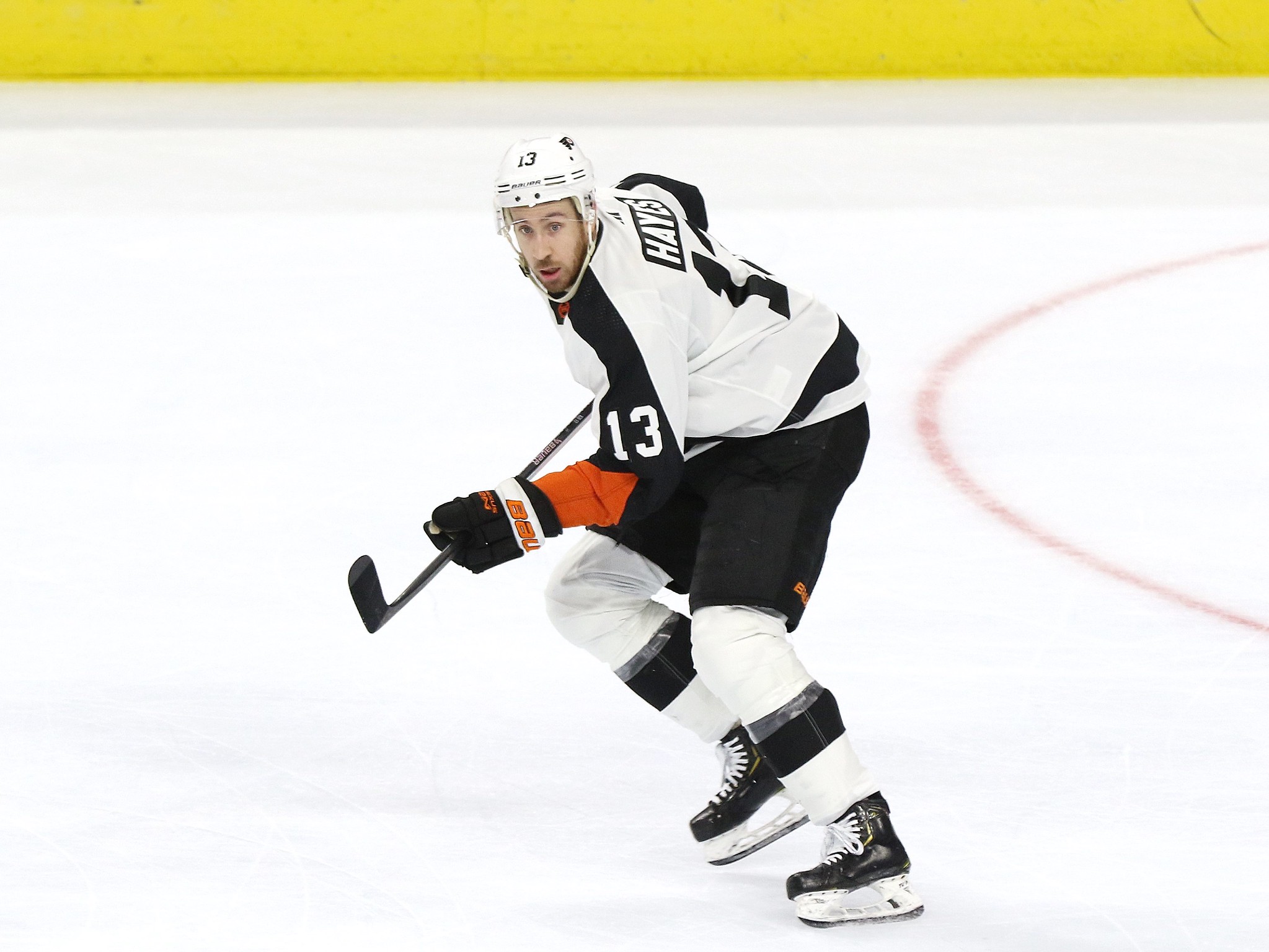 Bergeron and Krejci may not play for the Bruins beyond the season, which would leave them thin at center. Acquiring Hayes gives them a player with term on his contract of three years beyond 2022-23. Head coach Jim Montgomery may play him on their bottom six, given how well their top two lines have performed. He could play on their first or second line if they suffer an injury going forward. If the Flyers agree to absorb half of his salary, a deal could involve Bruins general manager (GM) Don Sweeney trading prospect Johnny Beecher and Craig Smith for Hayes and defenseman Nick Seeler. Trading away Smith gives the Bruins more salary cap relief to take on Hayes' contract. The Massachusetts native improves the Bruins' depth in preparation for a championship run.
Colorado Avalanche
Gabriel Landeskog has not played this season after undergoing arthroscopic knee surgery in October 2022. He is expected to return at some point before the end of the regular season but will need some time to return to game condition. The Colorado Avalanche have dealt with injuries to their star players throughout 2022-23. They will benefit from increasing their depth by the trade deadline as they attempt to qualify for the postseason a year following winning the Stanley Cup. The Avalanche rank 23rd in the NHL with a 3.00 average in goals for per game played (GF/GP) despite having a ninth-ranked power play percentage (PP%) of 23.8%. Head coach Jared Bednar could insert Hayes in the top six with players such as Nathan MacKinnon, Mikko Rantanen, Valeri Nichushkin, and Landeskog once he returns. The Flyers winger may move back to center if he is traded, which increases the Avalanche's depth at the position.
Rantanen is having an excellent year with 34 goals and 29 assists, and Hayes would benefit from playing with one of the league's top goal scorers. The two could form a solid line with Landeskog once he makes his season debut and returns to game condition. If Bednar moves Artturi Lehkonen to the second line once their captain makes his season debut, Lehkonen, Hayes, and Rantanen has the potential to be a good line also.
---
Latest News & Highlights
---
Seravalli wrote a piece for Daily Faceoff that a second-line center is their biggest need to improve upon at the trade deadline. He writes in his article about the impact the loss of Nazem Kadri has had on the club, especially with their struggles with injuries this season. If they miss out on acquiring Chicago Blackhawks center Jonathan Toews, Hayes is another player President of Hockey Operations Joe Sakic and GM Chris MacFarland should target. A deal could involve the Flyers taking on half of Hayes' salary and trading him along with Seeler to the Avalanche for Evan Rodrigues and Ben Meyers.
Carolina Hurricanes
The Carolina Hurricanes lost Max Pacioretty to a torn right Achilles tendon on Jan. 19 versus the Minnesota Wild. In less than a year, he will be working his way back from the same ailment for the second time. The club placed him on long-term injured reserve (LTIR), which will open up more cap space for them to pursue other players by the deadline. Hayes would aid a club offensively that is 22nd in the league with a 19.8 power-play percentage. They are 11th with a 3.31 average in goals per game played. He has more assists than any other Hurricanes player – Brent Burns leads them with 27. Adding another experienced top-six forward will help them in the playoffs.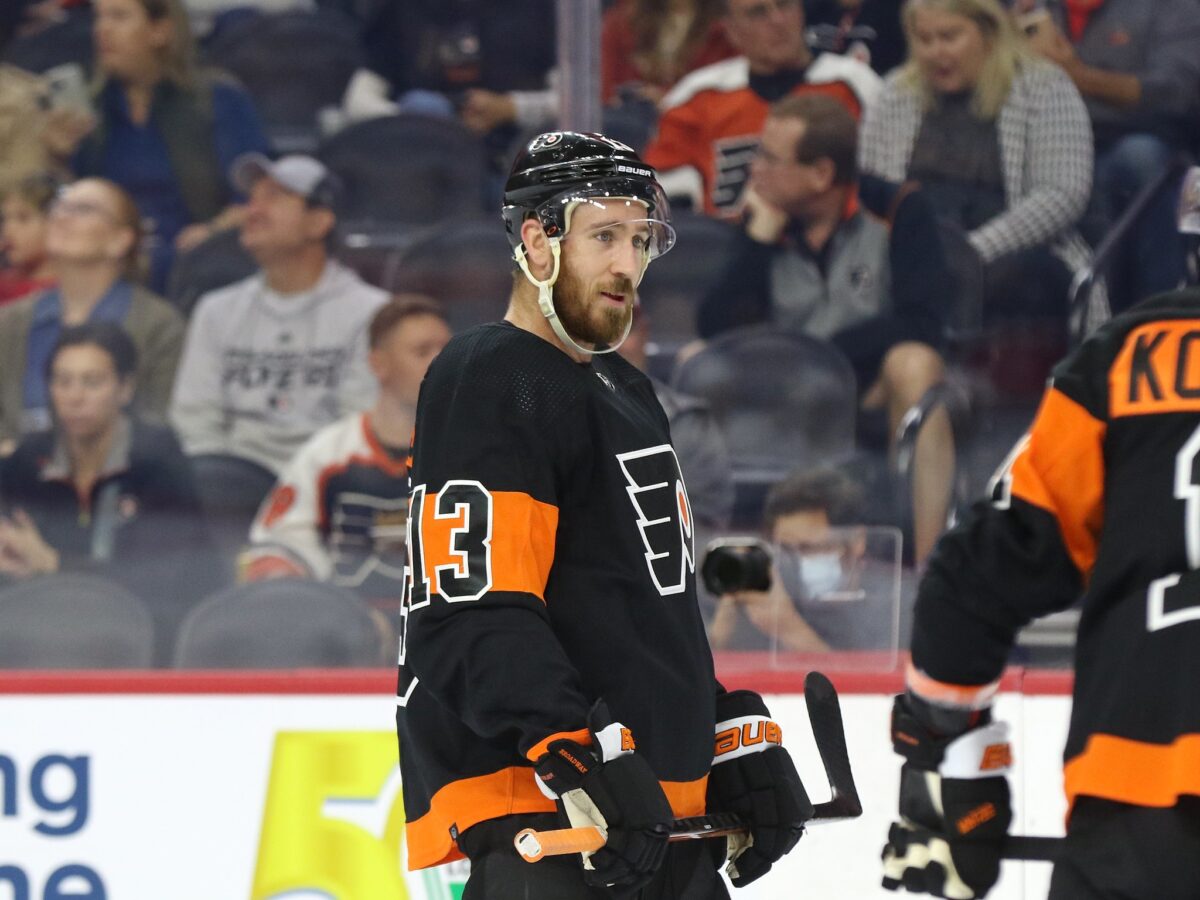 Hayes would make up for the loss of Pacioretty as the Dorchester, MA, native will set a new career high in assists this year. His current career high is 32 assists in 76 games with the New York Rangers in 2016-17. The Hurricanes have a good nucleus of forwards, including Sebastian Aho, Teuvo Tervainen, Andrei Svechnikov, and Martin Necas. Hayes can improve their man advantage as his 15 power-play points (PPP) would rank third in the organization behind Necas and Burns. If they acquire the Flyers winger, head coach Rod Brind'Amour may put him on the second power-play unit if he wants to put him in place of Paul Stastny or Jesperi Kotkaniemi. A deal would involve the Flyers absorbing half of Hayes' salary, trading him and Justin Braun for Jesper Fast and prospect Vasili Ponomarev.
Related: Evaluating 6 Flyers as Potential Trade Deadline Chips
The Flyers are in the midst of a rebuild, and GM Chuck Fletcher is anticipated to take offers on several veteran players, including Hayes. The Bruins and Hurricanes are two of the top teams in the NHL, while the Avalanche remain in the mix for a wild-card spot in the Western Conference. He would likely waive his modified no-trade clause if GM Fletcher can agree to a trade with another club in a position to make the playoffs. His average annual value is high, but he has term in his contract of three more years following this season.
After being scratched by head coach John Tortorella early in the year and the current state of the organization, the veteran forward may want to go to a playoff contender by the March 3 deadline. He may be intrigued at playing his natural position at center as he has been playing left wing this season. If a club in a position to make the playoffs can trade for him, he will improve their offensive depth in preparation for the postseason.
---
---