As per an article by Sam Carchidi of Philly Hockey Now, highly-respected reporter Kevin Allen is reporting that there is a team that has shown serious interest in the Philadelphia Flyers' forward Kevin Hayes. The report suggests that this team is interested in moving Hayes back to center (he's been playing mostly left wing) and while Allen wouldn't name which team it is, he says that team is pretty good.
That leads to a few questions, most specifically, which team is it? A recent All-Star, it has been rumored the Flyers have been shopping Hayes around for much of the season. The challenge is his contract. He's got another three years remaining at a cap hit of $7.142 million per season. Who is going to take that on? Who can afford that contract without issue? Who might need a center?
Noting that the next three assumptions are purely speculation, I thought it might be fun to examine some potential possibilities:
Could Winnipeg Jets Bring Hayes Back?
Hayes made a quick stopover in Winnipeg during the 2018-19 season. He scored 13 points in 20 regular season games and added two goals in six playoff games. The reason the Jets might be an intriguing option is that their future when it comes to Pierre-Luc Dubois is uncertain. Many believe he's going to work his way to the Montreal Canadiens at some point and the Jets will have a difficult decision to make. If Dubois is determined to leave, the Jets may deem they need another center.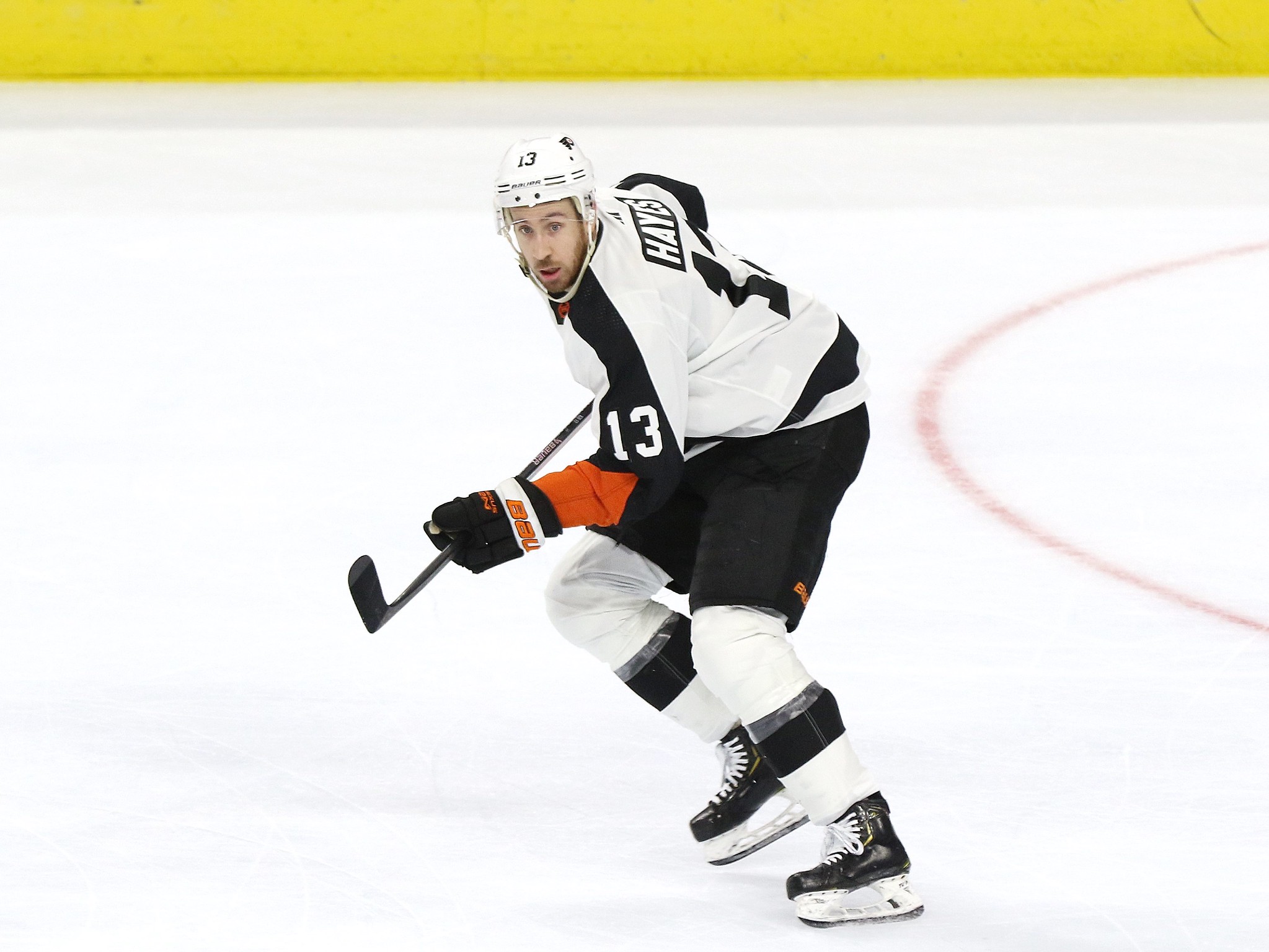 The Jets would qualify as a good team. They sit second in the Central Division (behind the Dallas Stars). They are also second in the Western Conference. The team is likely buying for the playoff run anyways, but they might be a club that needs a long-term solution down the middle. They have $9 million in deadline cap space this season. That's plenty and if the Flyers aren't keen on retaining salary, holding as little of Hayes' contract as possible will lower the trade price.
Could The Boston Bruins Swing Big?
What happens in Boston if Patrice Bergeron calls it a career at the end of this season? They were a team that was rumored to have missed out on Bo Horvat and with Horvat signing a long-term deal with the New York Islanders, the Bruins would have to look elsewhere in free agency if they feel they need a center. Should the Flyers be willing to retain salary on Hayes, the Bruins might be interested.
---
Latest News & Highlights
---
The Bruins could be buyers before the deadline and moving Hayes to the center position has some appeal where Boston could use some depth — especially if David Krejci walks away too. The biggest issue for the Bruins is the impending contract for David Pastrnak. If it's up in the $11 million per season range like many project, adding someone with a higher salary like Hayes is going to be tricky. Any potential deal hinges on the Flyers' willingness to retain salary.
The Los Angeles Kings Are Pretty Good, But Kopitar Is Aging
The Kings are viewed by many as an up-and-coming team where a lot of their prospects are developing at the right time and their roster could be pretty solid for seasons to come. The issue in Los Angeles is that Anze Kopitar is 35 years old and has one more season on his deal after this one. Could Hayes be the player who transitions into where Kopitar currently slots? Then, could Kopitar sign team-friendly deals to close out his career?
There is a five-year difference there in age and both players have similar numbers this season. Granted, Kopitar has had a much more consistent average rate of production over the past four seasons. Since 2019, Kopitar has averaged .85 points per game, whereas Hayes has averaged .67 over the same time period.