The summer of 2016 could be a pricey one for the Calgary Flames, who have 13 players, according to General Fanager, currently set to become restricted free agents after this upcoming season. Forwards Sean Monahan and Johnny Gaudreau lead the pack, while some other important young pieces include centres Joe Colborne, Markus Granlund, and Drew Shore, defenceman Tyler Wotherspoon, and goalie Joni Ortio. Monahan and Gaudreau are sure to see their salaries take a nice boost for their next deals.
Expect general manager Brad Treliving to try to lock up at least a few of these guys before the eleventh hour, as it's a long grocery list to tackle. It will be interesting to see whether Calgary tries to scatter the term lengths of these contracts so that all the RFA deals it reaches don't expire at the same time. It's a tactic Minnesota Wild GM Chuck Fletcher used over the past year with extensions to Jonas Brodin, Charlie Coyle, Marco Scandella, and Nino Niederreiter. This way the team won't have to re-sign everybody to their third or fourth contract at once.
Following Sunday's agreement between the Flames brass and 26-year-old forward Paul Byron to a one-year deal, Calgary is looking at just above $2 million in cap space. Things are looking a little tighter now than they were heading into the summer, especially considering expiring contracts for defencemen Mark Giordano, age 31, Kris Russell, 28, and centre Jiri Hudler, 31. All three of those players have seen their value increase over the last couple seasons. Giordano was a Norris Trophy contender early this season before being hurt, Russell evolved into a premier shot blocker in the league, setting an NHL record this past season, and Hudler tallied a career-high 76 points in 2014-15.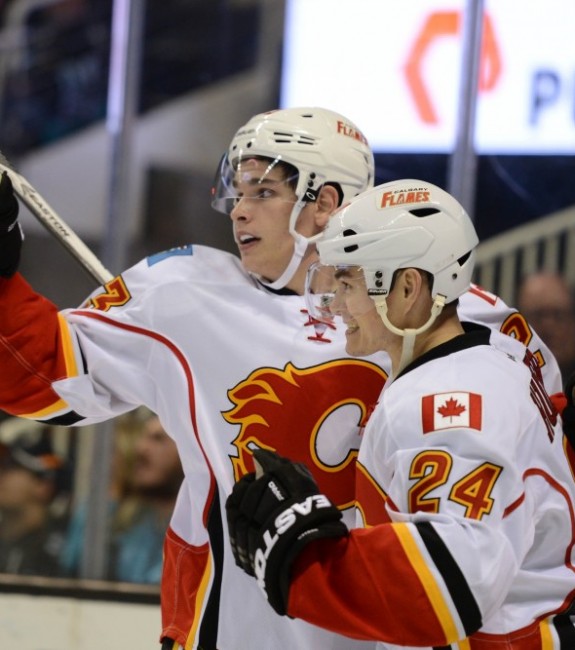 The Flames are at an interesting juncture. The 2014-15 season that wasn't regarded by many to play host to a playoff run wound up seeing Calgary make the second round. Then they took further steps toward contending now with the Dougie Hamilton trade and Michael Frolik signing. Knowing Calgary has a plethora of talented defenceman, a lot of money due to young players on their next contracts, and a pending UFA status on Giordano, other GMs around the league will surely be inquiring about the Toronto native, who's tallied 95 points in only 125 games over the past two seasons.
But Calgary has a roster that looks like it can take another step forward for the 2015-16 campaign. If late February comes and it looks like they are poised for another trip to the postseason, don't expect Giordano to get dealt at the deadline (if he still isn't locked up at that point, which he could very well be). If Calgary and Giordano can't come to terms with a deal, he could also haul in a considerable amount just prior to the opening of free agency. Thanks to the negotiating window before free agency opens, teams could have a clear picture of whether a certain player would sign with them if they acquired that player's rights.
In the scenario that Calgary can't re-up Giordano, the value they might lose by trading him following the season probably wouldn't offset the benefit of having him in the lineup down the stretch and into the playoffs. This is a lot of speculation, but Calgary's in a position where the team could go in a couple different directions. Treliving hasn't shied away from making noise before, and could show some more creativity over the next year and a bit.