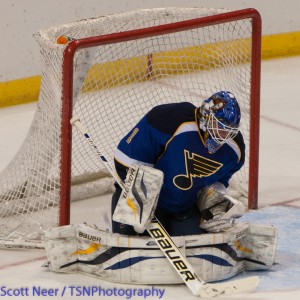 Heading into the shortened 2012-13 season, the Blues were expected to fare well with their solid goaltending duo of Jaroslav Halak and Brian Elliott.  After posting 15 combined shutouts in 2011-12, Halak and Elliott looked to dominate the Western Conference yet again.
Unfortunately for them, the season has not gone in their favor.
After the Blues started the season 6-1, Halak and Elliott both struggled to stay the same goaltenders they were just one year ago.  On February 1, Halak went down with a lower-body injury that plagued him for the better part of the month, leaving the starting job to Elliott.  He did not answer the bell well at all, posting a 0-3-1 record in a four-game home-stand following Halak's injury.  He also surrendered 21 goals against in that time.
Elliott has started just one game since the home-stand debacle; a 4-1 loss to the Dallas Stars on March 3.   The American goaltender played better in his last two games, but a Blues prospect has emerged as a quality backup to Halak.  Long-time Peoria Rivermen goaltender Jake Allen has posted an 8-3-0 record with a 2.45 GAA and .906 save percentage while recording one shutout.
This has left Elliott in the press box on a nightly basis, urging the Blues to send him to the Rivermen for a conditioning stint Thursday morning.  Elliott has been thrust into trade talks, with certain teams considering a veteran backup goaltender, whether it is for this season's playoff push or for help in net for the future.
The Western Conference  Edition will take a look at the top-three candidates for Elliott's services in the Western Conference, while the Eastern Conference Edition will focus on the other side of the NHL map.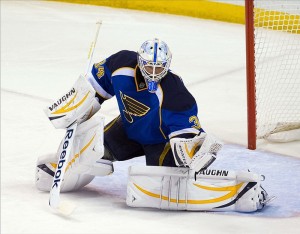 Although the Blues may not be willing to trade with teams close to them in the Western standings, there are some teams that may be willing to part with some valuable pieces to acquire what they need.  The Blues have a defenseman hole left over from last summer.  They may even be looking to spruce up the offense without making too major of a shakeup, as well..
Here are the Western Conference teams that may be willing to strike a deal with the Blues to acquire Elliott's services.
Dallas Stars
The Stars have one of the most underrated goaltenders in the league today in Kari Lehtonen.  The Finnish goaltender has posted a 2.56 GAA and .919 save percentage in 24 games played this season.  The problem in Dallas lies in the fact that the southern team is lacking a solid backup for Lehtonen, who has had injury problems in the past.  With Cristopher Nilstorp as the backup goaltender, the Stars could use a veteran for when Lehtonen cannot tend to the pipes.  Elliott would provide the veteran know-how that Dallas would need with a young defense playing in front of him.
Possible trade options:  Trevor Daley, Stephane Robidas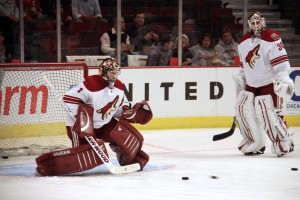 Phoenix Coyotes
Only three points out of a playoff spot, the Phoenix Coyotes have found themselves in a bit of a bind as of late.  Posting a 1-5-2 record in their past eight games, the Coyotes have surrendered 10 goals in the past three games.  This is due in large part to starting netminder Mike Smith being sidelined with an upper-body injury since March 21.  Backup Jason Labarbera has been average-at-best (2-5-1, 2.74 GAA and .914 save percentage), which has given GM Don Maloney the signal to start looking for a short-term replacement.
"We're right at the cliff as far as I'm concerned," Maloney said about his 13th place Coyotes.  "If we slide much further, all bets are off. We're going to go out and find assets. This is reality."
Possible trade options:  Derek Morris, Martin Hanzal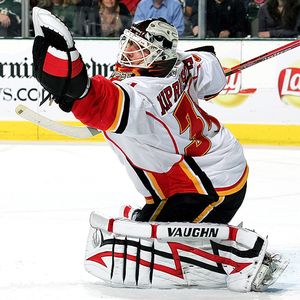 Calgary Flames
After Captain Jarome Iginla was traded to the Pittsburgh Penguins this week, rumors have circled around goaltender Miikka Kiprusoff as to whether or not the team would be looking to move him for valuable assets.  Kiprusoff has reportedly told the Flames, though, that he would refuse a trade anywhere else despite the fact that he does not have a no-trade clause.  He would simply not report to his new team, even though he has one more year left on his contract.  Speculation has suggested that the Finnish goaltender would simply retire at the end of this season if a trade was inevitable.  This would leave the Flames with goaltenders Leland Irving and Joe MacDonald at the top of their depth chart.
The trade of Iginla and possible retirement of Kiprusoff may usher in a rebuild, but playing in Western Canada may ask for a quick turnaround.  Elliott, along with former first-round pick Irving, could provide stable goaltending during what would be an unpopular era in Calgary.
Possible trade options:  Jay Bouwmeester, Mark Giordano, Lee Stempniak
Be sure to check out Possible Destinations for Brian Elliott: Eastern Conference  for teams in the East that may be looking to acquire the 27-year old goaltender.