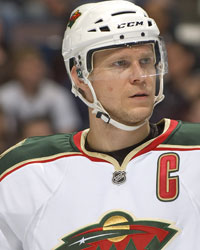 The Minnesota Wild had their seven-game winning streak snapped in a match-up against the Dallas Stars on Friday night. That loss was disappointing, but the winning streak clearly established Mike Yeo's team as a contender for the Northwest division and as one of the favorites to claim a playoff place for the 2013 NHL playoffs. The key to that success, and a key to just about any successful NHL team, has been Minnesota's new found strength down the middle of the ice at the center position.
Mikko Koivu – Captain Everything
General Manager Chuck Fletcher has added some big name players to his roster over the past couple of seasons. Zach Parise, Ryan Suter and Dany Heatley all make huge money and are widely considered superstars in the NHL. However, Fletcher already had one superstar at his disposal before he made any of those moves. Mikko Koivu was rarely given the credit he deserved when he was the leading star in Minnesota, so it probably shouldn't be a surprise that he's still being under-rated now he plays on a team with the likes of Parise and Suter.
Koivu had scored 60+ points in three consecutive seasons before tallying 44 points in only 55 games last year. He scored those points on teams that regularly ranked towards the bottom of the league in terms of goals per game and played a strong overall game.
The 30-year old has shown that he can score against the opposition's best defensive players and can match-up equally well against the better offensive players in the league.
This season Koivu has been a part of the third best group of centers in the league in the face-offs winning 51.9% of his draws. However, he's also been the offensive leader even with Parise and Suter in the line-up. Minnesota's captain leads the team with 31 points in 33 games. He has gelled well with Parise on the team's top line and has been crucial in helping the big free agent signing adapt to his new surroundings in St. Paul.
Matt Cullen Making Second Line Click
Star rookie Mikael Granlund was pegged to take on the second line center role for the shortened 2013 NHL season, but when the 21-year old struggled to transfer his game to the top level Yeo needed to adapt his strategy. The solution was a little unexpected as 36-year old Matt Cullen stepped up and took on responsibility for the team's secondary scoring.
There's been some speculation about whether Cullen has the talent to keep up his current level of play. However, he now has 18 points in his past 18 games and has been playing at a very high standard for more than a month.
Cullen has found great chemistry playing alongside Devin Setoguchi and Pierre-Marc Bouchard has played his best hockey of the season since moving onto that line as well. The veteran is looking more like the offensive player that played such a crucial role in the Carolina Hurricanes 2006 Stanley Cup success. [See also: Matt Cullen: Turning Back The Clock In Minnesota].
Cullen is also the team's top face-off man winning 56.2% of his draws. He's skating well and there's no reason to think that Cullen won't continue to be an integral part of this team's top three lines.
Kyle Brodziak Finally Performing
Fellow THW writer Sheng Peng recently highlighted Kyle Brodziak as one of the players that Minnesota needs to step up as the playoffs draw closer [See also: Minnesota Wild: Four Who Must Step Up]. Brodziak was one of the few bright spots for the Wild last season emerging as key two-way player scoring 22 goals and 44 points while playing good two-way hockey.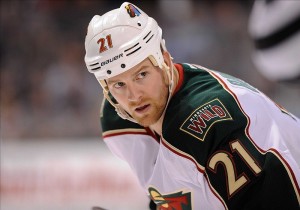 However, through the first month of the season Brodziak tallying just one goal and an assist through the first 16 games while also struggling on the defensive end and for chemistry with his line mates. This was particularly disappointing for a team that had just given Brodziak a healthy new contract last spring.
Brodziak has seven points in the past 17 games and has really started to find extra form over the past couple of weeks with three goals and five points in the past seven games. More importantly, the 28-year old is playing better hockey defensively and on the penalty kill. He has developed significantly better chemistry with most recent line mates Heatley and Cal Clutterbuck, and is finally playing the kind of hockey expected of him.
Minnesota's center trio have been crucial to their recent success. Centers are more crucial than any other position in terms of needing to be two-way players. The Wild are a team that needs to find balance in terms of both playing style and depth if they are to be successful. The recent streak suggests that Yeo's team is benefiting from its centers finding their games.
Seb has been writing about the NHL and ice hockey online for over a decade. A long-time passionate Bruins fan, it's a dream of his to be writing about this team, but don't expect him to hold back from telling some hard truths when necessary. Follow him on twitter @seberead