The Dallas Stars knew they'd need another heroic performance from Kari Lehtonen to top the Vancouver Canucks last night, but instead, with six and half minutes remaining in the first period, Lehtonen overextended and tweaked his groin while making a save on a Jordan Schroeder shot.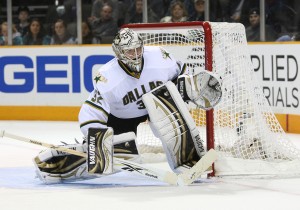 With their collective stomachs in their throats, Stars fans watched the best player on the Dallas Stars skate off the ice and into the locker room. Richard Bachman, the Dallas Stars backup goaltender, entered the game and things actually went smoothly for the rest of the opening frame. The Stars were able to leave the ice with a 1-0 lead thanks to Reilly Smith's first NHL goal.
Then, the wheels started to come off. Three straight Vancouver goals in the first ten minutes of the second period had the team reeling. Bachman looked shaky and not at all the calm and collected backup he had become after taking the job last season. Something needed to change on the Stars bench and the team knew they couldn't be the same team that folded when Lehtonen experienced a groin injury last season. They had to take this adversity and turn it into something positive.
Enter Ryan Garbutt, Vernon Fiddler, and Eric Nystrom:
It may or may not have been a coincidence, but after these three fights, the Stars would go on to the score three straight goals, mounting a remarkable comeback against the Canucks, stealing a 4-3 victory.
Lehtonen's injury is not considered serious, but the team has recalled Texas Stars goaltender Cristopher Nilstorp and will likely roll with a Bachman/Nilstorp pairing for the foreseeable future. The Stars have confidence in both goaltenders are will not rush Lehtonen back into the fold.
What's most important is the character and resilience the Dallas Stars showed when Lethonen went down and when Bachman was lit up. They battled back, they didn't give up, and they showed what kind of team they can be.
Goals from Cody Eakin, Reilly Smith, Antoine Roussel, and Brenden Dillon last night are representative of the kind of depth scoring they'll need to pull out wins throughout the entire season. This is a team still building an identity, and it's games like last night against the Canucks that help build that identity.
After playing 10 of 15 games on the road the start the season, the Stars will get a hard-earned, week-long, three-game home stand. They will face stiff competition in the form of the Flames, the Canucks, and the Sharks and they'll be relying on either Richard Bachman or Cristopher Nilstorp to play well in net, but it's in this home stand where we'll find out if the Stars can continue to build on the hard-nosed, gritty style of hockey they'll need to keep winning games.