Since the inception of the NHL Entry Draft, every decade has had their share of booms and busts at the No. 1 overall pick.
The 80's produced household names such as Mario Lemieux, Mike Modano, Mats Sundin, and Dale Hawerchuk; the "what if's" in Wendell Clark and Gord Kluzak; and finally, the busts in Brian Lawton and Doug Wickenheiser. (Random Thought Bubble #1 — Really Montreal? You were serious with that choice? You know Denis Savard was in your backyard, right?)
In the 90's, we received star players such as Joe Thornton, Vincent Lecavalier, and Ed Jovanovski; saw injuries derail the career of the great Eric Lindros and Bryan Berard; of course, we all witnessed Ottawa tank their season in order to select Alexandre Daigle with towering confidence, and capped off the decade with the jester of all selections in Patrik Štefan.
Then we get to the 2000's, which may have been the best producer of No. 1 picks out of both the 80's and 90's combined. Yeah, there were a couple busts sprinkled into the decade, but GM's are human too, there is bound to be a flaw or two in there — arguably three. So far, it's too early to solidify the ranking of every player on this list, after all, their careers are still in progress. I think it's safe to say that we know the direction some are headed, while others remain somewhat of a question mark.
At No. 10, I think that this would be the consensus choice as worst No. 1 pick from 2000-2009…
10. Rick DiPietro (New York Islanders, 2000)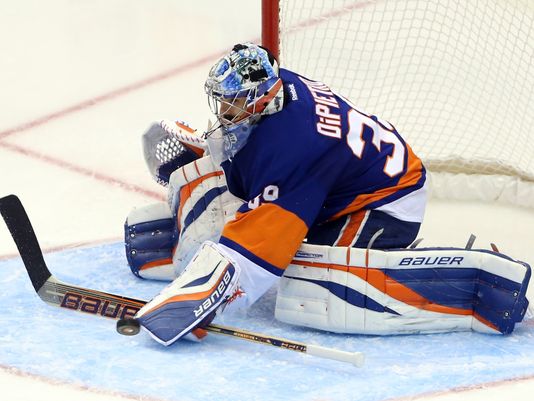 Poor Rick.
If there was ever a guy I wanted to root for, it was Rick DiPietro. This is so much more than just another career derailed by injuries. It was a head-on collision of catastrophe.
DiPietro was a fantastic puck-moving goaltender. Fan. Tas. Tic. Potentially, he could have been the best in the game (yes, I said that) if not for a pulled groin, a knee injury, a concussion, a hip injury, another knee injury, another hip injury, more knee injuries, another groin injury, then a facial fracture, more knee swelling, another concussion, and finally, one last groin injury. Phew.
Before the injuries swallowed his career whole, he was considered the next elite puckstopper. So the Islanders traded their former 4th overall pick, Roberto Luongo (along with future all-star Olli Jokinen), and decided that the future was with Rick.
"Most people thought he was going to be the U.S. Olympic goalie [for years to come] and one of the elite goalies in the NHL," Red Wings GM Ken Holland tells Sarah Kwak of Sports Illustrated in 2010.
Unfortunately, this sad story ended this past summer as the Islanders decided to cut ties with their 15 year, $67.5 million problem child after he proved to be as durable as off-brand tissue paper. Chances are, he never gets another opportunity in the NHL again. There's no denying that DiPietro has become the biggest No. 1 overall bust from 2000-2009, but I will always be left wondering "what if?" with Rickety DiPietro.
9. Erik Johnson (St. Louis Blues, 2006)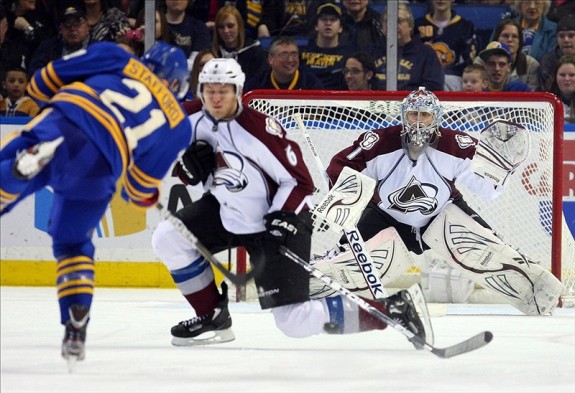 Selected ahead of Jordan Staal, Jonathan Toews, Nicklas Backstrom, and Phil Kessel, you can call him an "honorable mention" when discussing the top five picks of his draft class… let alone comparing him to his peers selected 1st overall.
The general consensus believes that defenseman take longer to develop, especially one that tore up their ACL and MCL on a golf cart and missed the entire 2008-2009 season as a 20 year old. Yeah, it's crucial development time. But we are talking about a No. 1 overall pick here, a guy who is suppose to set the precedent, not follow it.
To his credit, Johnson bounced back in 2009-2010 setting career-highs in goals (10), assists (29), points (39), plus-minus (+1), PIM (79), and represented the United States in the Winter Olympics. The following season his development in St. Louis stalled, he fell down the depth chart, and the Blues decided to trade him to the Colorado Avalanche in a blockbuster deal (more like, St. Louis steal) that involved four players and two draft picks. Instead of improving as a young defenseman, he topped off his fifth NHL season with just four points in 31 games and received less ice-time per game than Tyson Barrie and Matt Hunwick. Ouch.
Whatever the reason, Johnson has slid into obscurity since his draft year. Not far enough to be labeled a complete bust, but it's not nearly enough to rank him ahead of anyone else on this list. At 25 years old, he still has plenty of time to silence his critics, but it's no longer a matter of "when" it's coming, it's now a matter of "if" he will ever reach the potential that was set for him when the St. Louis Blues selected him 1st overall in 2006.
8. Marc-André Fleury (Pittsburgh Penguins, 2003)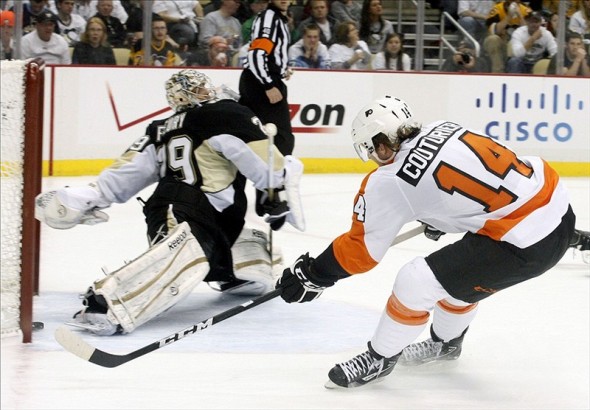 The Penguins were hoping to get a franchise goaltender after selecting Marc-André Fleury with the 1st overall pick in 2003. Ten years later, his week-to-week numbers have mimicked the trajectory of a roller coaster, and at times, his focus has been as sturdy as a bubble, especially in the post-season.
Although he does have a Stanley Cup ring to his credit, he has slipped into mediocrity ever since; if anything, handicapping a deadly Pittsburgh Penguins team to the point where they elected to sign Tomas Vokoun to share the workload and eventually supplant Fleury as the No. 1 goaltender by seasons end.
Compared to 41 active NHL goaltenders with 100 games played or more he ranks 10th in wins (249), 29th in save percentage (.910), 25th in GAA (2.66),  and 16th in shutouts (23).
Putting him up against the 29 active goaltenders that have appeared in 10 or more playoff games he is 2nd in wins (45),  28th in save percentage (.903), 27th in GAA (2.73).
Awful numbers at worst, average numbers at best for a goaltender, not to mention a 1st overall pick. Although he does have the wins to back him up, Fleury would be lucky if anyone mentioned him in the same breath as Grant Fuhr and Chris Osgood, two goaltenders that have always been scrutinized for their numbers but had the benefit of playing for a dynasty.
7. Rick Nash (Columbus Blue Jackets, 2002)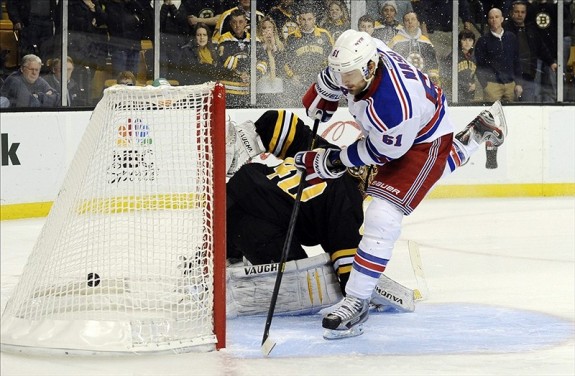 Although Rick Nash was the clear cut No. 1 choice in the 2002 NHL Entry Draft, he won't even crack the top six on this list. In fact, it could be a matter of time before he drops out of the top seven if Marc-Andre Fleury adds another Stanley Cup ring or two on his fingers.
The two-time 40 goal scorer utilizes his size very well when he has the puck,  boasts outstanding finishing ability, and has great mobility for a big man. He is a beast of an athlete and in raw terms he can probably stack up against anyone ahead of him on this list. The only thing that holds him back from reaching the top six is his failures and faults, rather than his accomplishments and undeniable skill.
Reaching the playoffs twice in his career, Nash has only scored two goals in 16 games. That is an awful total for a one-dimensional goal scorer. Yeah, I said it.
He doesn't utilize his linemates enough, or at all. He is a one-man wrecking crew when he has the puck on his stick, and he can be commended for being a highlight reel machine, but when it comes to crunch time he has to learn that he has support on the ice if he wants to win. If Nash can ever grasp that concept and trust his linemates, he will give himself a chance to vault ahead of a few other players on this list.
6. John Tavares (New York Islanders, 2009)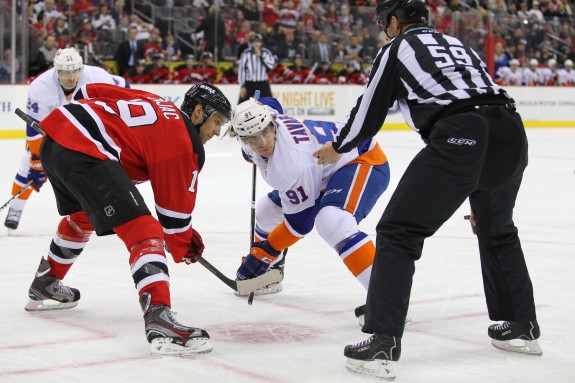 Appearing  in 297 out of 300 possible games during his career, it's worth noting that John Tavares could be on his way to becoming our modern era iron man. But it's not just his durability and consistency that impresses the NHL faithful, it's the fact that he's a freaking stud of a hockey player that everyone loves to watch.
In 2013, Tavares cemented his status as a top tier player after scoring 28 goals in 48 games and pushing the New York Islanders into the playoffs for the first time in six years. He is rapidly climbing this list as each season passes and he is bound to crack the top five after he puts up another solid campaign in 2013-2014.
Although he lacks the top-end speed of an elite threat, his offensive talent is very well rounded and supremely creative. In his short NHL career, he has notched a total of 112 goals and 137 assists during the regular season. In the playoffs, he scored three goals and two assists to help the Islanders push the Pittsburgh Penguins to six games. He stepped up in every big time situation he has faced (one), scoring a goal in his first elimination game, but unfortunately that was as far as his heroics could take the Islanders as they fell in overtime of game six.
Ultimately, there's nothing you can hate about this guy, but if you really want to nitpick about his numbers you'll find that his plus/minus is, well, awful. However, he has certainly progressed on the defensive side of the ice since his rookie year. No, I don't see him becoming a Selke nominee any time soon, but I wouldn't call that area of the ice a problem for Tavares anymore. At the end of the day we have to call a spade a spade, and this one is definitely an ace.
All aboard the bandwagon, there's plenty of room.
5. Ilya Kovalchuk (Atlanta Thrashers, 2001)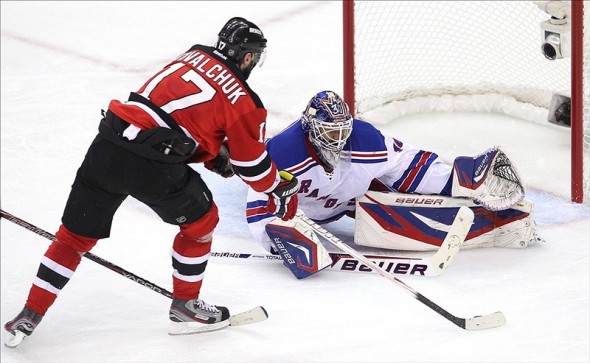 Yes, he bolted for Russia. Yes, he was lazy sometimes. And yes, he was an admirably talented sniper that scored over 400 goals in just over 800 NHL games and had multiple 50 goal seasons. Just sayin'.
I know hockey fans everywhere will probably shake their heads at this pick but lets face it, Kovalchuk had a damn good career, and he was a shoe-in Hall of Fame candidate before bolting to the KHL. But, since he is no longer considered an active NHL player, we'll have to consider his career is over. For that reason alone, there is no chance of him ever cracking the top four and he will most-likely find his way out of the top five as John Tavares continues to put together an impressive career.
In 816 regular season games, Kovalchuk scored 417 goals, and had 816 points. In the playoffs, he scored 11 goals and 27 points in 32 games, also helping the New Jersey Devils reach the Stanley Cup Finals in 2012. (Random Thought Bubble #2 — Yeah, he sucked in the Finals, but so what, he was a stud in the previous three rounds and that's more playoff success than Rick Nash could ever dream of.)
Although Kovalchuk had the talent to be a game changer every shift, he did show a lack of determination and had plenty of inconsistencies from shift to shift. Regardless, he had the talent to absolutely dominate when he wanted to, and for that I will let him warm up the 5th spot for one more year, but eventually, he'll creep to the back of this bus as everyone else progresses in their careers.
4. Steven Stamkos (Tampa Bay Lightning, 2008)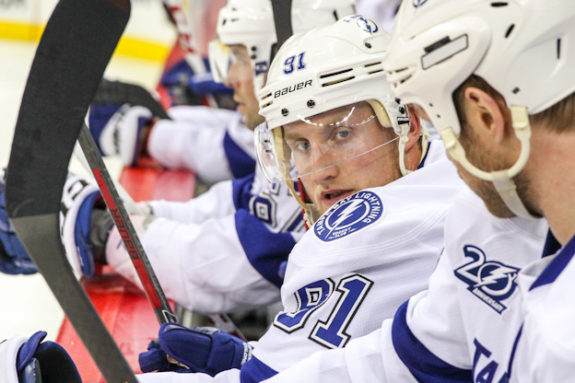 The most impressive aspect about Stamkos is his goal-scoring ability, bar down. His goal totals are embarrassingly good, even making Alexander Ovechkin, Patrick Kane, and Sidney Crosby shudder to think of his potential when he finally gets a consistent opportunity to showcase his skill set at the highest levels.
Lets get one thing straight: Steven Stamkos, at 23 years old, has the potential to top this list. In fact, the only reason he isn't in the top three right now is because he doesn't have enough "big game" experience, only appearing in 18 playoff games during his career. However, scoring 208 goals in 373 games is nothing to sneeze at. Only three other players in the history of the NHL (Wayne Gretzky, Mario Lemieux, and Dale Hawerchuk) achieved the 200 goal plateau faster than Stamkos.
Depending on how he performs on the big stages will determine whether he skyrockets to No. 1 status, or whether people start asking "Seen Stamkos?" again.
3. Alex Ovechkin (Washington Capitals, 2004)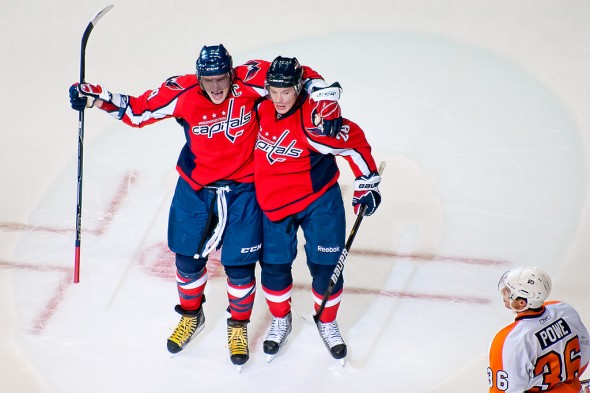 Once considered the consensus No. 2 behind Sidney Crosby, perhaps even the one competitor that could supplant Sidney himself as "best player in the world" (spoiler alert?), Ovechkin has quietly slipped into the shadows of several other superstars in the league.
His numbers are among the elite of all-time at 27 years old with 735 points in 601 regular-season games. His 371 goals are the most out of any other player since the 2005-06 season. He has even achieved above a point per game in the Stanley Cup Playoffs, with 61 points in 58 games. His talent is electrifying, dominating, and highly entertaining all in the same breath. He won the Calder Memorial Trophy, he has three Hart Memorial trophies, three Maurice "Rocket "Richard trophies, three Ted Lindsay awards, an Art Ross Trophy, and a Wayne Gretzky Award.
But, he hasn't won the holy grail of trophies yet. No Stanley Cup.
As far as I'm concerned, he hasn't even passed the Conference Semi-finals yet despite his prolific playoff performances. Unfortunately for Alex, the two players ahead of him have a wealth of experience and success on the NHL's biggest stage. At the end of the day, it's equivalent to comparing Dale Hawerchuk to Mario Lemieux and Mike Modano. You can say what you want, but when you draft a player with the 1st pick overall, you are investing in that player to bring you a Stanley Cup. So far, that promise has not been delivered.
2. Patrick Kane (Chicago Blackhawks, 2007)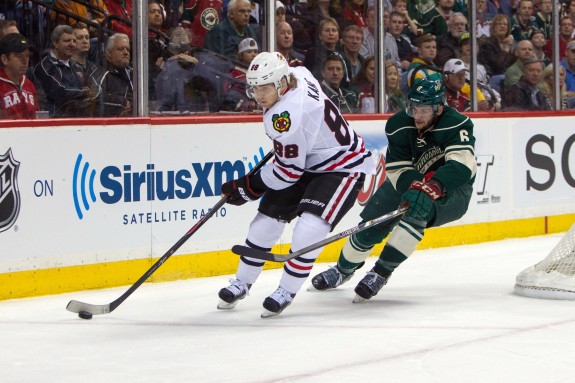 Of course, players such as Alexander Ovechkin, Steven Stamkos, and John Tavares deserve heavy consideration for the No. 2 spot, but Kane has an edge over these players simply due to his elite performances in big time situations… yes, even surpassing Crosby in that category.
In the Stanley Cup Playoffs, Kane has scored a whopping 12 goals and 21 points in 19 elimination games, which includes two hat tricks and a Stanley Cup winning goal. Although his career numbers are less impressive than some of the players above and beneath him, his ability to elevate his game at the highest stage (Olympics, Stanley Cup Playoffs) proves to be far more valuable than any other No. 1 pick.
With a Calder Memorial Trophy, Conn Smythe Trophy, Olympic Silver Medal, and two Stanley Cup rings to back him up, all at the ripe age of 24, you could even make an argument that he has a legitimate chance to become the top choice of all 2000-2009 draft picks when it's all said and done.
1. Sidney Crosby (Pittsburgh Penguins, 2005)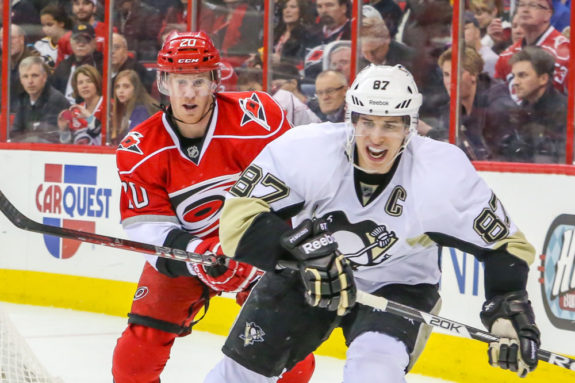 Crosby took the league by storm immediately upon his draft year by scoring 102 points as an 18 year old. I think that shed a clue on whether or not he would live up to his "Next One" moniker, eh?
Over his eight year career, Sidney has crushed his competition with 665 points in 470 regular-season games and he excels in big time situations with 105 points in 82 playoff games (9 goals, 27 points in 25 elimination games). The only chance he slips down this list is whether or not he can remain healthy the rest of his career. But even then, the most impressive thought of the day isn't about what he will do or what he has done, which will keep him at the top of this list regardless, it's about what he could have done. Think of it this way: If Crosby had played close to 100% his entire career, he would be eclipsing 900 career points at the age of 25. Crazy.
Healthy or not, at this point in his career he has collected enough hardware to start a museum. Today, Sidney boasts an Art Ross Trophy, Hart Memorial Trophy, Lester B. Pearson Trophy, Maurice "Rocket" Richard Trophy, Mark Messier Leadership Award, Ted Lindsay Award, Olympic Gold Medal, and a Stanley Cup ring. Try to remember all that.
Without a doubt, Sidney Crosby is the No. 1 pick of No. 1's from 2000-2009.
I started covering the Chicago Blackhawks in 2007 for IndianHeadNation.com and eventually on Twitter and now The Hockey Writers. Although I've never played at a professional level, I have followed the NHL religiously, analytically, and statistically since 1999, and a born fan since 1989. I have one true passion: HOCKEY.